Future Forest
A dramatic sculptural installation reflecting the role forests play in protecting our future environment
Future Forest, developed as part of our centenary celebrations in 2019, is a dramatic sculptural installation designed by Artistic Director Tom Piper MBE and features life-size sculptural figures created by internationally renowned artist Lisa Wright.
The artists present the figures as custodians of the forest, tasked with protecting it for the benefit of future generations. They illustrate the vital role that trees and woodlands play in safeguarding the future of our planet, their youthful forms aligning them with the next generation whose role it must be to continue to protect our forests.
'This sculpture trail will stop visitors to Thetford Forest in their tracks, both for the beauty of the figures and the drama the installations bring to the landscape.' PK Khaira-Creswell, Director of the Forestry Commission's centenary programme
The sculpture trail is currently still open at High Lodge, make sure to plan your visit today.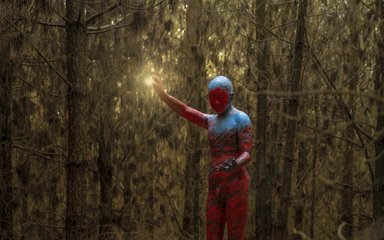 Discover Future Forest with your family
Everyone can play a part in protecting forests for the future – including you! Collect your free family activity pack and my future forest postcard at the High Lodge Information Point.
Future Forest for schools
The Future Forest learning pack provides teachers with inspiring activities that can be delivered with key stage 2 pupils at each of the Future Forest installations. The activities will support children to learn about their role in protecting the future of forests. To download your free learning pack, follow the link below and fill out the form.
You can also hire Forest Ranger in a Bag kit which contains all the materials required to deliver the activities in the Future Forest learning pack. For more information, please contact Kim.Newman@forestryengland.uk.