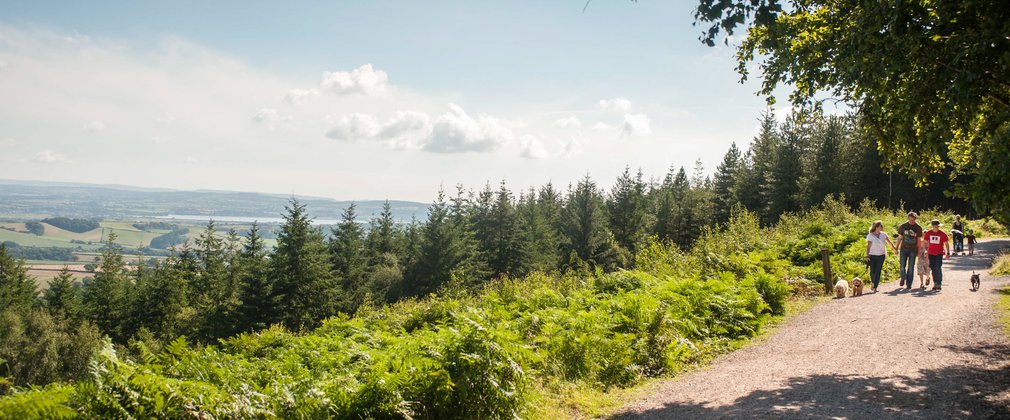 About Us
We manage the public forest estate, which is around 20% of the country's woodland.
Our mission statement
Forest Enterprise England (FEE) manages the nation's forest estate, providing environmental, social and economic benefits from them.
It is an independent organisation, managed by the FEE Strategy Board, which is the leadership team that sets the strategic direction of the organisation.
The Board is made up of nine senior staff and two non-executive Board members who bring their experience and expertise to bear on the organisation's forward planning and decision making.
They work to ensure that the public forest estate (PFE) is managed and run effectively, through monitoring performance and managing risk.
They ensure the organisation works to its mission statement, and that the public forest estate offers opportunities for people of all stripes to enjoy England's public woods.
They ensure that FEE protects and enhances natural ecosystems  in its care for the benefit of wildlife, and delivers sustainable economic growth by supporting local businesses and rural employment.
The public forest estate (PFE) covers 252,076 hectares – over 18% of all woodland in England – and sees over 226 million visitors each year. On top of that, 99.9% of England's population lives within an hour's drive of accessible PFE, and there are close to 3,000 km of recreation routes across the estate.
We also manage 68,000 hectares of land that fall under Sites of Scientific Interest. 98.5% of these are in either 'favourable' or 'recovering' condition,  better that the national figure of 94.3%. Our Scheduled Ancient Monuments are likewise doing well: less than 6% are considered 'at risk'.
On 1 April 2019 Forest Enterprise England will change its name to Forestry England. Alongside this we are refreshing our visual brand, so the way we look will be slightly different too.
How we manage forests
The estate is made up of some 250,000 hectares of woodland and other natural environments across England – roughly equivalent to 350,000 football pitches, or the area of London, Birmingham, Manchester and Leeds combined!
Forests have natural cycles of seasonal change that take place alongside much longer cycles of growth and regeneration that span many lifetimes. Many of the natural environments we care for are ancient or native woodlands and it is vital we look after them for generations to come.
Our professional approach to sustainable forest management allows us to keep our public forests and woodlands as special places for nature, which people can enjoy and businesses can thrive in.
All our woodlands are managed to the UK Woodland Assurance Standard. Together with Scotland and Wales we were the first state forestry to gain Forest Stewardship Council® (FSC®) accreditation and our timber is certified under Programme for the Endorsement of Forest Certification™ (PEFC™).
To find out more about our plans for your local woods, take a look at our individual forest plans.
People
The public forest estate is the most extensive resource for outdoor recreation in the country with many of our finest national parks to the edges of our largest cities. We get around 226 million visits each year.
We have a long history of welcoming visits from the public, and we continue to make our woodlands accessible to people on bike, horseback and on foot.
Providing access for recreational activities also helps us to support businesses and contribute to local economies throughout England.
Find out more about how we manage our forests for people and communities.
Nature
The public forest estate hosts many different habitats for wildlife including ancient woodlands, heathland, bogs, moors and fens.
Each of these is carefully managed and provides homes for wildlife that contributes to healthy woodland ecosystems that ensure our forests continue to thrive.
Find out more about how we manage our forests for nature.
Economy
We generate revenue by harvesting and selling timber, and by working with commercial partners to offer new ways to experience and enjoy our woodlands and develop business activities. This provides us with opportunities to support local businesses and with essential income to support our learning programmes, nature conservation and other activities.
Find out more about how we support local businesses and generate revenue.