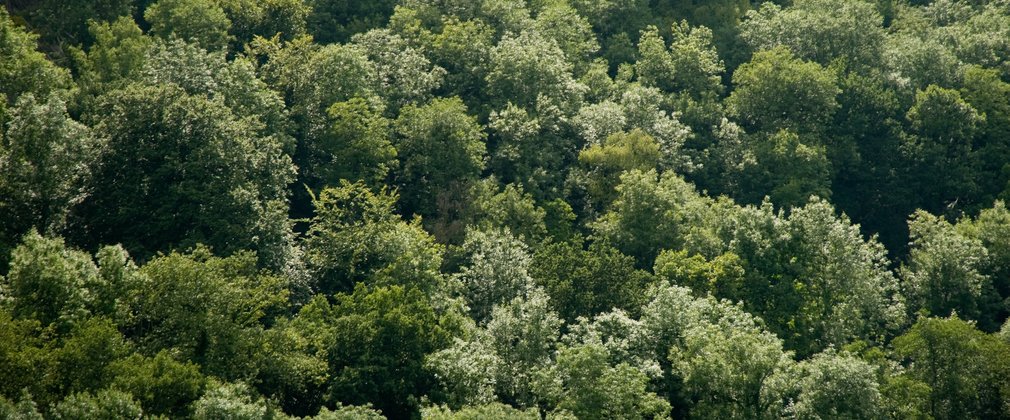 Pests and diseases can cause widespread impacts on forests. Discover how we're safeguarding trees from pests and diseases and protecting their future.
Trees enhance our landscapes and fill us with wonder. They provide vital habitats for wildlife and supply valuable natural resources. If we look after trees, they will continue to look after us and we can enjoy the benefits they provide. 
Our lives depend on trees, yet the threat to their health is increasing. Just like us, trees are more likely to get ill and pick up diseases when they are stressed and run down. The spread of pests and diseases can cause devastating impacts. 
What are the risks to trees?
Global travel and trade has allowed movement of plant and wood products. New pests and diseases can arrive to the UK with potential to cause widespread damage to trees and woodlands. Plants imported to the UK now need 'plant passports' to prove they are safe to travel.

A changing climate, with warmer temperatures and more frequent extreme weather events, is also increasing the risk of new pests to our trees and adding to the stress experienced by our trees. Insects and fungi not normally found in England have been finding a new place to live and grow. 

Around 350 different pests listed on the UK Plant Health Risk Register can affect trees. A recent study found 168 of the 454 tree species native to Europe are threatened with extinction.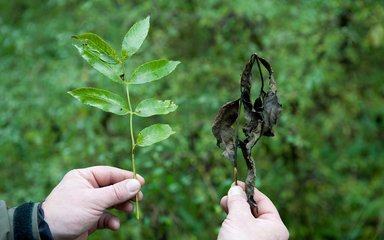 What is Forestry England doing? 
We have a key role to play in the battle against tree pests and diseases, and the importance of our actions has never been greater.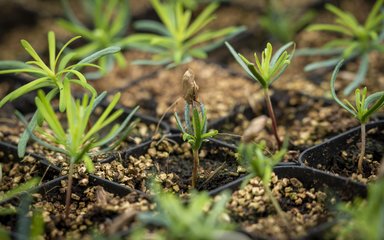 Growing from seed
Our nurseries grow millions of new trees every year to replant forests across England and create new areas of woodland. By growing strong and healthy trees, we give our trees the best chance of surviving. Our homegrown trees also mean we don't have to source them from other countries, which risks importing new pests and diseases.

We use only the best seeds from the best trees to produce the strongest saplings. We source seeds from places where the climate today is similar to site conditions expected up to 100 years from now to give our forests the best chance. 
As the seedlings are growing, they are cared for by our staff who check they meet our strict standards of plant health and biosecurity. We make sure the trees we grow in the nation's forests are the very best that they can be.
Working with experts
We care for trees throughout their life and work hard to keep them healthy. Working with colleagues in Forestry Commission, we monitor trees to spot early signs of disease or damage. 
We work with scientists from Forest Research to get a better understanding of pests and diseases. Surveys and samples are regularly taken in the nation's forests to monitor the country for any threats. Any problems we do spot are treated to control their spread and protect other trees. 
We have also been working to raise the importance of personal biosecurity in the forestry sector and greater protection of the forests we all love.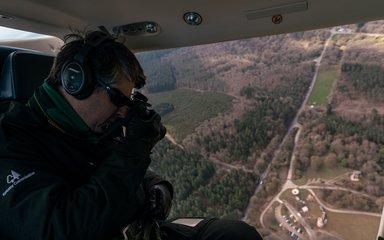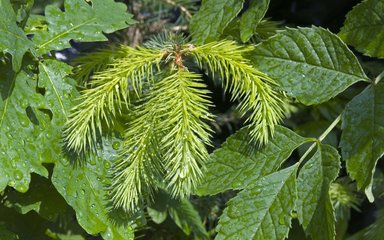 Strength in diversity
Diverse forests are more resilient. We are increasing diversity of tree species we plant so the nation's forests are better protected from pests, diseases and the effects of a changing climate.
Finding tree species that are more resistant to pests and diseases is essential for plant health and for ensuring a supply of sustainable timber for the future. 
We grow and plant a range of conifers, used for timber, as well as breeding native species tolerant to disease. A fifth of the trees we plant are new, alternative trees predicted to cope better with climate conditions, including types of redwood, cedar and maple.
Taking action
Sometimes we have to remove some trees to protect the others and keep them healthy. The change can look dramatic, but removing affected trees prevents pests and disease from killing in huge numbers, protecting the future of our forests. 

Disease can also cause a potential danger to our staff or people out enjoying the woodland. Trees can become brittle, lose branches or fall down entirely. So, to protect everyone's safety, we remove trees that are a risk. This is especially important if affected trees are near to places like a play area or walking trail. 
The wood can often be left in the forest as deadwood to provide vital habitat for wildlife.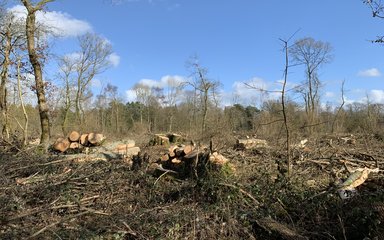 What you can do… 
You can take action to help to keep plants healthy and limit the spread of potentially devastating plant diseases:
Clean your boots, bike and buggy after visiting woodlands and parks
Report any unusual symptoms on trees and plants by visiting Tree Alert 
Take care of plants at home and at work to keep them healthy
Don't bring back plants from abroad
Buy responsibly and source plants from reputable nurseries and suppliers