How do forests improve our wellbeing?
Forests are places to seek adventure, make memories and find escape. For 100 years we've been looking after the nation's forests, so that they can take care of you.
Science backs this up too. Research shows that spending just 2 hours a week in nature significantly improves our health and satisfaction.
Seek adventure
Forests are dynamic environments to improve your physical and mental health.
They provide a backdrop to a huge variety of activities, demanding a range of fitness and motor skills. From birdwatching and photography, to mountain biking and sled dog training. If we're not seeking an adrenalin fix our senses relax under the forest canopy as we're filled with energy from experiencing the landscape, and fresh forest air.
Find Escape
Forests offer unique sensory experiences for the chance to regain balance and escape from the pressures of everyday life.
They are a haven to escape and are especially restorative environments. The sounds, sights and smells of the forest play a role in reducing stress by stimulating the senses, such as the subtle shifts in temperature to the scent of pine needles crushed under-foot. Studies show that people relax best while seeing greens and blues.
Make memories
Forests can be the social space that bring people and communities together.
The longevity of trees and forests means they often carry an emotional connection for people, inspire awe and provide a sense of time, and connect people with places and memories. They also offer a meeting place and a venue that forms an important aspect of local identity.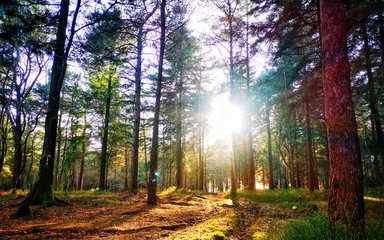 Download our free Forests for wellbeing booklet
We've designed this beautiful booklet to help inspire your next forest visit, be it an adrenaline-fueled adventure or quiet reflection in nature.