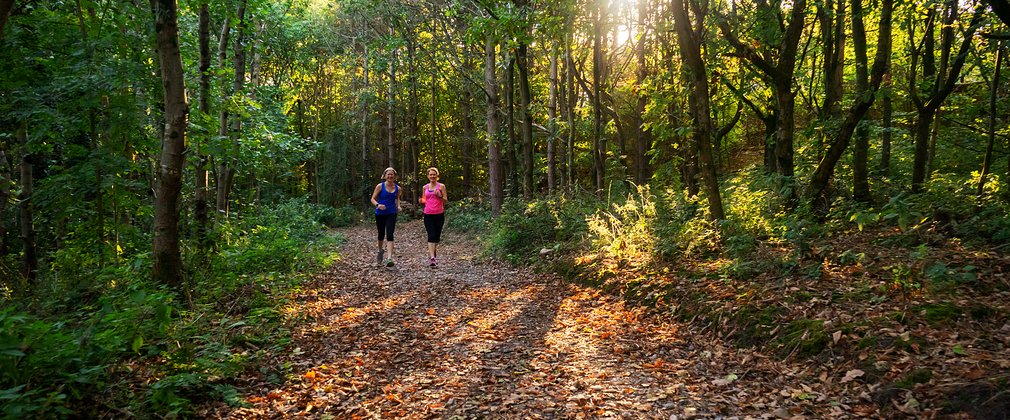 Thank you for taking part in our survey. Your answers help us shape the direction of a programme that focuses on a specific number of sites providing opportunities for people to get active

It only takes three minutes to complete and then your email address will be entered into a prize draw. Three lucky entrants will be picked at random every three months to win Forestry England membership and at the end of the year there will be a grand prize draw to win a £200 Cotswold Outdoor voucher. Terms and conditions are at the bottom of this page.
The information you provide will really help us to develop and improve your forest experience. It will be analysed by our Forest Research team to explore the types of activities people undertake, their motivations for being physically active and the benefits they gain from outdoor physical activity in a woodland environment. More information can be found here. If you have taken part in a group activity, please feel free to forward this survey to other members of the group to complete, provided they are 18 years or over.
Your email address is required to submit the survey. It will not be used for marketing purposes and you will not be contacted by any third parties. It will be used only to contact you about the competition and the follow-up survey where you will be entered into a second prize draw to win £500 to spend on a fabulous Forest Holidays break at a location of your choice.
Thanks for your time. We will be sending you a simple follow-up survey in three months' time which will greatly help inform our research. Completing this follow-up survey will enter you into a second prize draw for a chance to win £500 to spend on a fabulous Forest Holidays break at a location of your choice, with three runners-up receiving annual Forestry England Memberships.
You can withdraw your consent by contacting us here: moreinfo@forestryengland.uk
More information about us and what we do can be found at www.forestresearch.gov.uk
Physical activities survey competition terms and conditions 2022-2023
You can only enter the competition once. Repeat submissions will not be counted.

The prizes:




Each quarter 3 winners will receive an annual Forestry England membership to their local forest.




Grand end of year prize: £200 Cotswold Outdoor voucher.

The winner and runners up will be randomly drawn from those customers who provided their email address when taking part in the online physical activity survey, via the online form or tablet survey.

The competition end date for the prizes is 31st March 2023. Entries received after this date will not be included in the draw. Prize draws will take place on Friday, 7th April 2023.

There is no cash alternative to the prizes stated, and the prizes are not transferable. The prizes cannot be used in conjunction with any other offers. No part or parts of the prize may be substituted for other benefits, items or additions. If winners are unable to take the prize for whatever reason a redraw will take place.

Forestry England reserves the right to add additional prizes to this competition, until it expires. These prizes may have additional terms and conditions applied to them.

Winners must respond to notification email within 21 days of receipt of the notification email or the prize will be withdrawn.

Entries made through agents, third parties, organised groups or any entry duplication method will not be accepted.

The prize draw is open to UK residents aged 18 and over, except employees of any party connected with the promotion.

Forestry England's decision is final. No correspondence will be entered into.

Entry implies acceptance into these terms and conditions. The entry instructions form part of the terms and conditions. By entering, you accept to be bound by the terms and conditions.

Forestry England reserves the right to substitute a prize of equal or greater value should circumstances outside its control make this necessary.

Forestry England reserves the right to cancel, amend, withdraw, terminate or temporarily suspend this promotion in the event of unforeseen circumstances or technical reason outside its control, with no liability to any entrants or third parties but will use all reasonable endeavours to avoid consumer disappointment.