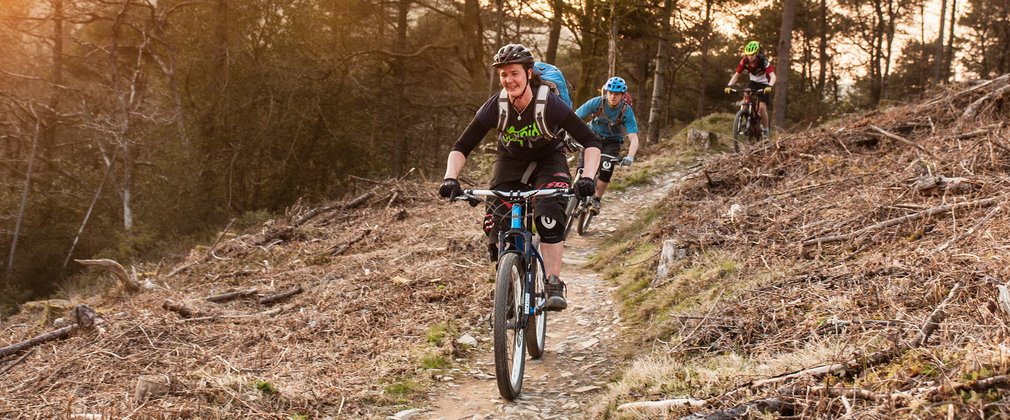 Bike Safety
Updated 11th December 2020
Your bike
The most popular choice of bike these days is a mountain bike. You really should buy one of these if you're considering cycling in the forest. However, not all mountain bikes are the same, as can be seen by the amount of money serious MTBers will pay for a custom bike. If you are going to go off-road, however, there are some things worth checking:
Suspension

Both front and rear wheels can have suspension and this will lessen the shock of hitting bumps and ruts in the ground. Less expensive bikes from high street outlets should be perfectly fine for forest roads.

Gears

It's only when you go off-road and face a steep climb that you appreciate having a wide choice of gears. Bikes with 27 gears are common now and the more gears you have the better.

Brakes

V brakes are fitted as standard and are fine for most situations but, if you're considering tackling some serious downhill MTB routes, you will maybe want to look at disc brakes.

If in doubt, talk to a reputable dealer, let the dealer know exactly what you intend to do on your bike, and have their experts set up the bike and check things for you.
Safety gear
It may seem obvious, but make sure you have the right safety equipment.
Helmet

A good helmet is essential and it must fit properly. Again, if you are not sure what this entails, talk to your dealer. Also, don't use the same helmet for years on end as the strength of the material lessens with age. And never wear a cracked or damaged helmet.

Protectors

Protect your hands as well. Most people fall off their bike at some point and instinct tells you to put out your hands! You might also want to consider elbow, knee and shin protectors for challenging trails with fast descents.
Take care
Take care when you are out on your bike. If you intend to go out in the hills or on a long ride consider the following:
let someone know where you are going and how long you expect to be out;
take a mobile phone with you;
take a first aid kit and some spares, for example a puncture repair kit;
ride with a friend or in a group;
take some food and drink with you;
check the weather;
dress appropriately. Casual clothes may be fine for family cycling but regular MTBers can buy clothing designed for cycling which is more comfortable and gives more protection; and
check routes, jumps and technical sections before you ride them - both you and your bike should be up to the task!