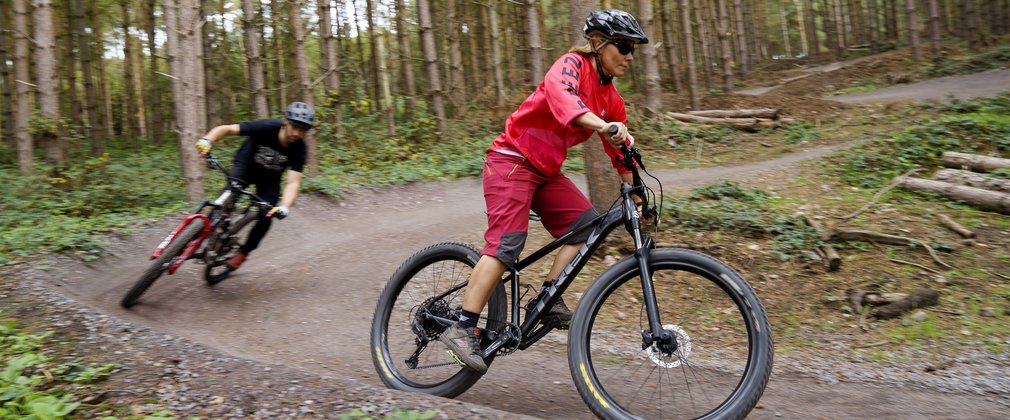 Changes to the cycle trail grading system
Updated 5th July 2023
We're changing the way our cycling trails are graded. A new grading system, shown below, is replacing the original grading system. Check your local forest cycling pages for up-to-date information. 
The new grading system:
Green: Easy 
Expect: Relatively flat, wide and smooth trails. Gentle climbs, descents, rollers and berms, with easy to avoid features such as rocks and potholes. Surface might be loose, uneven or muddy at times.
Blue: Moderate
Expect: A mixture of climbs and descents with moderate gradients, technical features like tree roots and rock steps; jumps and berms. Rollable features at controlled speed. Variable surfaces.
Red: Difficult
Expect: A mixture of steep climbs, descents and / or avoidable features. Larger jumps, berms and rollable features at controlled speed. Technical features such as tree roots, drop-offs and large rocks. Very variable surfaces.
Black: Severe
Expect: Long, steep climbs, descents and jumps. Numerous hazards including drop-offs, sharp corners and difficult features. Rapid rate of surface change. Commitment required.
Double-black: Extreme
Expect: Very fast and steep descents. Large drop-offs, jumps and unavoidable obstacles that require high levels of skill and commitment. Extreme level of exposure or risk. Rapid rate of surface change.
Forest road & similar
Expect: Gradients can be steep or variable. Surfaces may be uneven, loose or potholed. Navigation skills may be useful. Look out for other users, vehicles and forestry work.
General safety and what to do in an emergency
Off-road cycling is a hazardous activity carrying some inherent risks. Please consider your skills, abilities and fitness carefully, and always make sure your bike and helmet are safe to use. Read the cycling safety page before you visit.
Motorbikes and quadbikes are not allowed on cycle trails.
In an emergency, dial 999. Once you are safe, please let the local forest centre know by telephone. You can find contact details for each forest online.