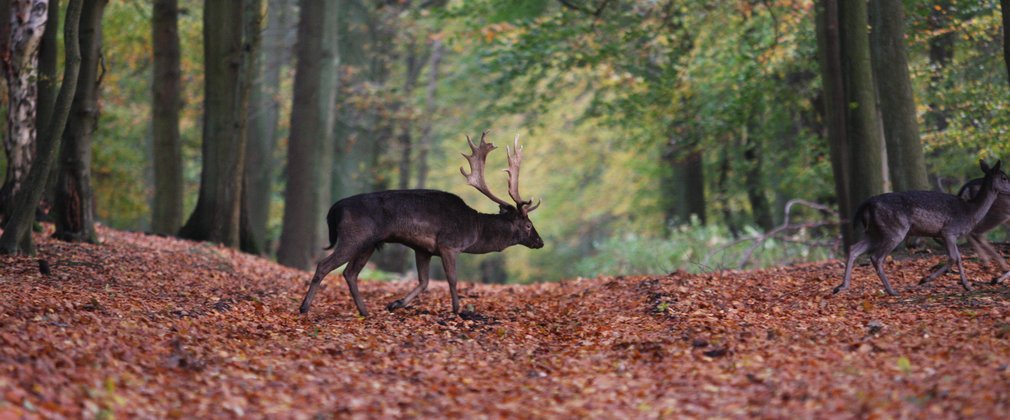 Deer rutting season at Wyre Forest
Updated 21st September 2023
Autumn is a special time to visit the forest. The leaves are changing colour and the nights are drawing in. So much fun can be had splashing in puddles, spotting the autumn colours and warming up with a hot chocolate.
Autumn is also a special time for wildlife and for the fallow deer in Wyre Forest it means that rutting season is here.
What is rutting season?
Rutting season takes place in late September and October and sees rival males battle for the right to mate with the females.
Prior to and during the rut, you may see male deer (bucks) groaning, walking parallel to each other and even fighting. It can be quite a sight, but it can also be dangerous as the bucks are full of testosterone. The normally peaceful forest is turned into a battlefield as each male tries to show his dominance.
What does it mean for visitors?
This is a very sensitive time for the deer and it is important that this natural behaviour is not disturbed. We are asking people to stay out of small areas of Wyre Forest from 22 September – 31 October to give the deer population some space. These areas have been identified by our Wildlife ranger and signage displayed to advise visitors that they should not continue further.
Please follow all signs you see in the forest and make sure you stick to the paths. If you do come across any deer, keep your distance and ensure your dogs are under close control.
Be deer aware on the roads
Deer are more active during mating season and traffic collisions involving deer are more common around this time. Please drive with caution on the roads around the forest, particularly in the early mornings and evenings.
If you hit a deer or see one injured on the road, do not approach it. Park your car in a safe place and call the police.
Road safety tips
Take note of deer warning signs and drive with caution.

Seen one? Look for another - more deer may cross after the first one.

Use your lights – Full-beam headlights will illuminate the eyes of deer on or near a roadway. But, when a deer is seen on the road, dim your headlights. Animals startled by the beam may 'freeze' rather than leaving the road.

Don't over-swerve to avoid hitting a deer - If a collision with the animal seems inevitable, then hit it while maintaining full control of your car. The alternative of swerving into oncoming traffic or off the road could be even worse.
For more information, visit the Deer Aware website