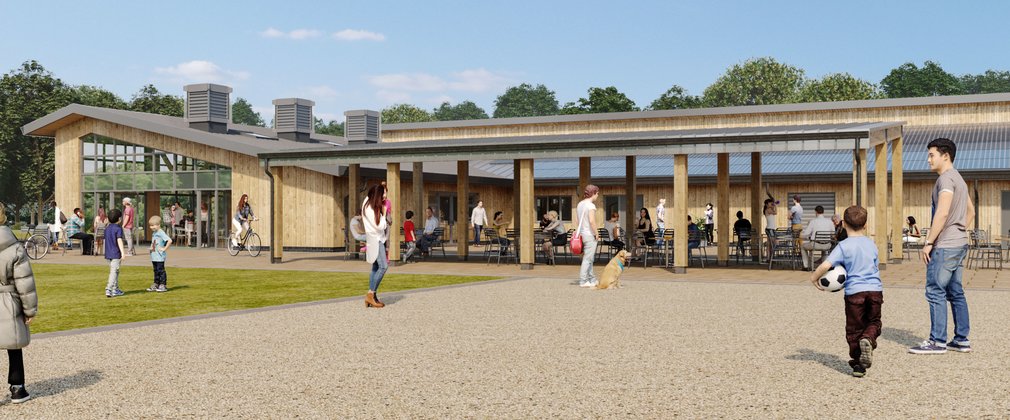 Delamere redevelopment project
Updated 9th October 2019
Improving our forest's facilities for our visitors
Delamere is the UK's second busiest forest with around 750,000 visitors annually. The multimillion pound Delamere Forest plan will create a new visitor hub and gateway to the forest. Key features of the plan will be:
• A new visitor welcome area with a larger café
• Improved toilet facilities
• Significant landscaping improvements
• New and improved trails and bridleways
• A multi-use health and well-being trail
• A new visitor hub car park and improved overflow parking
• 67 Forest Holidays cabins
Forestry England have partnered with Forest Holidays to create this sustainable vision for Delamere Forest. This will benefit all the forest's visitors with improved facilities and will create new experiences for people wishing to enjoy a peaceful getaway in the forest.
Work on the main Visitor Hub building has now started with our construction partners, Willmott Dixon. The new wooden-framed visitor welcome building will have a cafe with indoor and outdoor seating. The toilets will include a "Changing Places" facility for people who are unable to use standard toilets. Sustainability is at the forefront of all the building designs, with features including solar panels, a ground source heat pump, a sustainable drainage design and rainwater harvesting.
The forest, including the current toilets and cafe, remains open during the work although there may be some temporary route diversions in place from time to time. We'll keep you updated on progress on this web page and our Delamere Facebook page. Have a look at our frequently asked questions for more background on the project.
Work has also started at the new Forest Holidays location, led by their own in-house specialist team. Some routes are currently diverted and a new multi-user trail has been created. 
Introducing Forest Holidays
Forest Holidays is one of many commercial partners we work with, providing a reliable and long-term income stream and supporting Forestry England in delivering environmental, social and economic benefits.
Created by the Forestry Commission over forty years ago, Forest Holidays remains a partner to this day and successfully operates in ten locations across the UK including five in National Parks, bringing widespread benefits to local economies. Forest Holidays creates authentic experiences in Britain's amazing forests, connecting people, nature and local communities and offers eco-sensitive cabins designed to sit in harmony with their environment. These peaceful getaways encourage a low key visitor experience, promoting surrounding attractions, restaurants, cafes and shops.
There is a long term commitment by Forest Holidays to support the management of trails and the woodland environment around their locations. The cabins also generate an annual revenue for Forestry England, helping to support the sustainability of the vision for Delamere Forest into the future.