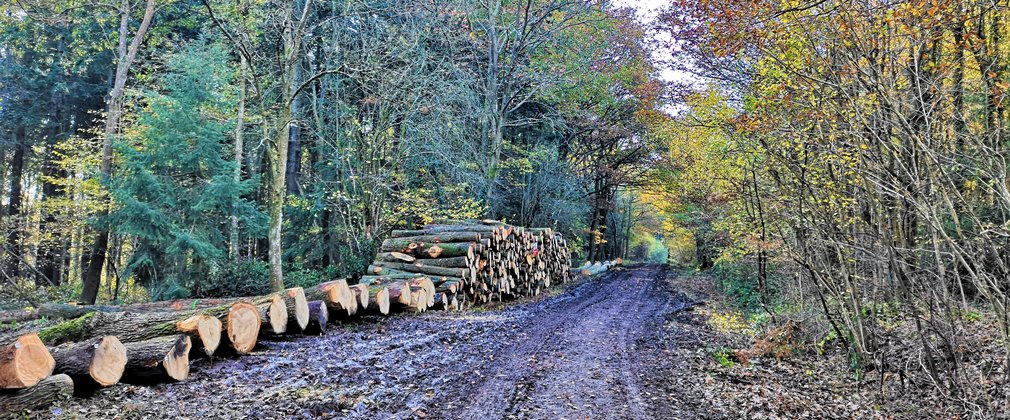 Thinning at Dymock Woods
Updated 18th November 2020
We will be timber harvesting in Dymock Woods, near Kempley, from November 2020. The works will impact some of our trails and access points, this page provides more information about the work we are doing and why.
What is happening?
We will be thinning areas of mixed species, both conifer and broadleaves trees this winter.  Trees will be felled to create space in the canopy to allow the remaining trees to develop towards maturity. The crowns of the remaining trees will grow to fill the spaces and allow the trees to increase their stem size over the next five to ten years. The process will then be repeated to allow some of the trees to grow on to their biological maturity. Space opened in the canopy will also allow natural regeneration of young Oak for the future and the process to carry on indefinitely.
The works are due to continue throughout the winter and on into next year; you will notice a significant operational presence in the woodland with banks persons, harvesting machinery, signage and timber stacks.
What happens to the timber?
The timber produced by this operation will go for a variety of uses into the construction industry, furniture making and biomass woodfuel. The Oak will go into construction timber for specialist uses such as manufacture of lock gates for canals and rivers, as well as fire wood. Some crown wood will be left on site as wildlife habitat, this is known as 'dead wood.'
Will you be replanting?
As this is a thinning operation, we do not have plans to replant, however, our work will aid the cycle of natural regeneration.  This is the lifeblood of any forest and woodland ecosystem, maintaining this cycle without loss is the basis of sustainable forest management. In British forests, harvesting timber is an essential part of the cycle as it makes space for regrowth and develops robust, healthy and diverse woodland areas.
Can I still visit Dymock Woods?
Yes - the woodland will remain open throughout our harvesting operations, the most important thing for us is to keep the public, our staff, and contractors safe. We will have safety and operational signage displayed, diversions, closures, and banks persons in position where needed.
This is for your safety, whether you can see or hear us working, it is important you read and listen to all instructions very carefully and obey all instruction. Forestry work is very hazardous. A falling tree can weigh several tonnes and hit the ground at nearly 60mph. If a harvesting machine chainsaw snaps, it can fly through the forest like a bullet.
What about the wildlife?
Well managed forests are able to support more wildlife, and harvesting trees is an important part of a sustainable forest lifecycle. Before we start any forestry work, we carry out thorough ecological surveys to check for species such as birds, mammals, rodents, invertebrates, flora, and fungi. We also consider these against complex factors including tree health, how the ground slopes, soil condition, and likely rainfall when planning work that will support our long-term management plan. While working, we continue to check for wildlife and will adapt, pause or suspend work if we find any animal that must be protected. 
Will you tidy up?
The works will have some visual impact on the woodland, those walking, cycling will notice rutting of the forest track and some areas may look messy and will become very muddy where machinery has been. This will be reinstated where necessary on completion of the work.
Harvesting work can sometimes be quite drawn out and work may stop for some time due to the many constraints that we have to work around. Dymock Woods in particular has some very wet areas, making it very difficult for machinery to work through. And due to the wildlife constraints, such as bird nesting and the bluebell season, we must work through the winter.