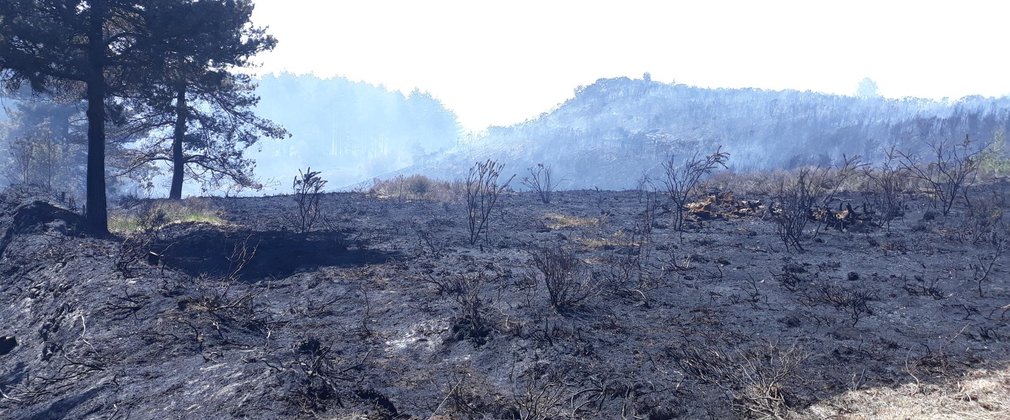 Help Wareham Forest FAQs
Updated 1st July 2020
When did the fire start?
The fire started on Monday 18 May and needed hundreds of firefighters from across the region to support Dorset & Wiltshire Fire and Rescue Service (DWFRS), including Avon, Devon & Somerset, Hampshire, Royal Berkshire, South Wales and West Sussex. They were also helped by specialist advisors from Forestry England as well as Dorset Police and many volunteers all working together tirelessly to bring this major incident to an end. At its peak, Dorset & Wiltshire Fire and Rescue Service (DWFRS) had 25 fire appliances in attendance, additional 4×4 vehicles and around 150 firefighters at the scene.
Is the area still at risk of more fires?
Although weather conditions have cooled, there is still a significant risk of wildfire across many of our forests, this includes Wareham Forest and it's possible that further hotspots may flare up within Wareham Forest if conditions change. We continue to appeal to people not to have BBQs or light fires of any kind.
What started the fire?
Dorset and Wiltshire Fire and Rescue Service confirmed they found evidence of many disposable barbecues, campfires and glass bottles. This careless behaviour can lead to such awful devastation. Forestry England will keep warning the public about the high risk of wildfires and confirmed that fires of any type, including disposable BBQs are still not permitted in the nation's forests and woodlands.
Why do you need this extra funding?
Although we get some support from taxpayers, most of the work we do is self-funded. Your money will go directly towards restoring Wareham Forest, the fire has come as a big and expensive shock. Selling sustainable timber cannot support all we need to do, so we also have other diverse sources of income to sustain our activities, this includes fundraising.
How will you use my donation?
Your help and support means we can begin work more quickly; from starting work on restoring the habitat, or replanting as many trees as we can. The fund is vital to make this work happen. Some of the work will be visible and includes replacing burnt fences, or laying gravel footpaths, and planting new trees, while other tasks are less visible, but equally as important, such as monitoring wildlife and enhancing their habitats.
How can I donate?
You can donate via our easy to use donation platform here. Your donations will help us restore the forest to a thriving habitat once more.