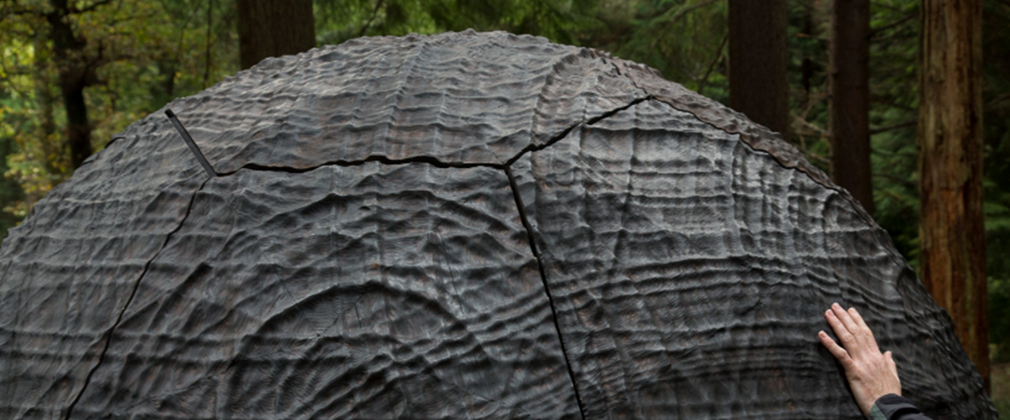 Jerwood Open Forest, 2014
Updated 24th September 2019
First launched in 2013, Jerwood Open Forest is a collaboration between Jerwood Charitable Foundation and Forestry England with the support of Arts Council England. In this talent development opportunity, artists from across the UK and within 15 years of beginning their practice were invited to submit bold, broad-thinking proposals which explored the potential for forests as a site for art. 
Five artists were selected to develop proposals for a new commission: 
Juan delGado

Adam James

Amanda Loomes

Semiconductor

Chris Watson and Iain Pate
From this shortlist, two artists were awarded commissions. 
Semiconductor, Cosmos, 2014
October 2014, Alice Holt Forest 
Project background
In October 2014, Semiconductor unveiled their first public sculpture, 'Cosmos', at Alice Holt Forest.
Semiconductor's work explores the material nature of our world. Through this piece, the artists consider scientific data as a means of understanding the environment, and the relationship between how science represents the physical world and how we experience it.
The spherical piece is based on on one year's worth of measurements of the take up and loss of carbon dioxide from the forest trees, collected from the top of a 28m high flux tower located nearby in Alice Holt Research Forest.
Chris Watson and Iain Pate, Hrafn: Conversations with Odin, 2014
24, 25 and 26 October 2014, Kielder Water & Forest Park 
Project background
Composed by Chris Watson and produced by Iain Pate, Hrafn: Conversations with Odin was realised at Kielder Water & Forest Park in Northumberland on 24, 25 and 26 October 2014.
This multi-channel sound installation featured conversations of thousands of ravens returning to roost. Audiences were led on a walk into the forest, before settling as darkness fell. Participants then heard the sound of two thousand birds arriving in the canopy overhead to begin their conversations. The work celebrated the return of these powerful voices to the forest, making a connection back to Norse mythology.