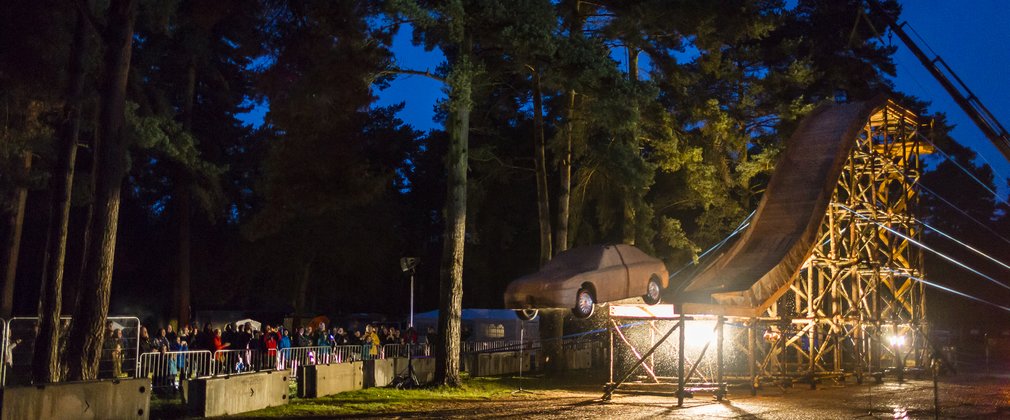 Jerwood Open Forest, 2017
Updated 16th September 2019
Kieth Harrison, Joyride, 2017
30 September 2017, Cannock Chase Forest 
Project background 
For this second edition of Jerwood Open Forest, artists from across the UK and within 15 years of beginning their practice were invited to submit bold, broad-thinking proposals which explored the potential for forests as a site for art. The initiative contributed to a national conversation about how contemporary visual artists engage with the environment today, and debates around critical practice and art in the public realm.
From an excellent response of almost 500 diverse and ambitious proposals, five artists were selected to develop proposals for a new commission. 
Rebecca Beinart, Magz Hall, Keith Harrison, David Rickard and David Turley each received a research and development fee. This was used to expand on the concept of their proposals, test feasibility and explore potential sites within the nation's forests.
Each artist benefited from a six-month research and development period and took part in a group exhibition in November 2016 at Jerwood Space, London. In addition to being supported by the teams at Jerwood Charitable Foundation and Forestry England throughout, they attended a programme of developmental activities as a peer group. The artist selected for the commission was Keith Harrison who presented his event-based project, Joyride, at Cannock Chase Forest on 30 September 2017.
The selection was made by leading practitioners and project partners:
Katherine Clarke, artist and founding partner of muf architecture/art
Neville Gabie, artist
Shonagh Manson, director of the Jerwood Charitable Foundation
Hayley Skipper, Curator of Arts Development, Forestry England
Dr Joy Sleeman, writer, curator and lecturer.
A video documenting Keith Harrison's project is available here.