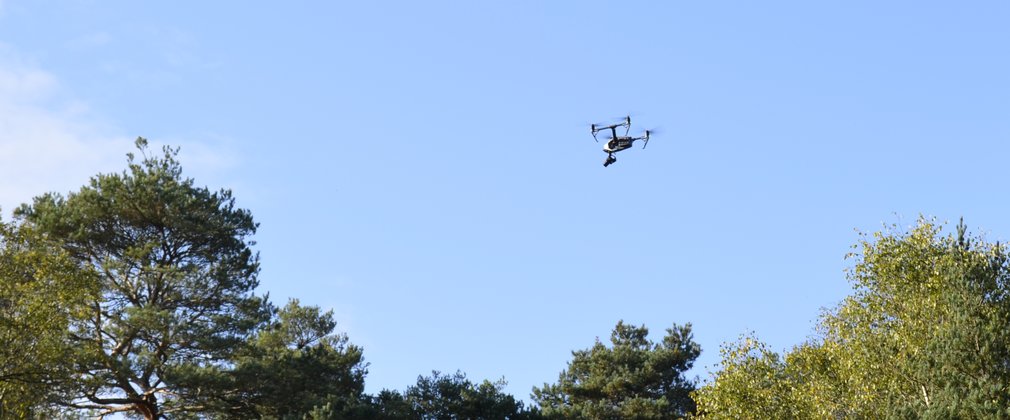 New Forest - permission for drone flying
Updated 8th June 2021
Drone flying in the New Forest
Like many other organisations we believe that uncontrolled recreational use of drones at our sites is incompatible with the vast majority of our visitorsꞌ expectations for peaceful and quiet enjoyment of the forest and their personal privacy. So, drone users (pilots) must have our written permission to take-off or land drones from land we manage.
The Forestry Commission byelaws
The byelaws still apply to the land we manage as Forestry England and specifically mention in Section 5 "Prohibited Acts Within Byelaws" paragraph xxiii that you cannot "operate any aircraft, glider, hot air balloon, boat, raft or craft of any kind, or any model aircraft, boat or car".
We believe it is fair to interpret 'aircraft' in its more modern identity of small unmanned aircraft (SUA), therefore, include the category of SUA's that are now commonly identified as drones.
These considerations need to be taken into account:
Bird nesting season 

(1 February – 31 August)

The New Forest is a highly designated area with sensitive wildlife habitats

High concentrations of people

Presence of forest animals, including ponies and cattle
Drone use is growing rapidly in the UK and it has become easier and cheaper for the public to buy and use drones with considerable power, battery life and camera resolution. The Civil Aviation Authority has published information on how users can fly their drones safely and legally without endangering others. This is all compiled and held on: https://dronesafe.uk/
Also:
Pilots may fly over Forestry England land by starting their flight from any legally permitted take-off / landing area.

Pilots must follow the law for flying a drone and the flight must be safe.

Anyone concerned about someone using a drone should consider reporting the incident to the local police and the Civil Aviation Authority (CAA).

Any concerns about a possible breach of privacy should be reported by the person affected to the Information Commissioner's Office (ICO).
If I'm a responsible drone user, who wishes to operate in the New Forest in compliance with the regulations, who can I contact to discuss potential flights with?
Many drones have cameras attached and these could infringe data protection laws (filming people without permission) and potentially could breach the Forestry Commission's rules on commercial photography and filming.
Permission to operate a drone on New Forest Crown lands may only be granted by Forestry England for the purposes of filming, operational and scientific/research. Applications for permission must first be reviewed internally and may be issued with constraints and limitations on use if appropriate.
Users which are granted permission (as listed above) for commercial use must show evidence of a CAA licence and appropriate public liability insurance.
To apply for a permit and find out more about costs involved please complete the application form or email  full details of what you are planning, along with your full contact details(including phone number and postal address) to:
southern.permissions@forestryengland.uk or please contact us on 0300 067 4601.