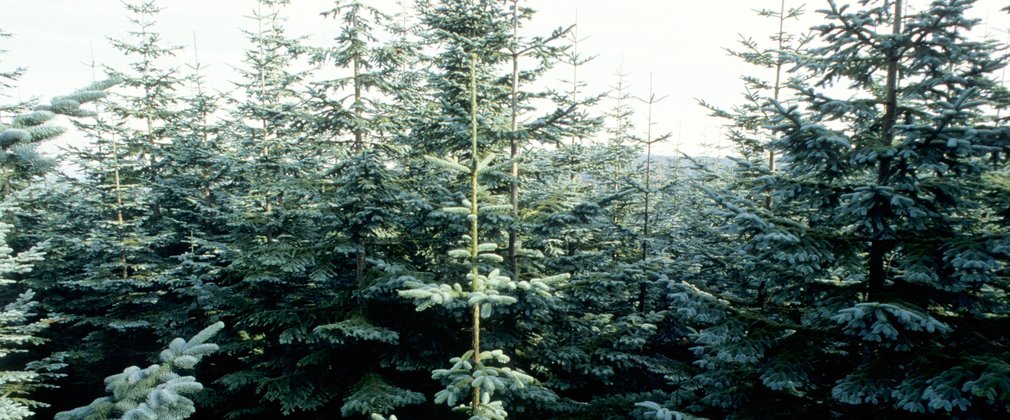 Introduced into Britain in 1830, noble fir is a native of the forests of Washington and Oregon in North America, where it grows to a great height. This species is valued for its foliage and as a Christmas tree, but in England is planted on a limited scale in wetter western districts.
Noble fir facts and figures
noble fir (Abies procera) is a tall, handsome conifer growing to around 45 metres.
this fir tree can live for 150 years.
due to the blue-grey colour of its foliage, noble fir is often used to make decorative wreaths.
traditionally it is the preferred species of Christmas tree in Denmark.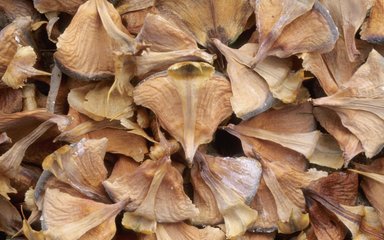 Noble fir identification tips
Heading out into the forest? Here are some top things to look for when trying to spot Noble fir:
bark: smooth and pale grey to purple in colour.
cones: large and upright with downturned feathery bracts.
needles: blue-grey, around 2.5cm in length and grown at right-angles to their twigs.
How noble fir is used
Noble fir is planted as a specimen tree in parkland and large gardens, and as a Christmas tree, but is also a useful tree in forestry.
The timber is close-grained, light and very strong. It was used in building early aeroplanes and ladders, and is now highly valued in the building industry.
Historically its leaves were once used to make cough medicine.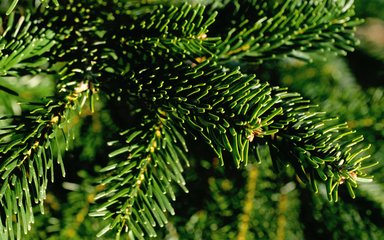 Noble fir and future forestry
This fir tree is useful for diversifying forests as it can grow in shady conditions under taller trees. This makes it suitable for 'continuous cover forestry', which is a sustainable method of managing forests that avoids clearfelling by creating a mix of tree ages and species.