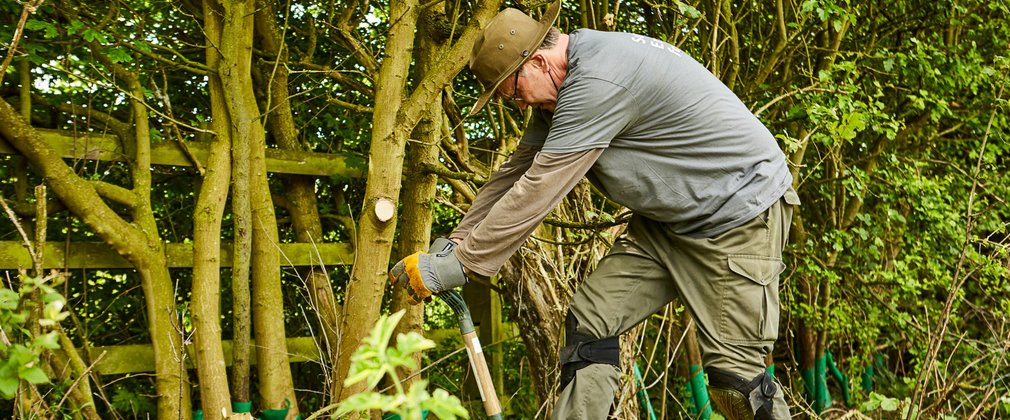 Questions you may have
Updated 24th November 2022
What is a Shadow Volunteer?
As a Shadow Volunteer you will become a member of the Forestry England team, shadowing our employees and learning from them as they carry out their day-to-day tasks as part of their role.  Shadow Volunteer roles are available in many areas of Forestry England work, including forest management, recreation and trails, event support, and wildlife and habitat conservation.
How long is a placement?
The placement is for a period of 6 months.
Will I get paid?/Why isn't this work paid?
The role is voluntary. However genuine costs are covered, for example travel expenses if you are required to travel over and above your normal place of work. Through the scheme you will also receive training, uniform, Personal Protective clothing and equipment and a resource pack to help you in your role.  Your supervisor will provide mentoring support and advise and encourage you on how to develop your skills. If you complete 35 hours of volunteering during your 6 month placement you will also receive a volunteer car park pass for your local forest.
How many hours do I need to do as part of my placement?
Each role can be carried out from a minimum of 1 to 3 days per week working between 5 to 8 hours each day depending on your role and work plan agreed with your supervisor for that week. Please include your availability/preferred working pattern within your application.
Am I able to carry on working elsewhere while I am a Shadow Volunteer?
It is possible to continue with some employment or further education alongside your shadowing. The role you undertake could be for 1, 2, or 3 days of the week with the schedule determined by yourself and your supervisor so this should enable you to continue with some paid employment or further education.
Can I be a Shadow Volunteer as part of my university course work placement?
Yes, so long as you can volunteer during your agreed days and times and it doesn't interfere with your studies.  Discuss your application with your tutor before applying. 
How will this work with my Job Seekers Allowance/Universal Credit/etc?
If you are receiving welfare benefits you can still volunteer and receive out of pocket expenses without affecting your claim.  You must inform the Benefits Agency before you start as a Shadow Volunteer, especially if you are receiving Employment and Support Allowance.  As part of the Shadow Volunteer programme, we support you in developing your skills to develop your career within the forestry and environmental sector.  If you secure an interview while part of the Shadow Volunteer programme, just let your supervisor know, if this is on a day you would have been with us.  We will of course work around any interviews you have.
What training is included in the scheme?
Training varies depending on the role you are carrying out but usually includes first aid, manual handling, risk assessment and health and safety, hand tool use and managing data.  There will also be a wide range of informal training specific to the role you shadow.  In addition many of our mentors provide opportunities to all our current shadow volunteers to attend informal training in their specific work area, which is a great opportunity for you to try new things out.
Why does Forestry England run the Shadow Volunteer scheme?
We are proud to be able to offer the Shadow Volunteer program to individuals with an interest in pursuing or considering a career in the forestry sector.  Not only does it give valuable experience for those taking part in the scheme, but it also provides the Nation's Forests with an extra pair of hands to support our forest habitats, timber resources, trails, recreation facilities and community engagement.  It gives us an opportunity to outreach to a diverse range of people to give them a taster of what it means to manage our magnificent forests to create wider and more long term benefits involving them in decision making and management of the environment to create benefits at a local and global level.
What qualifications/work experience do I need to apply?
No specific qualifications are required for these positions. If you have relevant experience in the role that you are applying for, you should demonstrate this in your application.
Can I apply for more than one Shadow Volunteer role?
Yes, you can apply for all roles which are of interest to you. Please remember to select each role that you are interested in and state clearly in the 'Other' box on the application if you have a location preference.
I consider myself to have a disability.  How can I find out whether I am able to do the role and that suitable support is available?
Read the job role and decide whether you feel you have the skills and experience we are looking for to support your application. The application form gives you the opportunity to tell us about your disability and what we would need to do or put in place to enable you to carry out the role you are applying for.  If you are selected for a Shadow Volunteer role based on your skills and experience this will allow us to assess whether support can be safely and practically put in place or whether other alternative solutions are a possibility in discussion with you.
How old do you need to be?
Applicants need to be 18 years or over.
Will I be guaranteed a job at the end of my placement?
No. Many of our shadow volunteers do go on to secure employment with Forestry England, or the wider forestry and environmental sector however a permanent role is not guaranteed. Should a suitable role not be available upon completion, the training and experience you received during your time with us should go on to help you secure a position in the wider environmental and forestry sector or consider opportunities for further education.
What happens after your placement finishes?
Most of our shadow volunteers upon completion of their placement go on to either further education or paid employment within the environmental or Forestry sector. Whether that be a role with Forestry England or another employer in the sector. Some of the training you receive will be industry standard/industry recognised and your mentor will give you guidance in writing a CV, job applications and interview techniques.
What type of role might I be able to go on and do?
Forestry England has been running a successful Shadow programme for almost 20 years. Following the completion of their volunteering, Shadows have gone on to complete studies in higher education or start new careers in a wide variety of roles such as Community, Learning and Recreation Rangers for Forestry England and some have become an integral part of our visitor services teams.
Shadows have also gone on to be Teaching Assistants, Camp Leaders and Tree surgeons, as well as completing apprenticeships. The programme has seen our volunteers go on to succeed working for a number of different organisations within the industry such as Forestry Commission, National Trust, RSPB, National Parks, Wildlife Trusts, Canals and Rivers Trust, The Bushcraft Company, Natural England as well as many others.
If you have a question not answered here, please email volunteer@forestryengland.uk