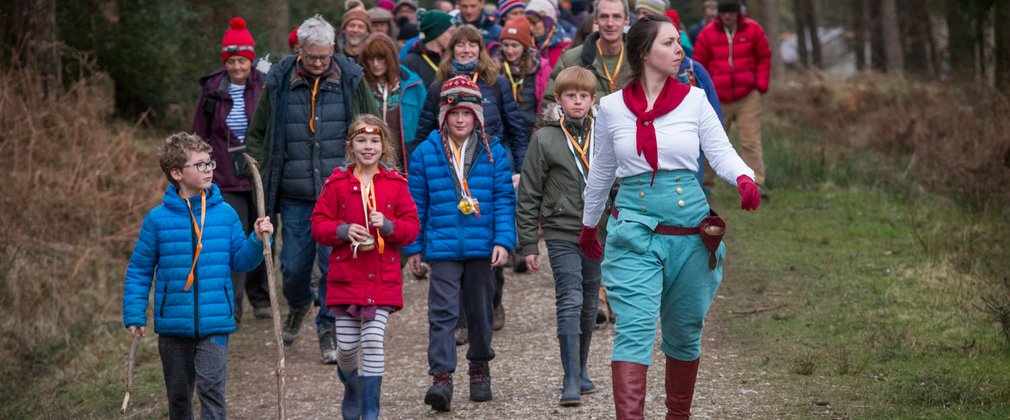 Burn the Curtain, The Hunters and The Hunted, 2017 to 2018
Updated 5th June 2019
Project background 
In 2018 the classic Lewis Carroll poem, The Hunting of the Snark, was brought to life in seven Forestry England forests by theatre company, Burn the Curtain. The Devon-based theatre company produced an immersive outdoor promenade performance that took audiences on a journey through the woods to interact with the poem's characters and become part of the quest to find the mythical Snark. Alongside the theatre performance, the Snarkhunter digital app was also developed. This followed Lewis Carroll's original story and allowed visitors to play exciting games along dedicated forest trails. The app was available at the same forests as the performances. 
Burn the Curtain's imaginative retelling of Angela Carter's dark and mysterious tale, The Company of Wolves, was a promenade theatre experience for runners and walkers. The production toured England's woods and forests in the autumn of 2017. 
Forest Pathways, an audience development guide for family audiences, was developed to collate the learning generated by this programme, including the engagement activities with young carers. You can find the full document at the bottom of this page.
The Hunting of the Snark Performances
Haldon Forest – 5, 6, 7 April 2018
Sutton Manor – 19, 20, 21 April 2018
Hamsterley Forest – 3, 4, 5 May 2018
Delamere Forest – 13, 14, 15 September 2018
Dalby Forest – 20, 21, 22 September 2018
High Lodge, Thetford Forest – 11, 12, 13 October 2018
Bedgebury National Pinetum – 25, 26, 27 October 2018
The Company of Wolves Performances 
High Lodge, Thetford Forest – 21, 22, 23 September 2017
Hamsterley Forest – 12, 13, 14 October 2017
Sutton Manor – 26, 27, 28 October 2017
Partners
'The Hunting of the Snark', 'Snarkhunter' and 'The Company of Wolves' were developed by Burn the Curtain in partnership with Forestry England through the Forest Art Works programme, with support from Arts Council England.
To find out more about Burn the Curtain, follow the link below.