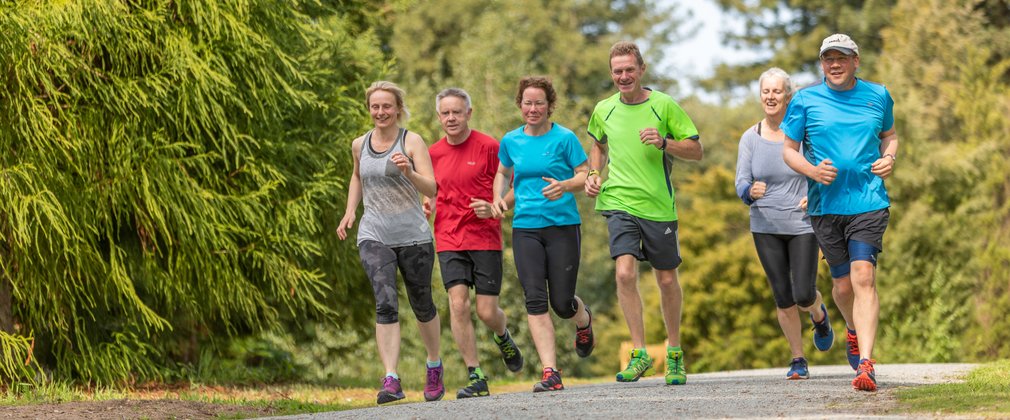 Forest Fitness sessions at Bedgebury National Pinetum and Forest
The benefits of fresh air and being active can have a really positive effect no matter what age you are
Tim Playfoot, qualified outdoor fitness specialist, registered Guide Runner and UK Athletics Run Leader, provides bespoke running and training sessions in the beautiful surroundings of Bedgebury National Pinetum and Forest. Tim's sessions can also include resistance training, strength and conditioning work, free weights, weight lifting training, pad work and suspension training.
Whether you are a complete beginner, want to do the 0-5K or are a competent runner wanting to improve your time and strength – Tim can offer something for you.
Early Bird Runners 
8.15am every Tuesday 
Are you an early riser? Join this running group for a five-mile morning run in the forest that will leave you feeling invigorated and ready to tackle the day ahead. 
Run Fit 
8.30am every Thursday 
A structured running and fitness session with a challenging mix of intervals, hill reps ending with a free weights session. 
Weights on Wednesday 
9.30am every Wednesday
A one hour resistance training session designed to help you feel stronger and more energetic. Using a variety of equipment including dumbbells, kettlebells, barbells, a weight-bag, bodyweight and a TRX suspension trainer, you'll challenge your muscles in new and exciting ways. Suitable for all fitness levels. 
Bedgebury Bootcamp 
6pm every Wednesday
£5 per session 
Get your heart pumping and your body moving with Bedgebury Bootcamp, an exhilarating fitness session held amongst the trees of the National Pinetum.  Suitable for all-abilities. 
For more information about Tim's sessions or to book, please email info@timtrainer.co.uk 
Activity information:
Bedgebury National Pinetum and Forest, Lady Oak Lane, Goudhurst, TN17 2SJ
Pricing available during booking, variable depending on activity and session
Tuesdays, Wednesdays and Thursdays
Vehicles admission applies unless a Forestry England member.