Gruffalo Sculptures at Bedgebury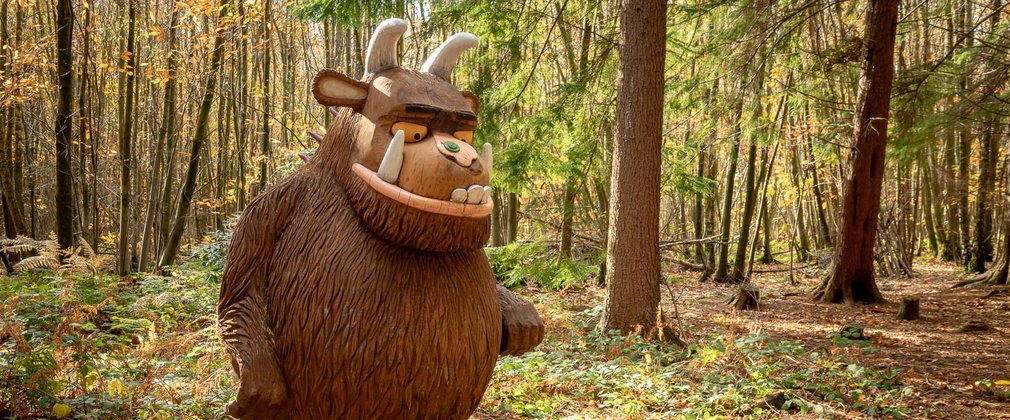 Gruffalo Sculptures at Bedgebury Pinetum
When you explore the National Pinetum you may spot the Gruffalo and his friends. Can you find them all?
Bedgebury National Pinetum is fairly big, covering some 128 hectares and the six large wooden Gruffalo sculptures are hiding amongst the trees. The Gruffalo, Fox, Mouse, Snake, Squirrel and Owl are spread out across the pinetum.
It's a good idea to download our explorer's guide or take a picture of the map at the visitor centre before you start your adventure. The explorer's guide introduces the characters real life animals and the places that they live (habitats), so you can learn more about Bedgebury's wildlife whilst you explore.  
Younger ones may need more than one day to meet all of the Gruffalo characters or maybe plan in a stop at the cafe to rest. 
What3words locations 
You can also find the Gruffalo and his friends on the what3words app at the following locations:
Gruffalo brush.brambles.blending
Owl melts.oppose.flank
Snake fuel.peanut.generated
Squirrel civil.pavilions.kennels
Mouse soups.stealthier.suiting
Fox rebel.cropping.stubble
Did you find them all?
We'd love to see your photos of you with the Gruffalo and his friends! Tag us in your photo's on Facebook and Instagram or you can post them on our Forestry England facebook page!
Take care 
The Gruffalo and his friends are not waymarked and are hiding off hard paths along a 3.5km (2.5 mile) walk and there are some steep and grassy slopes along the way. 
Please note: Gruffalo's child has been temporarily removed, apologies for the inconvenience. 
Activity information
Bedgebury National Pinetum and Forest, Lady Oak Lane, Goudhurst, TN17 2SJ
Visit the visitor centre for clues on where to find the sculptures
Is this activity for you?
Only you know your limits! Watch out for bumpy ground and a few steep slopes but there's also many benches. It's lovely to discover the Gruffalo together, but you can always send out scouting groups whilst others (young and old) rest.
If you're looking for easy access the Squirrel and Mouse are a fun quick fix until you return another day.
All ages can enjoy finding the sculptures. There's explorer's options for your 4 year old up to inquisitive teenagers using the clues or what3words app.
Our sculptures are not play equipment and we ask visitors not to climb on them. However, we know that children want to interact with them and touch them. Please remember to take the same precautions that you would at our play areas
Gruffalo sculptures are dotted around the National Pinetum so you can find them whilst exploring, the shortest route between them all is 3.5km.