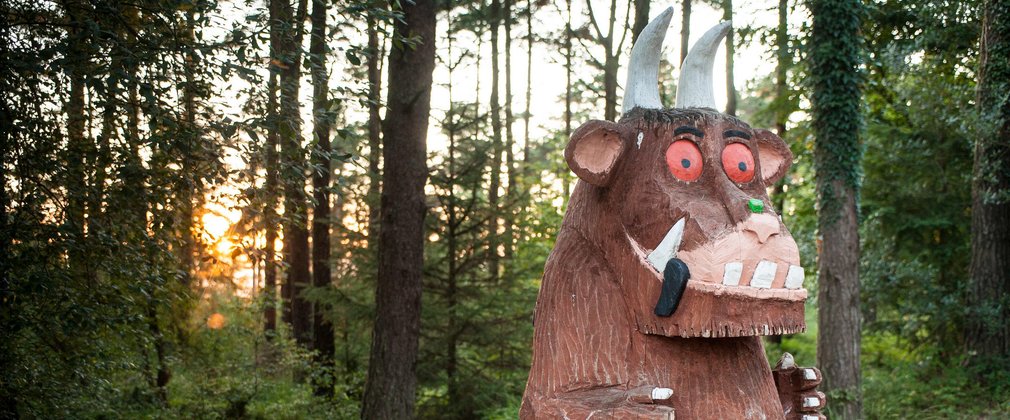 Gruffalo Sculptures at Bedgebury Pinetum
When you explore the National Pinetum you may spot the Gruffalo and his friends. Can you find them all?
Bedgebury National Pinetum is fairly big, covering some 128 hectares and the seven large wooden Gruffalo sculptures are hiding amongst the trees. The Gruffalo, Gruffalo's child, Fox, Mouse, Snake, Squirrel and Owl are spread out across the whole pinetum.
It's a good idea to download our explorer's guide or take a picture of the map at the visitor centre information office before you start your adventure. The explorer's guide introduces the characters real life animals and the places that they live (habitats), so you can learn more about Bedgebury's wildlife whilst you explore.  
Younger ones may need more than one day to meet all of the Gruffalo characters or maybe plan in a stop at the cafe to rest. 
Take care 
The Gruffalo and his friends are not waymarked and are hiding off hard paths along a 3.5km (2.5 mile) walk and there are some steep and grassy slopes along the way. 
We're unable to carry out daily cleaning regimes on the sculptures, so please take care of yourself and those in your care. If other people are saying hello please wait or come back later. Don't eat, drink or touch your face if you've touched them and keep 2m away from others.  Please come prepared, and consider bringing your own hand sanitiser. There are hand washing facilities at at all of our toilets including at the visitor centre, in the pinetum and in the temporary toilets next to the pay station, and you can see the locations of these on the map.
What3words locations 
If you've enjoyed using the what3words app on our free downloadable summer family activities then you can put your new skills to the Gruffalo sculptures challenge!
Gruffalo is brush.brambles.blending
Gruffalo's child is observer.sped.lemons
Owl is melts.oppose.flank
Snake is fuel.peanut.generated
Squirrel is civil.pavilions.kennels
Mouse is soups.stealthier.suiting
Fox is rebel.cropping.stubble
Did you find them all?
We'd love to see your photos of you with the Gruffalo and his friends: you can post them on @BedgeburyPinetum and our Forestry England facebook page!
Activity information
Bedgebury National Pinetum and Forest, Lady Oak Lane, Goudhurst, TN17 2SJ
Visit the visitor centre information office for clues on where to find the sculptures
Is this activity for you?
Only you know your limits! Watch out for bumpy ground and a few steep slopes but there's also many benches. It's lovely to discover the Gruffalo together, but you can always send out scouting groups whilst others (young and old) rest.
If you're looking for easy access the Squirrel and Mouse are a fun quick fix until you return another day.
All ages can enjoy finding the sculptures. There's explorer's options for your 4 year old up to inquisitive teenagers using the clues or what3words app.
Our sculptures are not play equipment and we ask visitors not to climb on them. However, we know that children want to interact with them and touch them. Please remember to take the same precautions that you would at our play areas