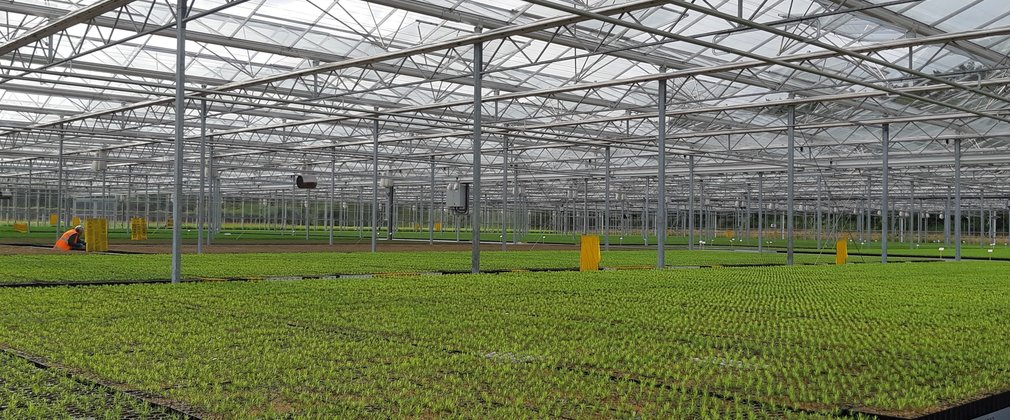 The coronavirus pandemic has meant life for many of us has changed dramatically. While we're asking you to stay home, many of our staff are still working hard to look after our trees and forests.
Delamere nursery in Cheshire hosts the largest glasshouse dedicated to growing forest trees in the UK. From the glasshouse alone, we produce up to four million of the very best trees every year for the nation's forests, as well as supplying trees to Scotland and Wales. We're making sure our young trees are still being well cared for and our staff remain safe (you can read more about this in our previous blog by nursery manager Vernon).
In this blog we hear from site ranger Phil Lee who temporarily joined the nursery team to help out at a crucial time.
My normal job is a site ranger and my beat runs from Southport in the North to Northwich in the South (the irony of that always makes me smile). Usually my job involves safety inspections at community woodlands and arranging maintenance works, facilitating events like parkrun, cycling races, horse riding and arts events, monitoring wildlife and supervising work on our land. 
Since the coronavirus outbreak, I've continued to visit woodlands to make sure they are safe for those living locally. I am pleased to say people seem to have adapted well and keep to social distancing guidelines. Where I can, I work from home in my daughter's very pink bedroom (I am quick to blur the background on video calls!) 
The pandemic hit at a crucial time for forestry, just as the young trees leave the nurseries to be planted across the country and seed for the coming years needs to be sown. In the days following the first lockdown I became aware that the plant and seed supply team had a lot of manual work to do at this critical time of year and few people to complete it, with experienced, skilled workers self-isolating. 
My wife Kasia is the health and safety officer at the Delamere nursery and told me about the staffing limits placed on tasks in order to maintain social distancing, along with many other measures. I called my manager who agreed that I could lend a hand and support colleagues to get the work done.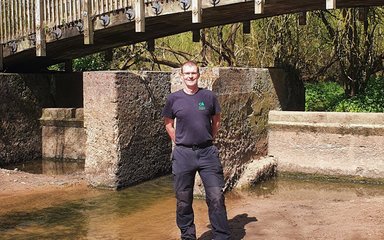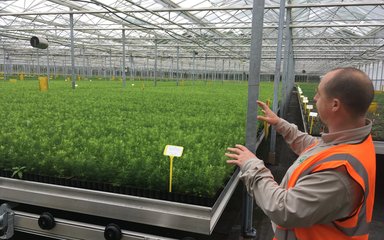 Well, I think the last time I did any nursery work was 1985… However arriving at the Lobslack nursery seemed familiar, but the mess room, usually full of conversation and laughter was quiet. There were empty workstations, but behind them I could see thousands of beautiful Douglas fir that all had to be individually checked, removed from their containers and packed ready to go to their new home for the next 50 years or so.
After a quick 'toolbox talk' covering health and safety, we were off! I soon found my rhythm. The new glasshouse is amazing and produces very high quality trees with a minimum of manual handling, but at certain points people still need to handle the trees.
Handling trees never fails to teach you something about life, nature and yourself. Your senses are overloaded with the sight and smells. Where else do you see so many young trees so close, touch them from root to crown, and smell each of their spices with their distinctive fragrance. You can almost taste the damp compost, the trees and that unmistakeable glasshouse scent. 
We established a way of working, and for the first time I worked alongside my wife Kasia. Working with Kasia means that we can work a little closer than others can as we're from the same household. With the reduced number of staff, we were all able to maintain a good distance and we soon saw the number packed increase and the satisfaction of the order going out on time was great, especially as I know where the trees are going and should see them again often throughout their lives. 
Saturday saw us off to another site, Abbots Moss nursery. The task was to prepare common alder seed to be sown immediately. If you are familiar with alder seed you will know how small and light it is. This means it must be mixed with compost to ensure the sowing machine sows it evenly. Fortunately, nursery supervisor Graham Ball has done this for a few years now and provided some good pointers and a very reliable secret method (amazing how every 'secret method' involves a set of kitchen scales, a cement mixer and a shovel). In total we mixed 5kg, which is a lot of individual seeds. 
In both of these jobs, I played just one part in the long journey for these trees and I have spent just a few days holding some of them for a few seconds. There were many people before me and there will be many people after me, but I will have a connection with them always. Especially the Douglas fir planted in 2020, made poignant by these uncertain days.
This blog was written by Phil Lee, site ranger, Merseyside.