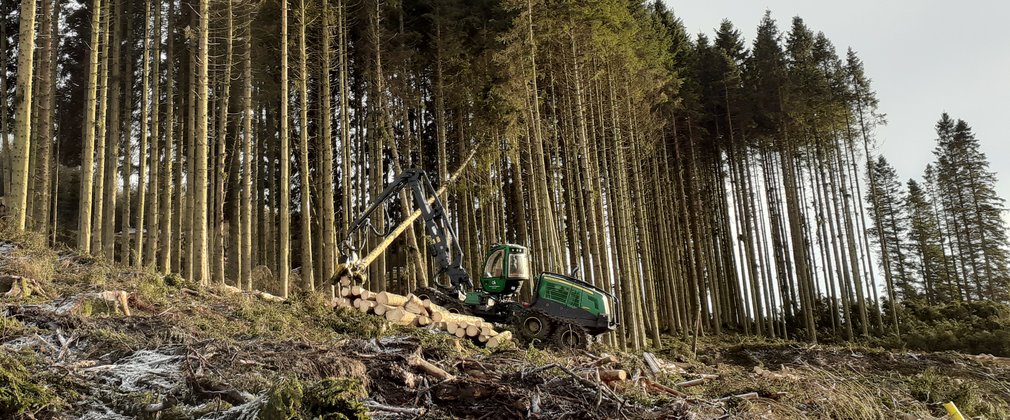 While we are asking you and many of our colleagues to stay at home, our staff are still working hard in the nation's forests. 
We supply nearly half of all homegrown timber in England, providing wood that is part of our everyday lives. In this blog we hear from harvesting forester Alistair on how his team have been maintaining the vital timber supply during the pandemic.
My role is to ensure the production and supply of timber to sawmills across the north of England and south of Scotland. I manage the Forestry England fleet team who operate heavy machines used in forestry works, primarily harvesters and forwarders. Harvesters cut the trunk from the tree and chop it up into lengths of timber, then forwarders carry the timber to stack on the roadside. 

A usual week for me consists of a mix of office work and site visits. In the office I work on planning for operations, which includes working out tree volumes from data collected by tree measuring contractors, drawing up maps of future work sites and analysing these to see what constraints need to be considered, before walking the site and eventually felling the timber. Since the coronavirus pandemic, I've been working from home where I can, which has the added obstacle of trying not to wake my baby daughter!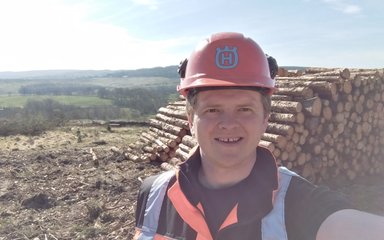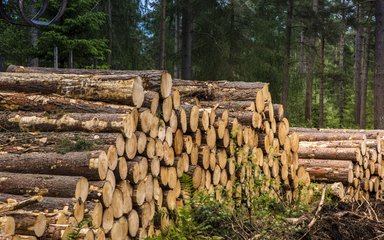 Onsite I check the right specifications of timber are being cut to ensure that a range of different products are being delivered to their specific markets. A log that is even 1cm too short might get rejected by the sawmill, so it is vital to make sure quality is maintained. I also ensure that good health and safety and environmental management is being carried out, important for keeping our people and landscapes safe and well. We pay particular attention to wildlife breeding sites, and in some scenarios have to alter plans to make sure species are protected.
In terms of dealing with Covid-19 onsite, my team are in a fortunate situation regarding social distancing rules. The nature of their roles means they naturally spend a lot of time well away from other people and we have a lone worker protection system in place. It only takes one person to operate a harvester or a forwarder! We have had to introduce some stricter measures though, including limiting to one person per vehicle when travelling to sites, avoiding sharing machines, and ensuring hygiene and social distancing are being observed at all times. 


 
Not all has been business as usual though. One challenge has been the restriction on chainsaw use. During the first lockdown, chainsaw work halted for the initial period because it was felt that in the unlikely event of an accident it could place extra demands on the emergency services. We use chainsaws on a regular basis to deal with scenarios like working on steep ground, large trees beyond the capabilities of the harvester machines and perimeter brashing. Perimeter brashing is using a chainsaw to remove the lower branches on the trees on the edge of the felling area. These trees often have thicker branches lower down the tree as they have more exposure to sunlight, making them tricky for the harvester machine to grab hold of. 
Like with all forestry operations, there are rigorous health and safety procedures in place with chainsaw work in order to prevent accidents and ensure safe working conditions. There is a wide range of chainsaw training, which is essential for operators in order to undertake a range of scenarios on a typical harvesting site. Training includes the different techniques for felling different sizes of trees, felling windblown trees, tree climbing and felling trees with the assistance of a winch. On my harvesting sites we have a good team of experienced local contractors who are bringing on younger operators to teach them the safest ways of using a chainsaw.

We had to divert our machines to different sites to avoid the need for chainsaw use, although this would not have been practical longer term because most harvesting sites require some chainsaw work for access. Since then, we have been able to review the restrictions and chainsaw work is now safe to resume, which has helped our team immensely.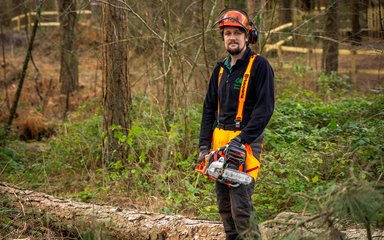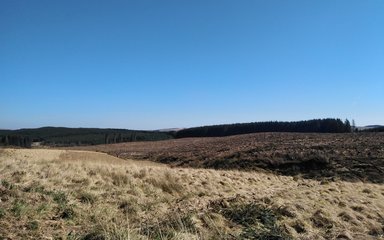 Gratefully, I work with a fantastic team who make my job very straightforward. A highlight of my role is looking over a harvested site on a beautiful sunny day and thinking about all the different factors that my team have played a part in, from measuring the trees for timber, building road access, planning the operations, harvesting the timber and then selling it to customers. The landscape will continue to change once it is replanted and the next generation of foresters will harvest the timber. 

I'm proud of the fact that my role is, in a small way, helping to keep the timber industry going. Vital products like pallets, cardboard packaging, and the production of energy are all essential at this time. One of our customers was involved in the supply of chipboard for the NHS Nightingale hospitals — a further indication of the importance the timber industry can play, especially in a time of national crisis. With sustainable forest management, we can continue providing timber for the future.

This blog was written by Alistair Burton, Harvesting Forester, North England.