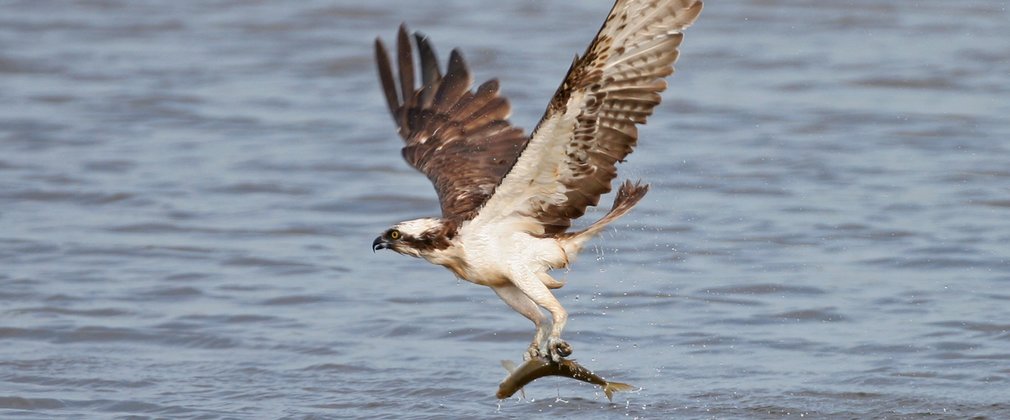 Since 2009, Kielder Water & Forest Park in Northumberland has become the perfect environment for ospreys to thrive. Now over 100 chicks have successfully fledged from Kielder!
Diving into the water with wings swept back, an osprey thrusts its talons into a fish below the surface. Once known as the fish hawk, ospreys are a spectacular bird and superb fisher. Every year, visitors flock to Kielder Water and Forest Park to enjoy views of the ospreys hunting over the water. But these birds have not always been so loved.
Ospreys migrate to Britain to breed in spring each year, after a long journey from their wintering grounds usually in sub-Saharan Africa. They are strongly faithful to their mate and their nest. Males in particular have a strong instinct to return to the place of their birth.
Historically ospreys were once widely distributed, but the birds were hunted over the extensive network of Northumberland marshes. Persecution and loss from egg collectors caused the population to crash, resulting in the species becoming extinct in England in 1847. Decades later the birds also disappeared from Scotland.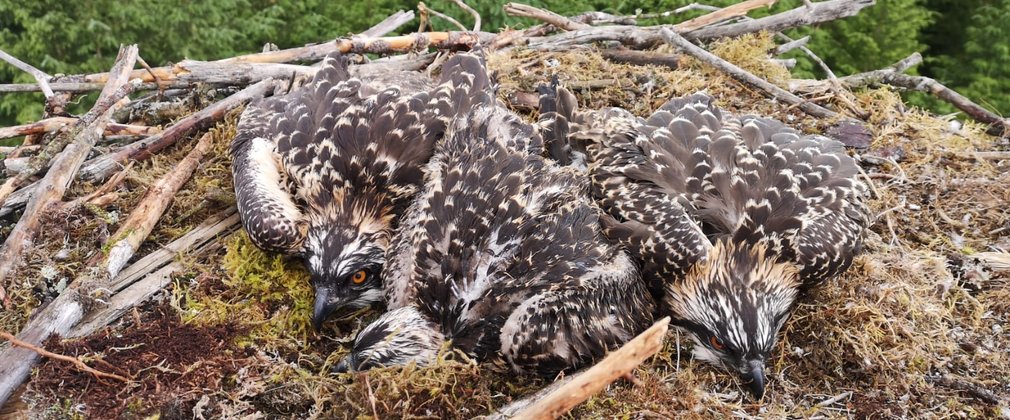 Almost a century later, in 1954, Scandinavian birds naturally re-colonised Scotland. Within fifty years there were almost 160 breeding pairs. On the way north to nesting sites in Scotland, ospreys started to be seen passing through Kielder, which hosts England's largest forest and the biggest man-made lake in northern Europe.
As the number of breeding pairs grew in Scotland, more and more of the best nesting spots were taken up. Ospreys tend to nest in prominent trees in remote areas. It was perhaps just a matter of time before they stopped south of the border. So, to encourage their return, we installed a number of nesting platforms around the forest.
In 2009, after an absence of almost 200 years, ospreys finally returned to nest in Northumberland. By 2018, Kielder was already home to five breeding pairs of ospreys. With the growing success, in 2020 we erected a new nesting pole and later that year two chicks hatched from the young breeding pair that set up home there.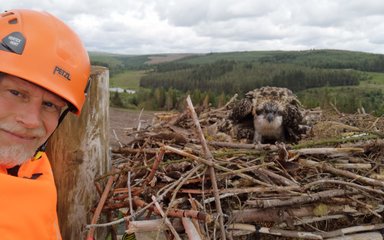 "Having supervised the pole going in and putting the nesting platform in place, it was a privilege to climb up to the nest and to meet the chicks in person."
Wayne Penrose, Forestry England Ecologist.
2021 saw a record number of ospreys fledging from Kielder. There were a confirmed 16 healthy youngsters produced from seven nests. Detailed cameras on the majority of the nests gave us the most comprehensive insight into this small colony of ospreys anywhere in the UK. For the first time in at least 200 years, chicks were also born to fathers who themselves were born in Kielder. 
2022 was also full of milestones, with the 100th osprey chick successfully fledging. The chick was named Fourlaws after a nearby forest in Ridsdale, east of Kielder. The running total is now 106 osprey chicks since the project began.
Volunteer Joanna Dailey reflects on following birds at Kielder for over a decade:
Ospreys are iconic and incredible birds and being able to follow at least part of their adventures is a real privilege.
The end of summer sees the birds travel back. The young birds are given identification rings before they fledge, allowing us to keep track of them and give us vital information into their lives. After some flying practice around Kielder Water, young join the adult birds on migration where they travel on average over 5,000 kilometres!

The growing population means ospreys are now being seen at other locations across the UK, as well as returning to Northumberland to raise their own families. Now, we wait to see how many ospreys will return.
The Kielder Osprey Project is a partnership between Kielder Water & Forest Park Development Trust, Forestry England, Northumberland Wildlife Trust, Northumbrian Water and Calvert Kielder.