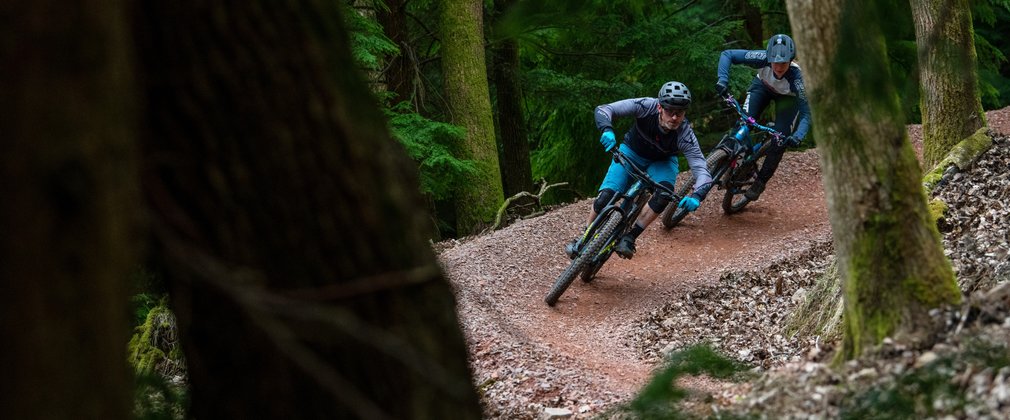 Designing mountain bike trails takes a whole lot of expertise to bring a design and build that meets the needs of the rider, plays friendly with nature and the terrain, and fits with the wider management of the forest environment.

At Forestry England new trails are designed with all these factors in mind. Bringing together wide ranging expertise is what makes trail projects happen, enabling new trails to be built with sustainability and legacy in mind. Martin O'Vastar, Gary Kelsey and Stuart Dunlop together have over 40 years of experience building and maintaining mountain bike trails professionally.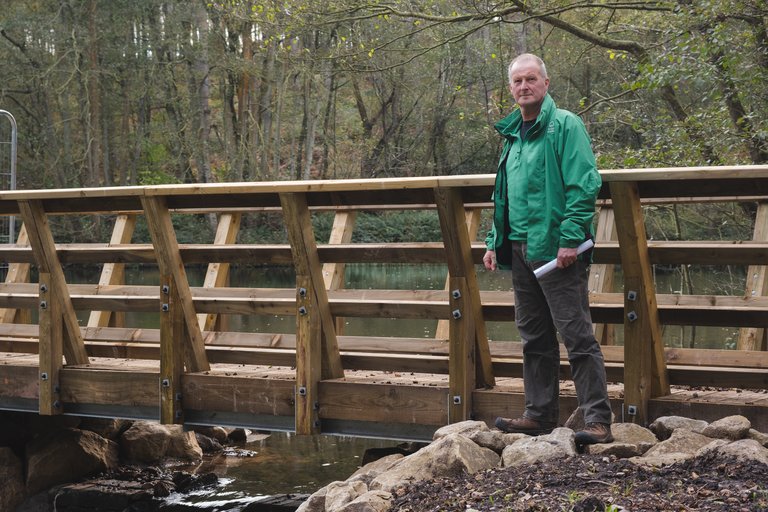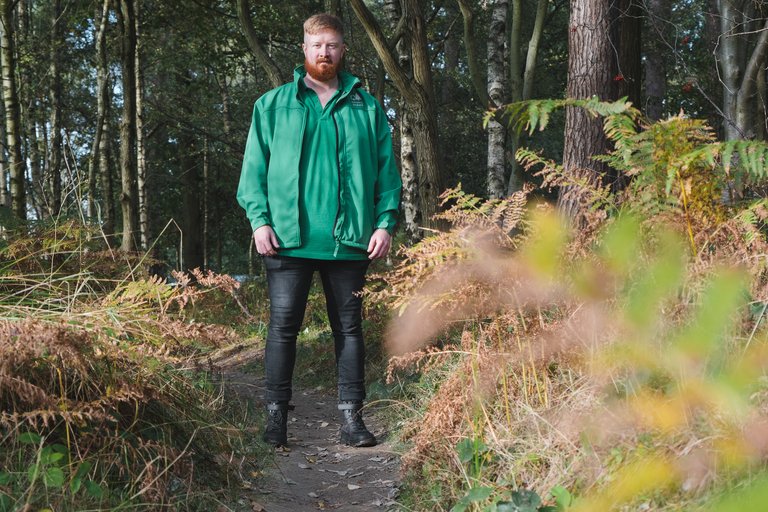 Anyone can build a poorly thought out trail, but it takes proper planning to build something special
The principles for a great trail 
"Good trail building means putting in place something which is built to last, graded to maximise user enjoyment and expectations, and works with the forest as a habitat for animals and a playground for other visitors" Martin explains.
When you introduce a trail into the forest, you inevitably leave a trace.
The goal of trail design is to leave a trace which minimises the negative impact on other visitors, is designed around forest management and timber cycles, and limits impact on the local wildlife and habitats. Good trail design can actually benefit other visitors, through the development of new shared paths, and enhance wildlife habitat through the introduction of a new trail. Oh, and it should absolutely be about putting a massive smile on riders' faces.
Having this kind of impact doesn't come easily though, there's a lot to it. 
Stage 1 - The vision
Stage 2 - Plan it right 
Stage 3 - Build it right
​​​​​​​Stage 4 - Maintenance and improvement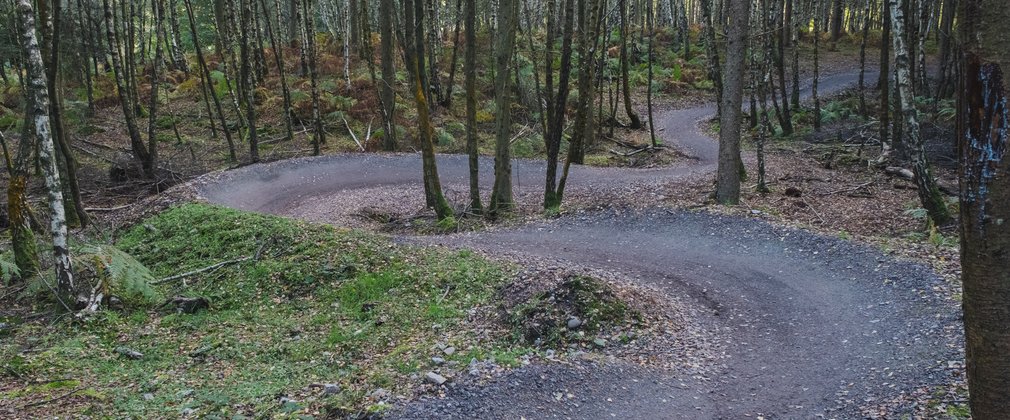 Good trail building starts from a need. There's over 850km of purpose built mountain bike trails across the nation's forests that need protecting, investing in and looking after. 

Why do we need a new trail? Who is this trail for? Where is there opportunity for offering something different to what already exists? What is the experience we're looking to create?
Assessing rider and visitor data and feedback, and consulting with the riding community to understand where the demand for trails lies helps Gary and Martin shape their plans. Wanting to leave a positive legacy for the area and recognising a growing interest in off-road cycling and mountain biking from entry-level riders, Cannock Chase Forest committed to developing a best-in-class moderate level blue trail to fit with their existing trail offer as part of hosting the Cross Country Mountain Bike races for the Birmingham Commonwealth Games in 2022.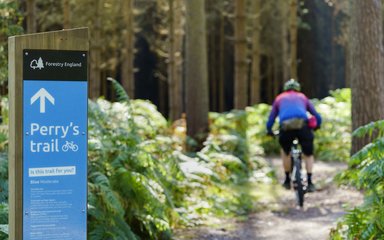 Understanding the audience, opportunity and demand for a certain type of trail gave the trail planners a clear idea of what grading, features and distance to develop.
A clear vision allowed the team to access funding for the development. Approaching local councils and sporting bodies with a vision meant that Gary and his team secured enough funding to develop a trail, that is fit for purpose.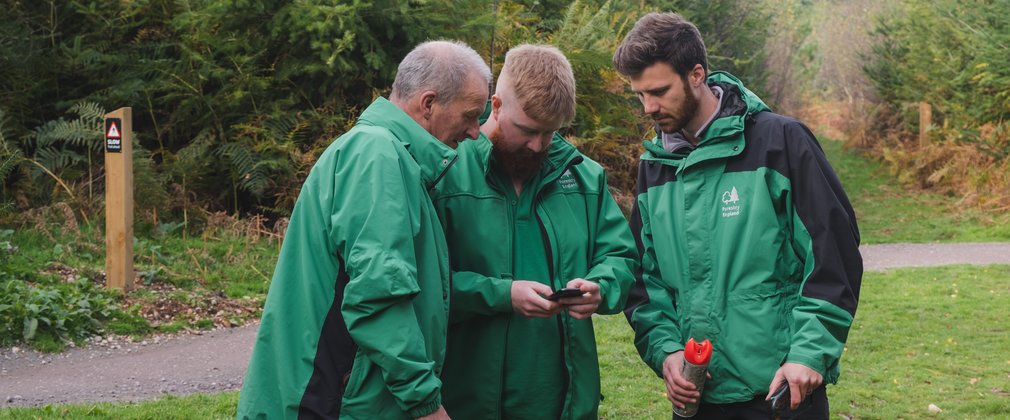 Working to a forest management plan is what makes the difference in developing a trail that is designed sensitively into the existing design and landscape. Datasets on trees in the ground, habitat zones, recreation features and trails, and other facilities that exist in and through the forest provide a master plan of the forest, not only now, but in the future - as guided by the long lifecycles of trees, whether that's for sustainable timber or habitat provision.
Using the forest management plan to shape new trails will reveal opportunities to ensure the trail will be exciting and sustainable, by working with the felling and planting teams reducing the need to cross trails, protecting wildlife and reducing fragmentation of sensitive habitats.
Planning can be exciting too. Martin finds ways to work with the topography of the land at a broad scale, snaking the trail along contours between points of interest, finding the best spot for looping back-to-back berms, or designing rocky sections without creating chutes for rainfall to run off.
Poorly planned trails often simply follow fall-lines, straight down the hill, or build up material in the wrong places. The problem is, water always wins.
Speaking with Martin, Gary and Stuart, its really clear that a big part of planning is about managing shared use and experience of the forest. 
Mountain bikes are commonly the fastest mover in most forests, on a typical day. Minimising the risk of trails interacting with walkers, runners or horse riders when riders are moving at speed is vital, and design features always accommodate this where trails cross. Collisions or near misses with other forest visitors threatens to damage the reputation of the sport and risks denting support in multi-use locations.
With focus on the trail ahead and riding top speed, it's also easy to forget that we're sharing the forest with wildlife too. As part of the planning stage, ecologists work on detailed ecological assessments to assess a trail's impact on wildlife and their habitats. Some wildlife and habitats are protected by law, including badgers, certain species of bird and types of heathland that host rare wildlife species.  
"We're living in a nature and climate crisis," Stuart says, "we've got to help protect the wildlife and habitats in our forests, and the best way to go about that is with knowledge, care and planning."
"With professional experience, wide ranging expertise and the knowledge we have planning trails, we're able to learn from the mistakes of the past but also access expertise on each environment through a multi-discipline approach to mitigate and minimise impact."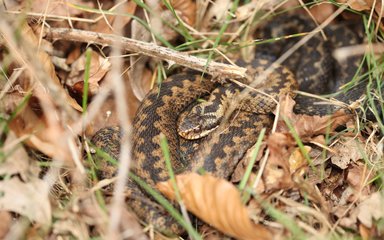 Case study: How adjusting the trail corridor helped to improve habitat for rare reptiles
Ecologist Stuart Dunlop spotted that the early plan for Cannock's new blue trail threaded through a habitat found to be a hotspot for adders, the UK's only venomous snake. This endangered species loves open habitats where sunshine is readily accessible to bask in, and while fast to move it isn't unknown to be crushed under mountain bikes tyres.
Stuart worked with Gary and Martin to refine the trail corridor, and ensure that the features near to the habitat were subtle enough to avoid becoming a dispersal barrier. The team were actually able to create more open habitat along the trail corridor, increasing and improving the habitat for all sorts of reptiles. Thanks to thoughtful planning this trail has had a positive impact on the forest, creating and diversifying habitat.
Trail building is about working with nature, not against it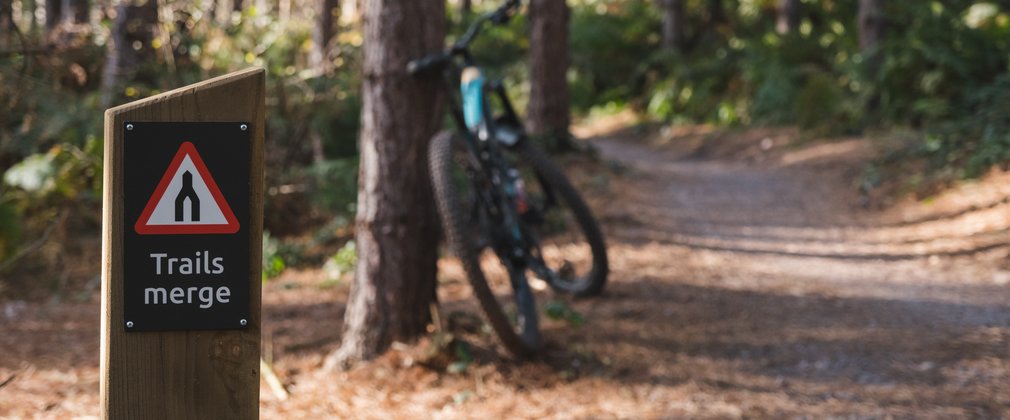 After so much planning, the moment the first tool breaks earth is incredibly satisfying. Working with specialist builders with access to the best equipment, Martin oversees the development of his plans on the ground. 
"Seeing a trail come to life in the forest, you begin to imagine all the riders who will have a chance to experience it."
Depending on the grade of the trail, the terrain, local environmental contraints and the desired ride experience there's a huge variety of features that might be used in the build. Importantly these help manage the forces of tyres, gravity and water to benefit trail sustainability and to protect the local natural resources. 

Banked corners, known as berms, help keep speed and flow for the rider, and control soil displacement. Grade reversals are designed changes in trail elevation, that encourage water to flow off the trail rather than down it, to stop erosion. Rock is used to form open channels that can be ridden to allow water to cross the trails with out the need for culverts.
Getting the build right and features in place is no walk in the forest.
The team make sure that any disruptive equipment - diggers, compactors and dumpers - only have to come through once to avoid damage to the trails or the environment around it.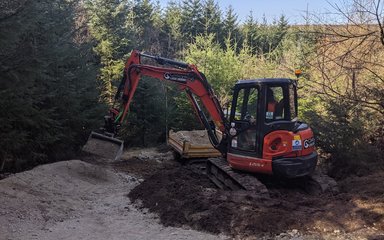 How the ground is prepared and getting the right materials is important too. Wear and tear is a huge consideration for design, and a big part of sustainable trail development for a growing sport means planning ahead for a large volume of riders. 
"We use trail counters, to get an idea of traffic riding our trails," Gary explains. "The combination of national lockdowns and the rise of e-bikes means our sport has seen a surge in popularity in the last couple of years. This is exciting for our community, and it gives us some interesting challenges when we're building trails."
The rise of e-bikes has been revolutionary, making the sport more accessible than ever before, but creating more wear and tear.
"Since e-bikes preserve your energy better, our trails are often being repeated in one ride, where previously they'd be ridden once," Martin tells me. "We've also started seeing acceleration damage out of corners as a result of the power generated by these bikes." 
Choosing the right materials, for durability, feel of ride, and environmental and aesthetic sensitivity is all considered. Designing flow properly is one of the main ways builders help limit disproportionate wear and tear. 
Case study: How choosing the right materials saved a species as rare as the Blue Whale
Whilst white-clawed crayfish might not have the same charismatic appeal as blue whales, their numbers are equally and dangerously low. Sensitive to changes in water pH, and the introduction of non-native species, these little critters need our help.
When planning the new bike route at Cannock Chase, a habitat assessment showed typical trail material would cause a change in pH, salinity and silt in the water which would be potentially damaging for this endangered population.  
Catching this early on, the trail builders instead used local stones and aggregate materials, protecting the water quality for this species for the future.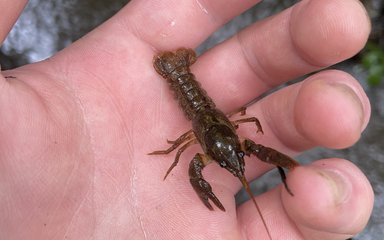 As part of the ethos of building trails which have a positive impact on the forest and other forest visitors, the recent trail development at Cannock Chase has been positively received by walkers in the forest giving them new access to scenic pond settings. 
Gary explains: "The funding secured for the development of the trails enabled us to add better access routes - including several shared-use bridges - making the forest more accessible to walkers and wheelchair users." 
Mountain bike trails can and should have a positive impact on other forest visitors, as the specific requirements of mountain bike trails can play a role in helping open up the forest for others.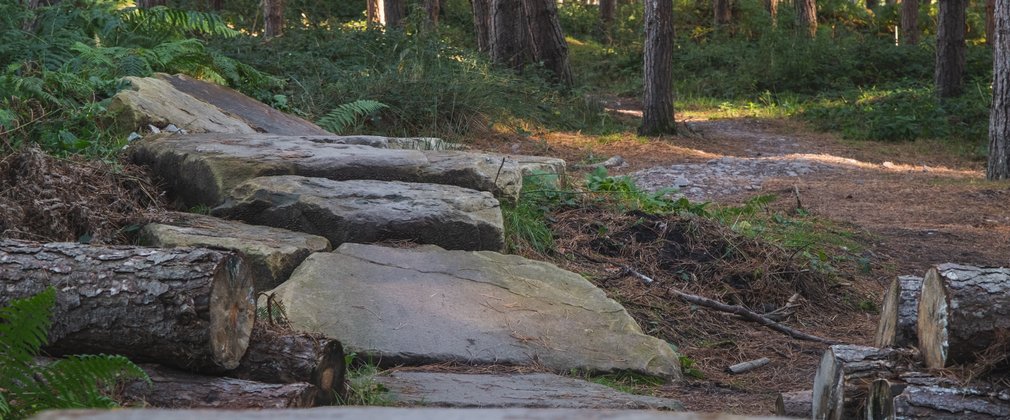 Gary is passionate that he and his team of rangers continue to improve the riding experience for visitors.
"When it comes to mountain bike trails, our trails and facilities ranger oversees daily inspection and maintenance of our trails," he says. This is about whether they're safe and fit for purpose."
These rangers managing the spring and summer vegetation growth, fix singletrack by repairing straight line or shortcuts, repairing worn berms and ensuring signage is working as best as it can to keep riders and walkers safe. This is a job which requires dedication and passion for mountain bike trails, and ranger teams are in a unique position to do this.
These teams also use data from incident and accident reports to ensure the trails are still delivering on the initial vision. Management of mountain biking is about balancing risk and play, but if one feature on a trail has sent one-too-many riders for First Aid or an ambulance then the team will know there's work to do.
Armed with data only available to an organised team, the rangers can begin to assess and ask: Is this feature still within the grading? Could this line benefit from advisory signage? Should the feature be maintained or improved to reduce injuries? 
Managing risk is critical for local recreation teams. Challenging features and terrain is core to our sport, but team's like Gary's have a duty of care in reducing accidents. Even when risk is inherent to the sport, they must balance their ability to respond to incidents with the staff and resources available to them.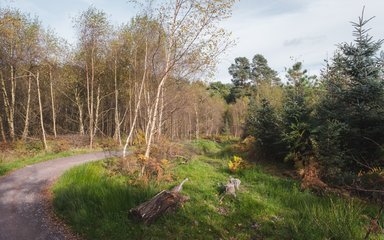 "We have to thank the local community, for the quality of our trails too," Gary emphasises. 
Where resource allows, Forestry England teams work with volunteer trail groups who often play a vital role in keeping mountain bike trails in good shape with regular dig days. 
It can be a really valuable way to stay connected to the places you love to ride, and be a part of a community who give something back.
Spending days outside, in the fresh air with others who are committed to this beautiful landscape gives me a huge amount of satisfaction.
How can you get involved in trail building and development?
It's pretty clear that a lot of hard work goes into building mountain bike trails which can stand the test of time and be enjoyed by the next generation of riders. So without starting a career in trail management, how can you get involved with your local trail? There are several ways to be a part of it:
1. Membership matters
Support the teams who have the expertise, experience, tools and time to build and manage trails in your local area with Membership. Funds from Forestry England Membership goes back into the forest, so you know you're having a real impact on the places you love to ride.
2. Volunteer with a local group
Join your local volunteer trail building group, and be an advocate for well planned and positive impact trails. There might be chances within these groups to get some formal trail building training.