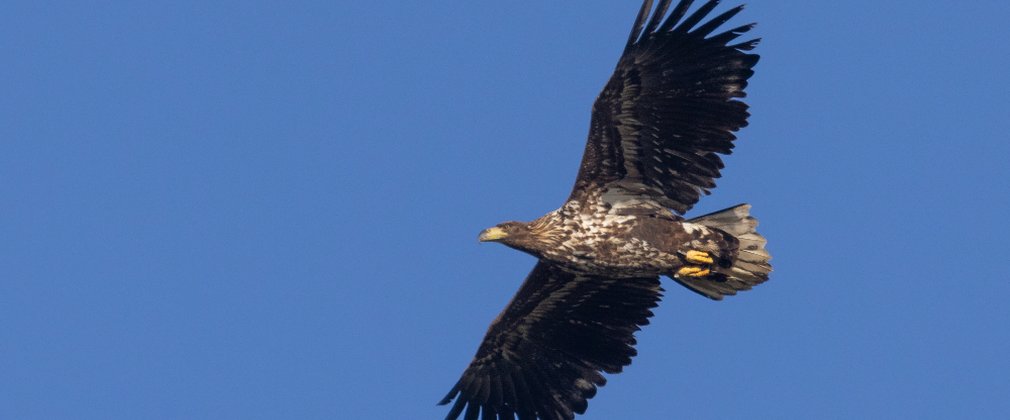 White-tailed eagles are Britain's largest birds of prey and were once widespread across England, until human persecution wiped them out. 

In 2019, Forestry England and the Roy Dennis Wildlife Foundation released six white-tailed eagles on the Isle of Wight after an absence of over 240 years. The landmark conservation project aims to return these lost birds to the English landscape by releasing up to 60 birds over five years. 
We caught up with white-tailed eagle project officer Steve Egerton-Read to find out what's been happening to the birds over the past year and the next steps for the project.
A time to travel
Spring has been a time for exploration for young white-tailed eagles, just as in previous years. One male released in 2021, G816, has journeyed across much of southern England and has been spotted honing his fishing skills in Wiltshire and Dorset. He was also seen by enthusiastic birdwatchers near the Brecon Beacons in Wales before he returned to more familiar areas on the south coast of England.
Many of these young birds are drawn to areas with an abundance of rabbits and hares. Parts of Dorset have particularly high numbers and several of the eagles have stopped off in these areas before making journeys elsewhere or gravitating towards coastal wetlands as they become more experienced hunters.
Amazingly, five of the released birds have made journeys into Scotland this year. G466, released in 2020, has returned to northern Sutherland where she spent the summer in 2021. G547, a female released last year, headed to this same area. G542, another female, spent several days on Stroma just off John o' Groats, before also moving west into Sutherland. Two other birds have headed into the Cairngorms National Park. Meanwhile, G463 has returned to an area in Denmark he first visited last summer, prior to heading back across the English Channel last November. As previous years have shown, there is a good chance that all these birds will look to return south towards the Isle of Wight later in the year.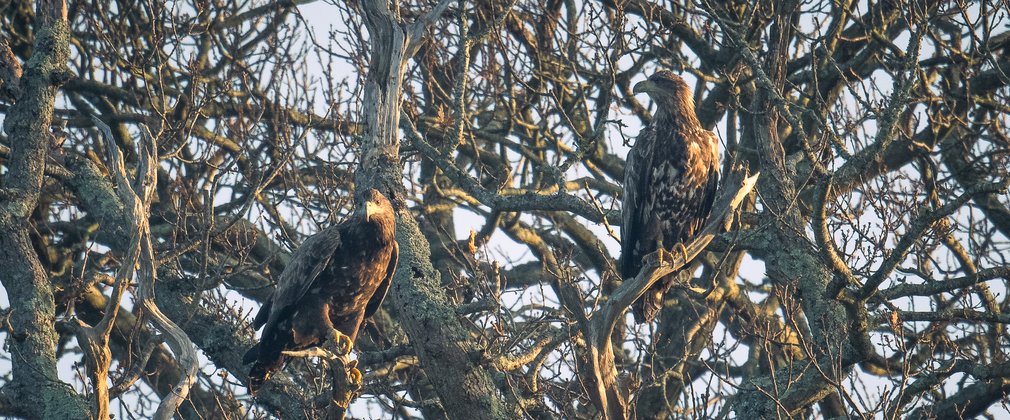 Forming a bond
Two birds released in 2019, G274 and G324, have formed a strong pairing on the Isle of Wight. These two spent much of their first winter together on the Isle of Wight. The following spring G324 travelled as far as the Lammermuir hills in Scotland but G274 has lived on the Island all his life. G324 returned in September 2020 and since then these two have spent much of their time together and in spring 2021 started to form a pair.
They can regularly be seen 'dueting', calling to one another in a key bonding behaviour and a sure sign they have paired. They have also recently been spotted occasionally carrying sticks and attempting to copulate. Still young birds, it is very early days of course, but these are encouraging signs for the years ahead.
As the resident Island pair, they seldom tolerate any interlopers for long and actively pursue other eagles away from their territory. This behaviour is vital in establishing a reliable food resource when rearing young. Eagle territories are huge and these early territories are likely to be spaced well apart. It may be that initially the Isle of Wight is home to just one pair, with so many potential territories vacant along the south coast. As time goes on, and the number of birds increases, the Island could become home to two or three pairs.
Although white-tailed eagles build very large nests, this skill takes time to learn and the old nests (eyries) that would have been used by generations of birds in England are long gone. To accelerate breeding success, the project is building artificial eyries where appropriate. These are built using the same natural materials available to eagles including sticks and soft lining such as grass and leaf litter.
We have been very encouraged that a pair of birds released in 2020, G471 and G405, are also showing early signs of forming a pair and have recently spent a great deal of time in West Sussex together.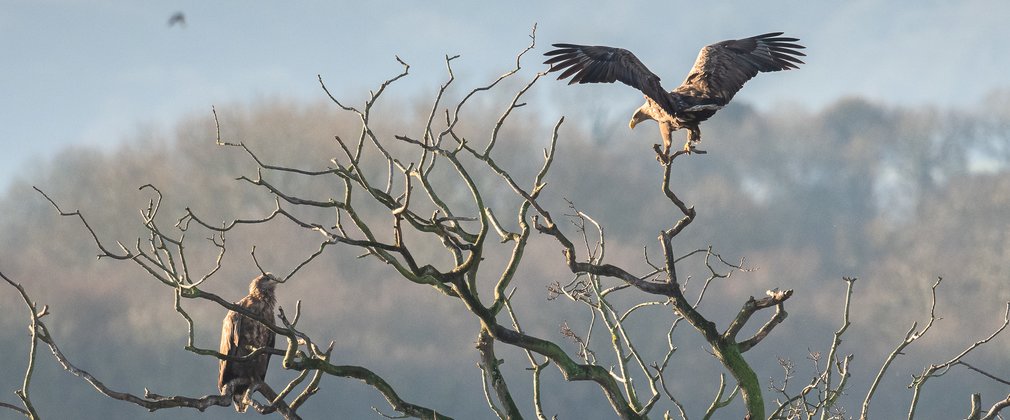 Understanding diet 
The project closely monitors the released eagles to help us understand how they are fitting into the landscape. One of the key things we look at is diet. White-tailed eagles regurgitate 'pellets' of indigestible fur, feather and bones. Examining these tells us a lot about their diet. We often find rabbit, gull and corvid remains. But that's not the whole story, as fish bone and cartilage is digested so seldom appears in pellets.

We closely observe the birds' activity and now have more than 280 feeding observations. Nearly half of these relate to one bird, G274 released in 2019. When available, fish is preferentially taken by this bird. Remarkably, last year he found fish to feed on during every month of the year, with this making up nearly a third of his diet. As he enters his fourth year, fish and cuttlefish (a mollusc), has become even more important with 58% of his diet represented by these two groups.

Birds also make up a large proportion of G274's diet. Gulls and corvids are regularly recorded in his diet, birds he's able to pursue in flight. These are usually injured or sick individuals, as healthy birds can easily out-pace or out-manoeuvre a white-tailed eagle. 

Another finding from our close visual observation of G274 is that he has been seen successfully hunting Canada Geese, also weakened by injury or sickness. These geese have few predators in England, particularly as adults and healthy individuals can defend themselves or make a quick getaway.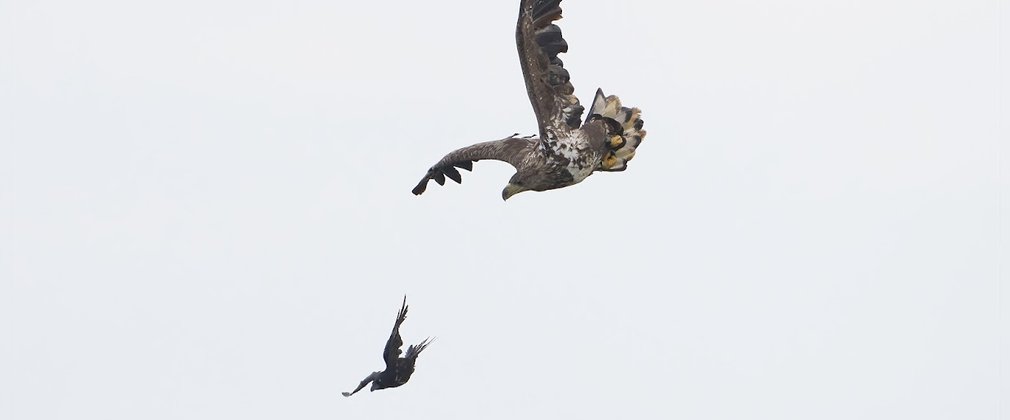 Next steps
As has been widely reported, sadly three birds released in previous years died over the winter. Post-mortem results showed that G461 died of brodifacoum poisoning, as detailed on our partner's website Roy Dennis Wildlife Foundation. The other investigations are still ongoing. Although these losses are extremely disappointing, the survival of the young eagles is still within predicted levels and there are many more of the released birds who are living very successfully in southern England. 

Due to the worsening situation with Avian Influenza, we will not be releasing the next cohort of chicks on the Isle of Wight this summer. The virus is killing many breeding seabirds in eastern and northern coasts of the UK and poses a large risk to white-tailed eagles. Fieldwork also indicates it is a poor breeding year for the white-tailed eagle in Scotland, so the project team have decided not to translocate any birds this year. The project has a licence to release up to 60 birds over a five-year period and we hope to extend the licence to account for the missed year. In the meantime, we will continue to monitor and learn from the birds already in the wild.

As always, we'd like to thank everyone who has been providing support and assistance with the project. We receive so many positive reports of sightings and photos from those around the country lucky enough to see the birds.

Blog written by Forestry England white-tailed eagle project officer, Steve Egerton-Read.
Follow us
Keep up to date with the project: