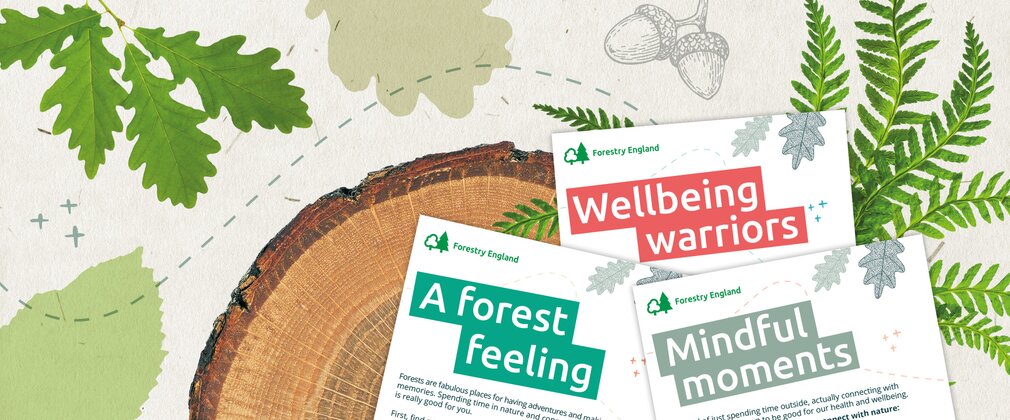 Healthy connections worksheets
The age ranges for these worksheets are:
A forest feeling - 4 to 7 years olds.
Wellbeing warriors - 7 to 11 years olds.
Mindful moments - 11 to 14 years olds.
Completing one of these activity sheets will give you three hours of learning in your passport.
Nature connectedness
Having a deeper connection to nature has been shown to be great for our health and wellbeing. Research has revealed that we can increase our connection through five pathways:
Sensory contact with the natural world.
Finding an emotional bond with, and love for, nature.
Taking time to appreciate the beauty of nature.
Thinking about the meaning and signs of nature.
Showing compassion and care for nature.
All of the activities on these sheets have been designed with the five pathways in mind to help you connect better to the forest.
How to take part
Although designed for forests, these sheets can be completed in any outdoor space where there are trees. Some of the activities can be completed back inside when you have finished exploring.
You can write answers down as you go, or complete the sheets later on. You could view the activities on a phone or tablet, and just print the worksheet pages, or even just put your answers in an email.
We understand that not all children are able to complete written work; where necessary, the child may give verbal answers which are noted by a parent or teacher and sent with an accompanying comment. We have tried to give different options for providing evidence but if you wish to discuss submitting something different, please get in touch.
When you are ready, download the resources via the form and then please email your work to learning.england@forestryengland.uk with your name and age, and the name of the forest or outdoor space you visited.