Children's University seasonal activities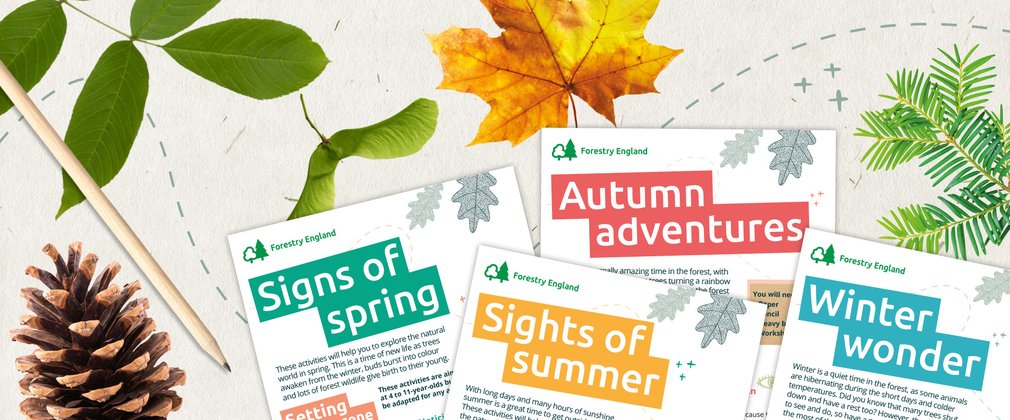 Children's University worksheets for each season
These activity sheets are aimed at children aged between 4 and 11 years old. Each completed sheet gives three hours of learning in your Children's University passport.
Explore the natural environment
These fun activity sheets that will help you take a closer look at how nature changes throughout the year. There are lots of different activities; some will use the outdoors to inspire creativity, some will help you to investigate what wildlife is about and others will help you to get active. You don't have to do all of the activities in one go, you could spread them out over several visits.
Although designed for forests, these sheets can be completed in any outdoor space where there are trees. Some of the activities can be completed back inside when you have finished exploring.
How to take part
You can write answers down as you go, or complete the sheets later on. You could view the activities on a phone or tablet, and just print the worksheet pages, or even just put your answers in an email.
We understand that not all children are able to complete written work; where necessary, the child may give verbal answers which are noted by a parent or teacher and sent with an accompanying comment. We have tried to give different options for providing evidence but if you wish to discuss submitting something different, please get in touch.
When you are ready, please email your work to learning.england@forestryengland.uk with your name and age, and the name of the forest or outdoor space you visited.
Seasonal activity sheets
Explore your local forest with our seasonal activity sheets, which can be downloaded below