Conservation at Bedgebury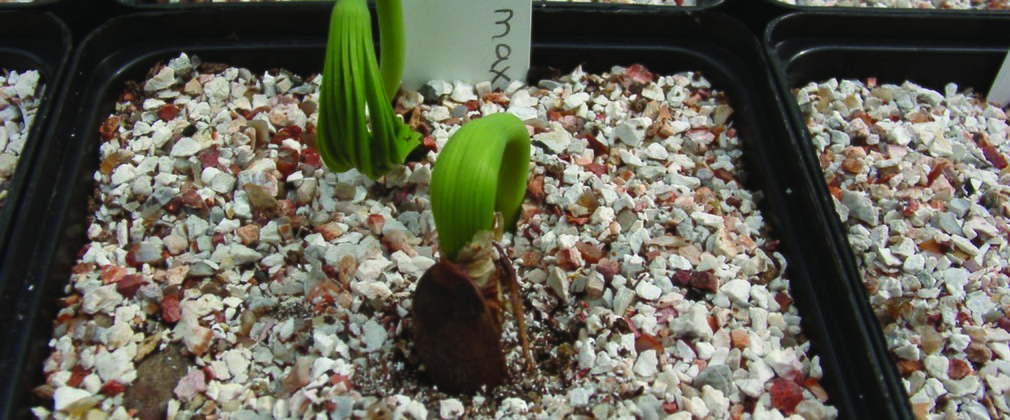 Conservation
In the present day some conifers face their greatest threat. The impact of humans and increasing demands on our world's finite resources are likely to force some trees into extinction. Over 400 conifer species are under threat, with only a handful of some of the most critically endangered still growing in the wild.
Bedgebury National Pinetum and its partners play a vital role in the conservation efforts to preserve these valuable and highly important trees. Bedgebury's tree nursery has successfully germinated conifer seeds where many others fail. This is especially important due to the fact that conifer seeds don't store as successfully as other tree species. Bedgebury has been awarded a Level 4 Accreditation by The ArbNet Arboretum Accreditation Program. This program is the only global initiative to officially recognise arboreta at various levels of development, capacity, and professionalism and Level 4 is the highest accolade that a botanic garden can achieve.
Bedgebury is a key partner in Fauna & Flora International's Global Trees Campaign, and makes a major contribution to the Global Strategy for Plant Conservation co-ordinated by Botanic Gardens Conservation International (BGCI). It does this by collecting endangered seeds from all over the world to bring back to Bedgebury for propagation. 
More than 2000 tree and shrub seedlings are grown at Bedgebury every year, some of which are planted in to the collection here. Surplus seedlings and plants are distributed by Bedgebury to other botanic gardens and safe sites across the UK and Europe, and it provides seed to the Millennium Seed Bank.
Our earliest inhabitants travelled the world in search of special trees. The Romans brought species such as walnut (Juglans regia), sweet chestnut (Castanea sativa) and wild service (Sorbus torminalis).
Plant hunting is still an active pursuit for many experts and enthusiasts today.  Expeditions to remote regions still lead to new discoveries and add to our knowledge of the world's flora.  These quests play an important part in preventing the extinction of many endangered species. These ventures are often driven by the global network of botanic gardens, of which Bedgebury National Pinetum is a part. The seed collecting projects we undertake are accomplished in partnership with many different organisations. This way we can combine complementary specialist skills and maximise our conservation efforts. 
Hundreds of years after the first adventurers, plant hunters now can still face many hazards - even with the advantages of modern transport and communications.  Expeditions are hard work, with sixteen-hour days, strange food and constant travel.  Target trees often grow in remote sites, and reaching them can be exhausting and sometimes dangerous. 
Despite all the hardships, finding that special tree is an absolute thrill. After all, it is still a great adventure that can test the nerves and be fantastic fun.
Bedgebury makes a safe home for conifers
Our collecting trips are not just about conservation, although this is usually top of the agenda.  Many of the plants we hunt are propagated in our nursery and then introduced as new species in the collection.  We regularly discover conifers we have not grown before, thus adding rare and strange plants to enhance the beauty of Bedgebury.  Many of our trees are growing old and we need to ensure that the next generation is growing in our nursery.  Sometimes the real value comes from seeing a tree growing in its natural environment, so that you can see which soils and conditions they prefer.  This can contradict previous information - you cannot always rely on books or the internet! In the field, taking detailed notes on location, altitude, aspect, a description of the tree, associated plants, soils and geology add tremendous knowledge to the scientific value of any botanic collection.
The acquisition of wild collected material from across its growing range plays a vital part in improving Bedgebury National Pinetum.  Travelling to where the plant grows in the wild and collecting seed ensures that we capture the genes from that population. Harvesting seed of the same species across its growing range allows us to pick up the subtle differences that occur naturally.  We collect seed from a wide variety of trees and sites to pick up as many genetic differences as possible. Capturing wide genetic variation gives us a better chance of saving the species. It's important for conifers to not just store seed, which can fail and is more difficult to store for conifers, but to create a living gene bank.
The scale and quality of Bedgebury Pinetum's conifer collection make it an ideal 'safe site' for the International Conifer Conservation Programme (ICCP) run by the Royal Botanic Gardens Edinburgh. The ICCP aims to promote the conservation of conifers through in-situ conservation work, ex-situ conservation work, research and education and Bedgebury Pinetum plays a vital role in conserving the genetic diversity of conifers, particularly those from temperate rainforests. Bedgebury Pinetum supports, protects and is helping increase the population of IUCN Red List species. The IUCN Red Data List of Threatened Species is made up of species of flora, fauna and fungi identified as in need of particular conservation effort, formerly known as the Red Data Book.
Our conservation success stories
• In 1999 in Chongqing, China, Sichuan thuja (Thuja sutchuenensis) was rediscovered; a conifer that was thought to have been extinct. The Global Trees Campaign (Fauna and Flora International) led a project to identify the conservation needs of the species. We then visited China and provided advice on field work techniques, horticulture and conservation in order to preserve this critically endangered species.

• We worked in partnership with the Royal Botanic Gardens in Edinburgh to collect seeds from the natural stands of Serbian spruce (Picea omorika), found only in Bosnia and Serbia in 2007 and 2010. Seeds collected on these expeditions have been donated to the Millennium Seed Bank (MSB) for long term storage, and hundreds of trees are now growing at Bedgebury and other safe sites around the country. Information gathered from these expeditions has contributed to Serbian spruce being changed from vulnerable to endangered on the International Union for Conservation of Nature (IUCN) Red List.

• Whilst plant hunting in Chile with Wakehurst Place (Kew) with the MSB, Westonbirt Arboretum and the Instituto De Investigaciones Agropecuarias, we collected many species. These included endangered species of conifers including monkey puzzle (Araucaria araucana), patagonian cypress (Fitzroya cupressoides) and fuegian incense cedar (Pilgerodendron uviferum). Botanical gardens like Bedgebury are essential for the continued growth of species such as monkey puzzle, whose seed cannot be stored in a seed bank.

• Bedgebury nursery was the first to germinate Vietnamese golden cypress (Xanthocyparis vietnamensis) and chichibu birch (Betula chichibuensis) seeds in cultivation.

• The Mulanje cedar conservation project was created in partnership with Botanic Gardens Conservation International. The Bedgebury team has travelled to Malawi to advise and help save the Mulanje cedar (Widdringtonia whytei) from extinction.