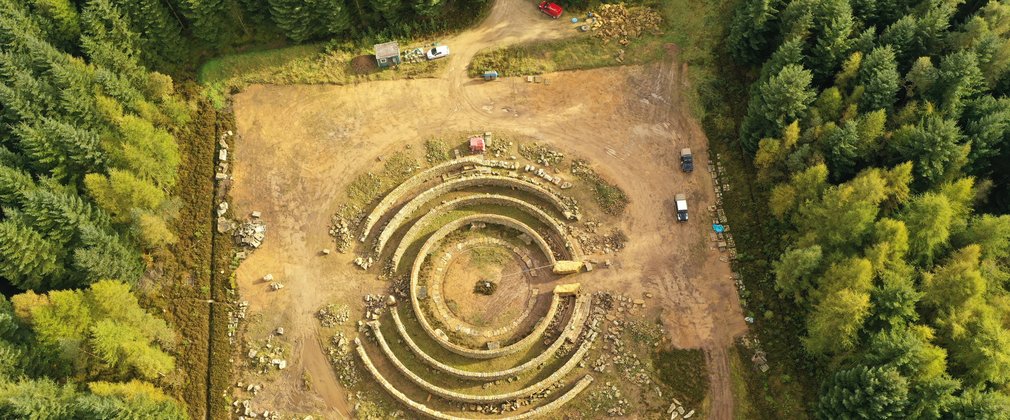 In the heart of Yorkshire, the world's largest dry stone wall maze is being created
Background to the project
Three great minds have come together to create a world's first. Mark Ellis, a specialist dry stone waller with almost 30 years of experience joined forces with the Friends of Dalby Forest and Forestry England to create the world's largest dry stone wall maze in the heart of Dalby Forest. 
Mark Ellis conceived the idea for the maze in 1997, which he designed and is building with two other local craftsmen. The first foundation stones were laid in September 2014 and to this date, we're about halfway through the project.
Each stone is being carved and laid out by hand, as is the tradition with dry stone walling. The maze will consist of 4 inner circular walls, encased by 5 square walls to create the maze. Interesting features are being added, such as squeezer stiles - originally designed to let people past, but not sheep, smout holes - designed to let sheep through but not people, bee boles - created to keep the bee hive warm in winter and protect it from the elements and a few other surprises.
Once complete, the maze will be the largest in the world at 80 x 80 metres, with over 4,000 tonnes of regional stone being used and years to complete. When opened, the maze will offer hours of fun for curious forest dwellers. 
A line of trees has been removed to create the entrance to the maze which allows the summer solstice light through, similar to Stonehenge.
How to get involved
The maze is a construction site, which you can't get to at the moment. However, there are still special ways to be involved with this exciting project during its construction:
Donate any amount to support the project 
Sponsor one of the main maze features 
Friends of Dalby
The Friends of Dalby Forest group and our volunteers on site raise funds and keep people up to date on tasks and progress, click the link for more information and videos of the site!