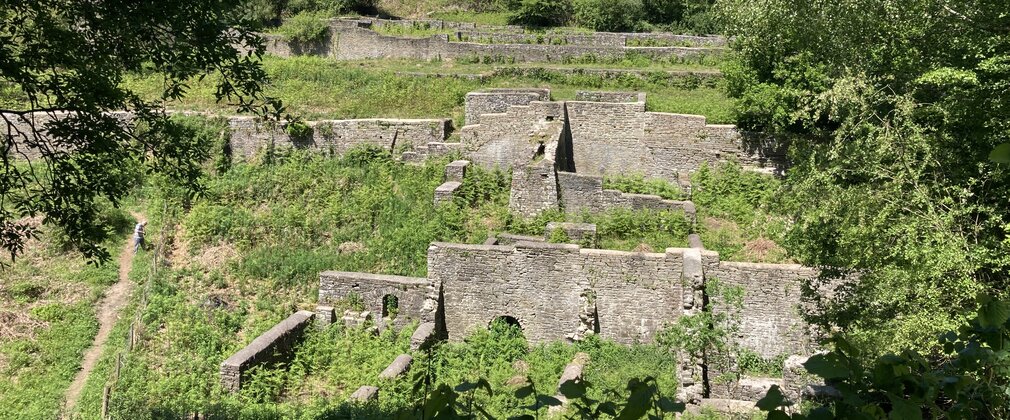 Discover the fascinating archaeological site of Darkhill Ironworks and the Titanic Steelworks
Darkhill Ironworks, and the neighbouring Titanic Steelworks, are internationally important industrial remains associated with the development of the iron and steel industries. The world's first tungsten steel were produced here, with the ironworks dating back to 1811 and the brickworks being established some time before 1818. The complex of tramway, brickworks and ironworks lie on a series of terraces above one another on the hillside, resulting in a fascinating landscape to visit. Terraces of stone walls are all that remain of the important ironworks where David and Robert Mushet carried out secret experiments with iron and steel during the 19th century. After David Mushet's death, the furnaces at the smithy in the brickworks were used by Robert for experimental work on new metals to discover their properties.
David's son, Robert, built the Titanic Steelworks on the same site. He also made the first steel alloys and the first steel railway line. When his railway lines were laid in Derby Station in 1857 they lasted for 17 years rather than the 3-5 months normally expected from earlier rails.
The site was abandoned, probably around 1862, following the building of the Severn and Wye Valley railway embankment. The site lay undisturbed until partial excavation in 1977.
Download the free Coleford's Hidden Heritage app, to find out more and explore the area.
At a glance
Walking 
Dogs welcome
Archeological features