Chequered Skipper butterflies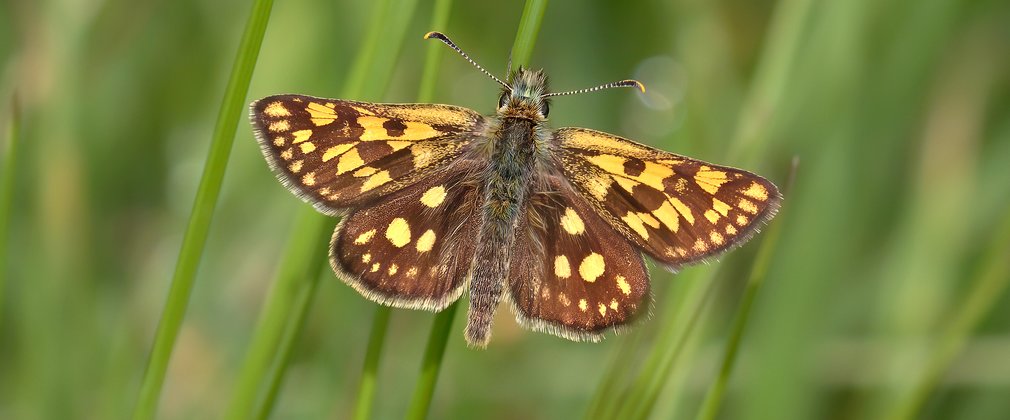 For the first time since 1976, wildlife enthusiasts will be able to see the rare and beautiful Chequered Skipper butterfly in the wild in England this summer at Fineshade Wood.
The butterfly which was previously extinct in England has been successfully breeding in Fineshade Wood. The population is now stable enough for members of the public wanting to glimpse the exciting butterfly to be able to visit. The exact location of these butterflies had been kept secret for the first few years following their introduction to allow them time to become more sustained and resilient.
Butterflies were collected in Belgium in 2018 and 2019 and released at the Northamptonshire site by experts from Butterfly Conservation, working in partnership with Forestry England who had carried out preparations to the site in order to help provide favourable habitats. Since then, more butterflies have been released into Fineshade Wood and have successfully bred. 
The best time to see the Chequered Skipper butterfly is in June, when the adult butterflies can be seen flying. These small, fast-flying butterflies can be difficult to spot but are most likely to be seen perching in sheltered positions either next to wood edges or amongst light scrub or bracken.
Essential information
Fineshade Wood, Top Lodge, Fineshade, Near Corby, Northamptonshire, NN17 3BB
Help protect important butterfly habitat by staying on marked paths and keeping dogs there with you.