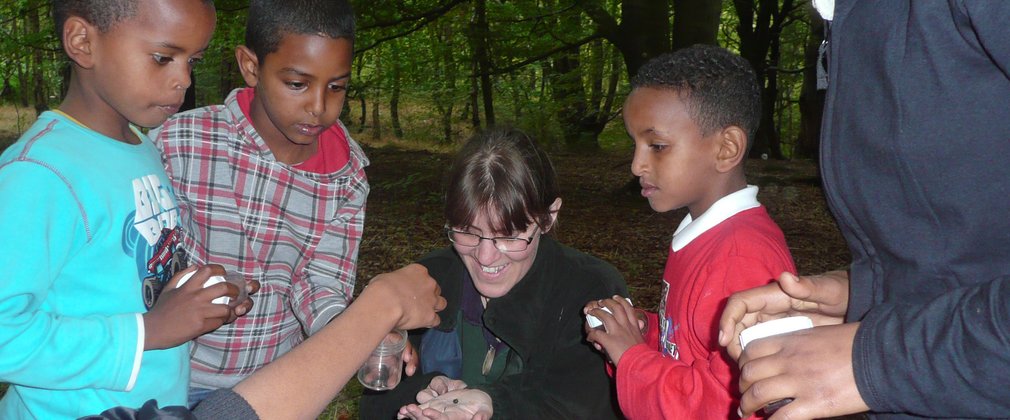 Contact us to book on a guided visit
Get your students out of the classroom with one of our forest-based educational experiences that really make the most of this unique learning environment.
Sherwood Bushcraft
We run a range of bushcraft courses, traditional woodland skills and team building activities all year round from our beautiful bushcraft camp in a quiet corner of Sherwood Pines. Great for youth groups, schools, team building, birthday parties and private functions. To find out more visit the Sherwood Bushcraft webpages or email karina.thornton@forestryengland.uk 
Ranger led sessions 
Our Forest Rangers can lead sessions to enrich your curriculum and get your students working together. Suitable for key stage 3 and above, including adult learners, we do 1-2 hour 'walks and talks' on Sustainable Forestry and Leisure & Tourism. For more information contact lindsey.mcculloch-howe@forestryengland.uk 
Training for teachers and group leaders 
Find out more about teaching and running environmental education sessions in the outdoors, with one of our two teacher training sessions:
Make the most of outdoor learning - Discover the benefits of learning outdoors, how it enhances the learning experience and supports the curriculum. You will learn how to give children a safe and enjoyable learning experience and gain ideas on how to involve your pupils with pre-visit planning through to follow up work. You will be equipped to plan for health and safety and adapt sessions to suit your group's needs and abilities.
Forests for the future - This course considers the importance of our forests through a mix of indoor learning and outdoor practical sessions. 

Discover how trees and forests help to combat climate change, how Forestry England manages them as a sustainable resource, and get practical and fun ideas on how to use forests as a learning resource.
For more information contact lindsey.mcculloch-howe@forestryengland.uk