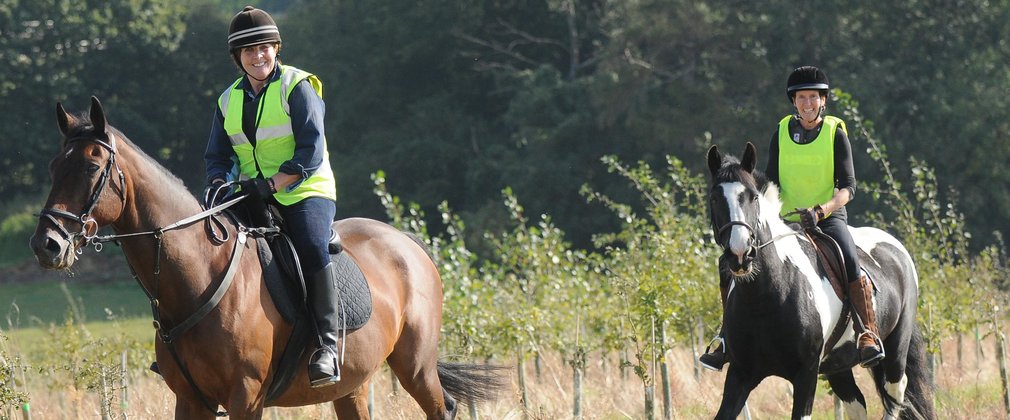 Horse riding at Jeskyns
The horse trail is a grass surfaced 6km trail that circumnavigates the whole of the site. Access on to the trail is through a horse step through stile at the entrance (no gate).
Whilst it is marked as a "horse trail" riders will likely encounter other visitors on it including pedestrians, dogs and cyclists. Please bear this in mind if you are bringing a nervous horse or you are an inexperienced rider.
If you are visiting with your horse box, please contact us at jeskynsranger@forestryengland.uk to arrange access (48hours notice needed the first time). We will ask you to supply vehicle and contact details and then issue you with the access code which you can use for ongoing future visits.
Weekdays tend to be quieter than weekends. Whilst we make provision for horse box parking this is a popular facility and so we cannot guarantee parking space.
No permit is needed to ride at Jeskyns.
For more information on our facilities, opening times and contact details, please see our visitor information.
Trail information
Jeskyns Community Woodland, Henhurst Road, Cobham, Kent, DA12 3AN
The Horse trail can be accessed from the main car park. What three words: jumped.insist.humid
The trail is marked on site with wooden way markers with pink horse shoe plaques.
Is this activity for you?
The horse trail is a grass surfaced trail. Walking and trotting welcomed, please do not canter or gallop. 
There is an area for horse boxes in our main car park for £6 a day. What three words: email.snos.stands. Please note there is a 2m height limit at entrance. please contact us to arrange access.