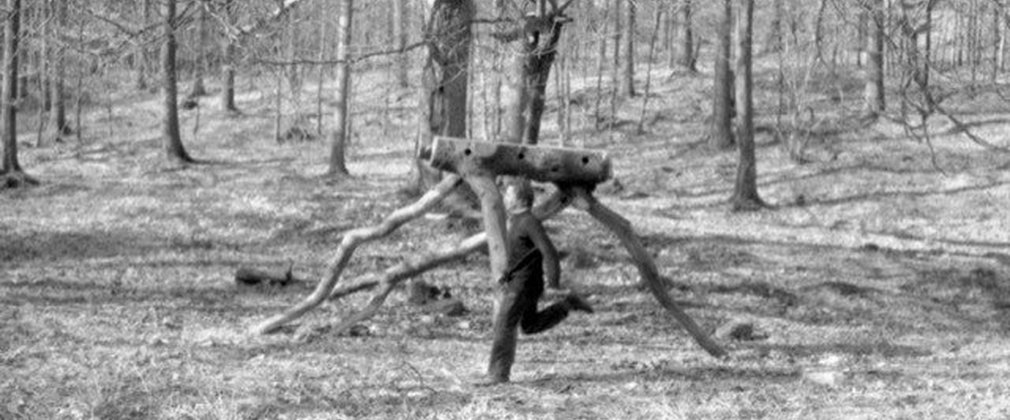 Artist David Nash returns to Grizedale with a solo show: Return to the Forest 

17 June – 12 December
From February 1978 to May 1978 David Nash and his young family came to Grizedale Forest where he undertook the second artist's residency opportunity which helped give Grizedale its name as the first Forest for Sculpture. During this period Nash made a number of key pieces which led on to and inspired further works beyond the residency.
Nash says of this time:
'This residency gave me the opportunity to experience a forest coming out of winter into spring, three months of continuous focus without fitting the work around a day job. There were many fallen trees available as material and support from the forest management made them accessible.   New ideas emerged which I was able to realise and take forward in the years to come.  It was a very important time for me on many levels.'
Return to the Forestcelebrates the work Nash produced during the winter and spring months of 1978 in a series of drawings, photographs and films; in some cases, the only record of the work as many pieces have been reclaimed by the forest over the decades.
Hazel Stone, Arts Development Manager, Forestry England said:
'This exhibition will showcase for the first-time drawings, sculptures and photographs made during this informative period. We are thrilled to be able to showcase this work for our visitors to see the impact of spending time in a working forest can have on an artist's practice. This is something we continue today with our annual residency programme and as we come full circle, we thank David for helping us select the next artists to take up a residency in the forest to continue the Grizedale sculpture story."
Showing in the exhibition space, Grizedale Residency February - May 1978 illustrates works Nash produced on his residency at Grizedale Forest and describes how they in turn influenced new ideas for works he made subsequently. From his first Wood Quarry in north Wales, from which the Wooden Boulder was created, to a Wood Quarry in Japan where River Tunnel and Waterway were key works, this film celebrates how the legacy of the residency lived on for many years and is threaded through Nash's practice.
The Wooden Boulder (also showing as part of the exhibition) follows Nash's iconic boulder sculpture as it travels downstream from high in the hills above the Ffestiniog Valley, where in 1978, it was carved from the trunk of a storm-damaged 200-year-old oak. Nash followed its engagement with weather, gravity and the seasons for nearly 30 years before it was presumed to have made its way to the sea, only for it to reappear some years later and lodge on a mudbank for two years from 2013 to 2015. Not seen since, the story of the boulder remains a metaphor for life itself with the film taking us through seasons and years.  Where it is today no one knows but as David Nash says –
'It's not lost, it's wherever it is.'
Editors notes
Artist David Nash
David Nash (b. 1945, Esher, Surrey) has built up an international reputation as a sculptor in a career spanning fifty years. After studying at Kingston College of Art he moved to Blaenau Ffestiniog, north Wales in 1967, a place he had spent many family childhood holidays, before returning briefly to London for postgraduate study at Chelsea College of Art. His first solo exhibition was held in York in 1973, since then there have been numerous large-scale solo exhibitions all over the world, many with site-specific projects. Following Richard Harris, David Nash was the second residency artist at Grizedale in 1978 and created site-specific sculptures in the forest. His work is featured in countless group exhibitions and held in public art galleries and private collections worldwide. Although known primarily for his sculptures in wood, some of which are planted works, drawing has also been a cornerstone of his practice. Throughout his career he has maintained a studio in Blaenau Ffestiniog, working with the seasons and elements. His work was recently celebrated in a major retrospective at National Museum Wales, Cardiff and Towner Gallery Eastbourne with an accompanying publication David Nash 200 Seasons at Capel Rhiw.
Grizedale Residency Programme
In the 1970s, the Arts Council funded artist residencies to support interaction between artists and the public.
The Artist Placement Group (APG) had established residencies in industry but as there were more artists looking at new ways of working in and with the natural environment, the Arts Council was looking for more opportunities for such artists.
In 1977 a selection process was established, and a shortlist of artists were interviewed. Richard Harris and David Nash were selected as the first residency artists. Harris started the programme in the summer of 1977 while Nash preferred to wait until the following year to be able to experience the forest emerging from winter into spring.
Forestry England are committed to supporting creative enquiry in the forest and are pleased to see the relaunch of the Grizedale Residency which has been made possible through Grizedale Forest's partnership with the Royal Society of Sculptors and generous funding by the Brian Mercer Trust. Together they are supporting artists and fostering experimentation and innovation in response to the natural environment.
This year artists Susan Stockwell FRSS and early-career artist Florian Houlker will be the latest artists joining the list of leading international artists who have worked in Grizedale Forest. They will be residing and working in the forest this summer, producing work inspired by, and of, their surroundings.
About Forestry England
Forestry England manages and cares for the nation's 1,500 woods and forests, with over 235 million visits per year. As England's largest land manager, we shape landscapes and are enhancing forests for people to enjoy, wildlife to flourish and businesses to grow.
For more information
Visit forestryengland.uk. Forestry England is an agency of the Forestry Commission.
Images, gallery visits and interviews