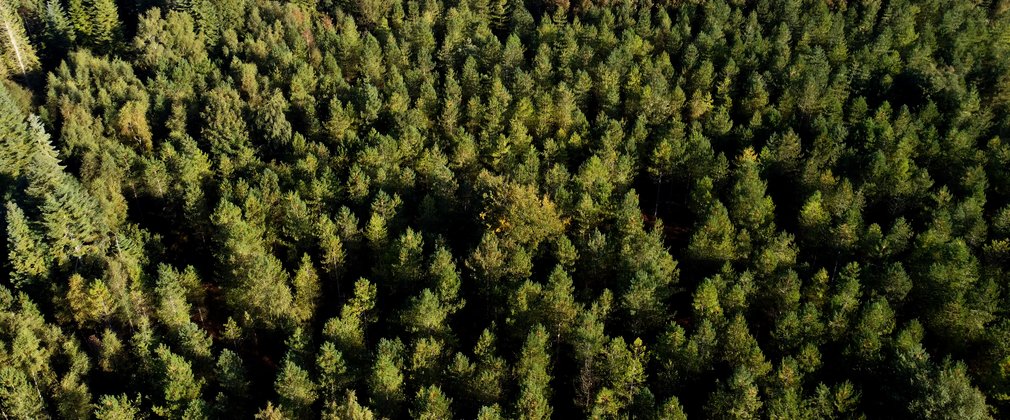 AstraZeneca UK partners with Forestry England and Borders Forest Trust to plant and maintain over one million new trees by 2025
AstraZeneca UK is partnering with Forestry England and Borders Forest Trust (alongside their global partner One Tree Planted) to launch a multi-year programme to plant over one million trees across the country by 2025. This initiative is part of the global AZ Forest programme to plant and maintain 50 million trees worldwide by 2025.
Recognising the connection between a healthy planet and a healthy population, the AZ Forest programme is part of AstraZeneca's Ambition Zero Carbon commitment to be zero carbon across its operations by the end of 2025 and carbon negative across its entire value chain by 2030. The £1.9 million investment into these partnerships will see over one million trees planted and maintained in locations across England and Southern Scotland.
 "As a company that puts the health of people and our communities at the forefront of everything we do, we are committed to ensuring we do right by the planet. We are proud to work in partnership to accelerate action against climate change, promote biodiversity, and raise awareness of the value reforestation brings to society and human health," said Professor Jason Snape, Head of Environmental Protection, AstraZeneca. "This reforestation initiative in the UK is an important part of our commitment to plant 50 million trees worldwide by 2025, with planting already underway in Australia, Indonesia and France."
 "Tree planting and woodland creation have a fundamental part to play in helping tackle the twin crises of climate change and biodiversity loss we are urgently facing. Resilient woodlands, well-adapted to the changing climate conditions we now expect, will help us capture carbon, improve air quality, alleviate flooding, and create beautiful places for wildlife to flourish and people to connect with the natural world," said Mike Seddon, Chief Executive of Forestry England. "The commitment of businesses like AstraZeneca is vital in enabling us to plan for the long-term, designing, planting, and caring for woodlands now which will mature and flourish decades ahead. And thanks to this partnership funding, we're able to focus not only on creating new woodlands but also on helping the recovery of forests affected by tree disease."
Through Forestry England, planting efforts will initially be focused on Thetford Forest, 30 miles from AstraZeneca's Cambridge Discovery Centre and global headquarters, and in Goyt Valley, ten miles from the company's Macclesfield manufacturing site, as both areas have suffered in recent years from the impact of pests and disease. In addition, the partnership with AstraZeneca will support the creation of new forests throughout England as part of an ambitious woodland creation programme being led by Forestry England, which aims to plant at least 2,000 hectares of new, high-quality woodland over the next five years. Importantly, the initiative will deliver positive outcomes for local communities by providing additional green space that can support physical and mental wellbeing, as well as drive efforts to encourage biodiversity. In Scotland, Borders Forest Trust and One Tree Planted will focus on planting 221,000 native trees in two of their 'wild heart' sites. Reviving the Wild Heart of Southern Scotland is a restoration initiative to bring back lost habitats, such as native woodlands and montane scrub, to an area with one of the lowest amounts of native woodland in Scotland.
"We are delighted to be working with AstraZeneca UK on an exciting new phase of our native woodland restoration in the south of Scotland. Deforestation of our woodland happened centuries ago, leaving only small remnants of these valuable habitats. Native woodlands bring us environmental and societal benefits, it is therefore essential that we work to bring them back," saidNicola Hunt, Head of Land Management at Borders Forest Trust. "The support from AstraZeneca plays an important part in making this become reality and will make a significant contribution to the BFT's work to see native woodland once again clothe the hills and valleys of Southern Scotland."
The AZ Forest programme will involve local volunteers and AstraZeneca UK employees to plant, monitor, and help maintain woodlands across the nation's forests which Forestry England cares for. Employees and volunteers will replace dead or damaged trees to ensure optimum tree survival.
As England's largest land manager, managing and maintaining 1,500 woods and forests, Forestry England is contributing their expertise and resources in creating and caring for woodlands to ensure they are resilient to a changing climate and able to resist pests and diseases. We need thriving future forests for wildlife, people, and a sustainable economy.
By the end of 2021, AstraZeneca UK, Forestry England and Borders Forest Trust will have planted over 400,000 trees, with the aim to plant a further 900,000 over the next three years, bringing the total to over 1.3 million trees by 2025.
About Forestry England
Forestry England manages and cares for the nation's 1,500 woods and forests, with over 296 million visits per year. As England's largest land manager, we shape landscapes and enhance forests for people to enjoy, wildlife to flourish and businesses to grow. We are continuing the work we have already started to make the nation's forests resilient to climate change and by 2026 we will:  
create at least 6,000 more hectares where we integrate wilding activities in our productive forests

increase the diversity of visitors to the nation's forests and have one million hours of high-quality volunteer time given to the nation's forests

plant at least 2,000 hectares of new, high quality, predominantly broadleaf woodlands
For more information visit forestryengland.uk. Forestry England is an agency of the Forestry Commission.
Forestry England's partnership with AstraZeneca is co-funded by the Government's Nature for Climate Fund.
Media contact
About Borders Forest Trust
Borders Forest Trust is a native woodland conservation charity working to restore native woodlands and associated natural habitats in the south of Scotland for the benefit of both people and wildlife. Since its establishment in 1996, BFT have:
planted more than 2 million trees to create 1325ha of native woodland

worked with over 30,000 young people in education projects

supported 170 landowners to create native woodland and improve 208ha of ancient woodland;

restored over 100ha of peatland

worked with 30 community groups to develop and manage woodland projects
The Trust owns 3 substantial properties, Carrifran, Corehead and Talla & Gameshope, covering over 3,100ha of the Southern Upland Hills which are collectively managed for ecological restoration under the 'Reviving the Wild Heart of Southern Scotland' initiative. This is a landscape scale ecological restoration project, which aims to bring back lost natural habitats, ultimately restoring healthy ecosystems.
We aim to demonstrate large scale ecological restoration in action, and inspire landowners, statutory bodies, local communities and policy makers to embrace this alternative model for land use and conservation.
For more information visit https://bordersforesttrust.org/
About One Tree Planted
One Tree Planted is a 501(c)(3) non-profit organization that makes it simple for anyone to help the environment by planting trees. Every dollar donated gets one tree planted. We work with amazing reforestation partners around the world to get trees in the ground for environmental and social impact. Projects range from forest fire recovery to watershed health and agroforestry, providing a benefit to people and the planet. To learn more, visit onetreeplanted.org.
About AstraZeneca
AstraZeneca is a global, science-led biopharmaceutical company that focuses on the discovery, development, and commercialisation of prescription medicines in Oncology, Rare Diseases, and BioPharmaceuticals, including Cardiovascular, Renal & Metabolism, and Respiratory & Immunology. AstraZeneca operates in over 100 countries and its innovative medicines are used by millions of patients worldwide.
AstraZeneca is based in six different locations across the UK, with its global headquarters in Cambridge. In the UK, almost 8,000 employees work in research and development, manufacturing, supply, sales and marketing. We supply 34 different medicines to the NHS, which treat more than one million UK patients every year.
For more information, please visit www.astrazeneca.co.uk and follow us on Twitter @AstraZenecaUK.