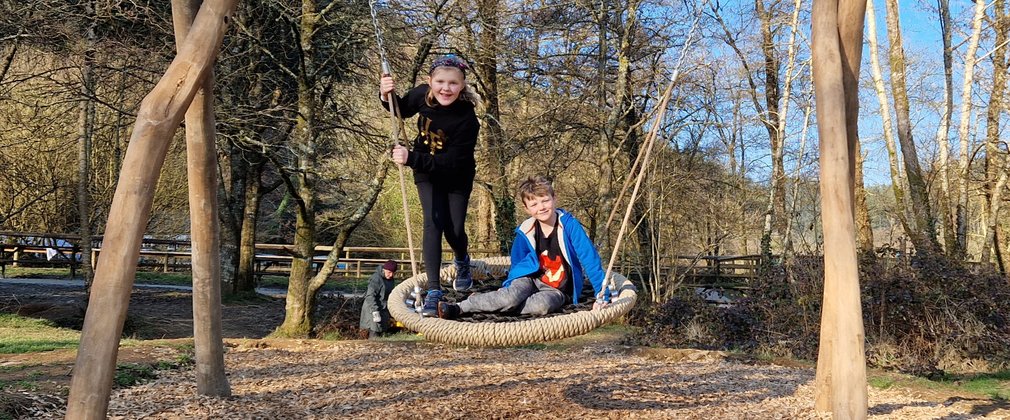 Bank holiday adventures for less 
Explore Forestry England's mega low-cost days out to enjoy this bank holiday 
This bank holiday, Forestry England are inviting adventurers of all ages to experience a fun day out in the nation's stunning forests. From Gruffalo-hunting and scenic walks to immersive trails and cycling adventures, Forestry England has your weekend covered. And with everyone in the country within one hour's drive of the nation's forests, they are the perfect destination for a great value day out. 
The nation's forests are open for everyone to enjoy, and with 12 forests with off-road mobility scooter hire available, people who have difficulty walking can still enjoy an amazing time outdoors. What's even better is all these bank holiday activities are either free, or cost less than £25 for the whole family, which is welcoming news at the end of the holidays! 
Tanya Nesbett-Rex, Forestry England's Recreation Lead says: 
"Forestry England is thrilled to offer an incredible range of low-cost, high-value day out experiences for visitors this bank holiday. 

"The nation's forests provide a wealth of adventure, nature, and entertainment, so that families, friends, and individuals can create lasting memories without breaking the bank." 
Here is Forestry England's top 10 family-friendly activities and fun things to do from across the country this bank holiday: 
Gruffalo sculpture trail, Cardinham Woods
Cornwall Set off on a memorable day out and venture into the deep dark wood with your family to find the Gruffalo character and his friends from Julia Donaldson's classic story. Each sculpture has been hand-carved and placed in different positions. However, you must be cautious not to wake the sleeping Gruffalo! Your little ones will love meeting all the other characters made famous by the book whilst exploring the woods. At the end of the trail, you'll find the recently updated play area and beautiful picnic meadow which has a new nest swing for endless amounts of joy and relaxation. Don't miss this brilliant family day out that promises unforgettable memories for all. 
Zog trail and colouring competition, Dalby Forest, North Yorkshire
Fly over to Dalby Forest and enjoy a low-cost family adventure this summer, where families will find an activity trail based on Julia Donaldson's much loved Zog. Grab a Zog trail activity pack for only £4 at the visitor centre before starting the trail for lots of fun things to do on your forest adventure. Children can channel their inner Zog by donning a pair of wings and completing fun challenges to collect golden stars.  They can also pop on the magic glasses to look for hidden letters along the way to solve a word puzzle. When reaching the end of the trail, they complete a crayon rubbing to get their certificate and take a selfie with Zog! Kids can also take part in a Zog colouring competition, an exciting opportunity for your young artists to showcase their creative skills. With a range of roar-some goodies up for grabs, including a Zog soft toy, and activity book, this competition is not to be missed! 
Forest bathing, Rendlesham Forest, Suffolk
If the stress of the summer holidays has all been a bit too much why not head to Forestry England's Rendlesham Forest to practise in the art of forest bathing? Forest bathing relaxation activities can be great fun for adults and children alike and will allow the whole family to feel calm and quiet amongst the trees. Observing nature around you, whilst breathing deeply can help adults and children de-stress and boost health and wellbeing in a natural way. 
Pedal and Play, Cannock Chase Forest, Staffordshire 
Looking for the perfect family day out? Look no further than the incredible forest bike trails at Cannock Chase Forest. With their innovative Pedal and Play area, it's the ultimate destination to develop your children's riding skills in a safe and enjoyable environment. Aimed at children aged 3-11 years, whether they are brilliant on a bike or just getting started, there are different challenges to try, with different trail surfaces and features. And there are also some exciting play areas to discover along the way, so get out there and start exploring for an unforgettable day out!  
Play trail, Westonbirt, The National Arboretum, Gloucestershire 
Embark on an immersive experience at Westonbirt Arboretum with the Playtime trail through Silk Wood. Engaging young children, teenagers and adults alike, there are plenty outdoor games and challenges to peak your interest along the way. Have a giggle playing French cricket together, score big with this arboreal twist on a playground classic. See if you can find the hammocks to lie down, relax and let your imagination wild as you stop and notice the natural world around you. Remember, you're never too old to play! Admission to the arboretum grants you complimentary access to this playful experience. 
Forest play boxes, Salcey Forest, Northamptonshire
Just a hop, skip, and a jump away from Northampton lies the incredible Salcey Forest! It's the ultimate nature getaway for families craving adventure and a taste of the outdoors. But wait, there's more! You can enhance your day by hiring a play box jam-packed with fantastic games and activities for everyone to enjoy! Brace yourself for epic battles of giant Connect 4, unleash your inner athlete with some wild badminton action, or engage in a brain-bending giant Chess showdown. These play boxes are a one-way ticket to hours upon hours of pure entertainment during your visit! 
Arts trail, Beechenhurst, Forest of Dean, Gloucestershire
For lovers of the great outdoors, the Forest of Dean Sculpture Trail at Beechenhurst showcases giant pieces created from materials you might find in the Forest. This 4.5 mile Sculpture Trail was established in 1986 and provides a unique opportunity to walk through the woodlands and discover great works of art along the way. All ages and abilities are guaranteed to be wowed by the sculptures that lie hidden in the forest, and you don't need to know about art to enjoy what you see. The sculptures have been created within the woodland, so you are encouraged you to seek them out - the posts with purple arrows will direct you. 
Tree safari, Bedgebury Pinetum and Forest, Kent
Experience a tree safari at Bedgebury Pinetum this summer! Allow your curiosity to lead the way as you embark on a captivating journey, uncovering the origins of Bedgebury's extraordinary trees. Gain valuable knowledge by mastering the art of reading tree labels and accurately identifying the countries these magnificent trees originate from then colour in your tree safari explorer map. Remember to grab your map from the information point before you set off. 
Reptile centre, New Forest, Hampshire
Why not take your family to visit the New Forest Reptile Centre, near Lyndhurst. Here Forestry England help protect rare snakes and lizards and encourage the re-introduction of these animals. There are special outdoor 'pods' which provide a natural home to a range of reptiles including the sand lizard, smooth snake and adder. These reptiles can be difficult to see in the wild as they are rare and very secretive, so the New Forest Reptile Centre is a great place to try to catch a glimpse of them close-up. 
Wow trail, Whinlatter Forest, Cumbria 
Get ready for an exciting family day out at Whinlatter Forest's immersive Wow trail! Discover the fascinating story of England's only mountain forest as you embark on this thrilling adventure. Choose to join a guided ranger walk or grab a map from the visitor centre and start your journey. Along the trail, you'll be treated to breath-taking views of the stunning Lake District. Immerse yourself in nature at the special wellbeing area nestled among the trees and be on the lookout for encounters with the enchanting forest animals. From spotting incredible woodland creatures at the nature hide to experiencing the wonders of the forest, be prepared for a day full of wonder, natural beauty, and unforgettable moments at Whinlatter. Bring the whole family along and make lasting memories in this captivating setting that will surely leave you saying, "Wow!" 
With so much on offer, make sure a trip to one of the forests cared for by Forestry England's is on your to-do list this summer! It promises a memorable day out for the whole family without breaking the bank. You can save even more money throughout the year by investing in a Forestry England membership which helps support the forests we love. Unlock the opportunity to explore hundreds of forests across England and make a lifetime of memories! 
For more information about Forestry England and its summer days out, please visit www.forestryengland.uk. 
Notes to Editor 
Images are available here. Please credit Forestry England/Crown copyright. 

Forestry England manages and cares for the nation's 1,500 woods and forests, with over 292 million visits in 2022/23. As England's largest land manager, we shape landscapes and enhance forests for people to enjoy, wildlife to flourish and businesses to grow. We are continuing the work we have already started to make the nation's forests resilient to climate change and by 2026 we will:    
create at least 6,000 more hectares where we integrate wilding activities in our productive forests.  

increase the diversity of visitors to the nation's forests and have one million hours of high-quality volunteer time given to the nation's forests  
plant at least 2,000 hectares of new, high quality, predominantly broadleaf woodlands  
For more information visit forestryengland.uk. Forestry England is an agency of the Forestry Commission.  
Media contact
Rebecca Ulewicz: media@forestryengland.uk