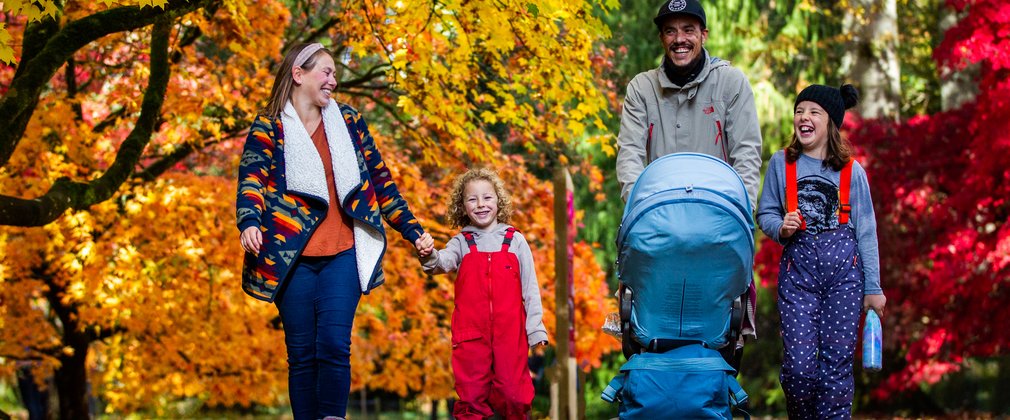 Be inspired by Forestry England's top 10 autumn spots
There are so many beautiful woodlands across the country to enjoy as we begin to welcome in autumn. Bright skies, bracing walks and a kaleidoscope of colour are all a welcome change as our most colourful season arrives.
As the weather cools in autumn, the days get shorter, and the leaves start to receive less sunlight. This is a signal for the leaf to prepare for winter and to stop making chlorophyll. Once this happens, the green colour starts to fade and the nation's woodlands are filled with golds, reds, oranges, and yellow.
To ensure that autumn is kept colourful for future generations and to increase the resilience of our nation's forests in the fight against climate, Forestry England is working hard to plant lots of different species of trees in many woodlands which will fare well in the climate conditions predicted over the next decades. Sycamore, wild cherry, hornbeam, small-leaved lime, and oak to name a few should bring a riot of colour to our countryside for visitors to enjoy well into the future.
To make the most of nature's most dazzling display, Forestry England share their top 10 autumn spots.
Cherry tree avenue, Bedgebury National Pinetum and Forest
A line of over 100 ornamental cherry trees above the visitor centre that all turn auburn at once during late September, early October.
Symonds Yat Rock, Forest of Dean
High up on the hill, look down on the autumn landscape below as the River Wye winds beneath you.
Wyre Forest, Worcestershire
Be amazed by the vivid colour displays of burnished golds, yellows and oranges at one of the last remaining Oak woodlands in Britain.
Acer Glade, Westonbirt Arboretum
Westonbirt is perhaps best known for its spectacular display of autumn colour and the most famous area here in autumn is the colourful Acer Glade; a stunning collection of exquisitely shaped maples that were planted in the 1870's by Father and son owners, Robert and George Holford.
Cannon Crag, Grizedale
Well worth the climb, the breath-taking views from the top of Carron Crag offers up orange and bronze hues backed with beautiful moorland flora.
Blackmere trail, Delamere Forest
Enjoy the contrasting golden larch and evergreen pine against the array of autumnal colours over Linmere Moss.
Blackling Waterfall, Hamsterley Forest
Step off the beaten track in search of the stream, encased in autumn colour. News release
Lime tree avenue, Salcey Forest
Walk the length of Lime Tree Avenue and admire the golden yellow hues.
Glenbervie Meadow, Alice Holt
Stand at the edge of the Glenbervie Meadow which stretches out in front of you framed by beautiful autumnal trees.
Giant redwoods, New Forest
Wonder at the magnificent redwoods, two of the largest trees in the New Forest.
Notes to Editor
Images available here. Please credit Name/Forestry England/Crown copyright
1. Forestry England manages and cares for the nation's 1,500 woods and forests, with over 296 million visits per year. As England's largest land manager, we shape landscapes and are enhancing forests for people to enjoy, wildlife to flourish and businesses to grow. For more information visit forestryengland.uk. Forestry England is an agency of the Forestry Commission.
Media Contact:
Naomi Fuller e: naomi.fuller@forestryengland.uk m: 07825255618