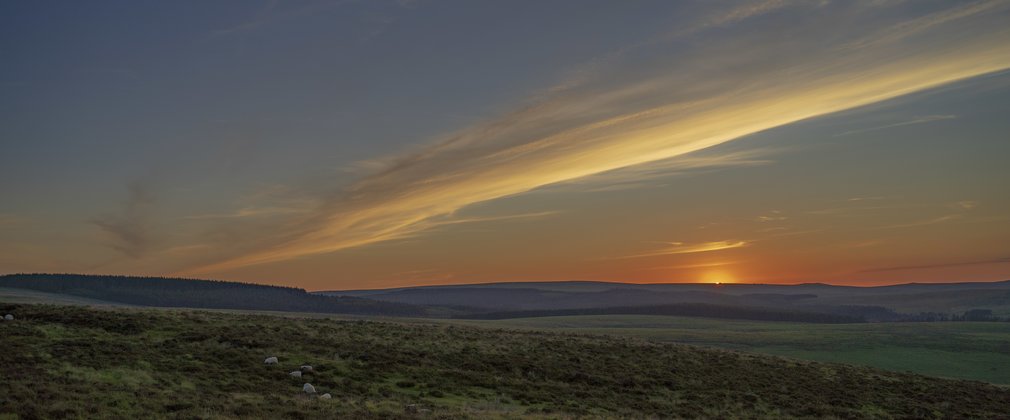 'Don't stop going outside when it gets dark'
Public urged to spend more time in nature to improve mental health

Spending time in forests can help with winter blues, say experts
Leading psychiatrists and the largest provider of outdoor recreation in England are urging people to continue venturing outdoors this autumn and winter to improve their mental health.
Forestry England and experts from the Royal College of Psychiatrists say that engaging with nature – such as spending time in forests – can help alleviate the winter blues.

Studies have shown that visiting forests can provide a wealth of social, mental and physical health benefits. They include stimulating the mind[i], staying active longer[ii], boosting the immune system[iii], improving cognitive function and mood[iv], improving children's happiness[v], stimulating the senses, and reducing the possibility of poor mental health.

A public survey in 2019 reported that three-quarters of people who visit forests go at least once a month. However, one in five respondents said they never visited during the previous winter (October 2018 – March 2019).[vi]

Research has also claimed that almost one in three people in the UK suffer from seasonal affective disorder[vii], a type of depression that usually occurs during the winter months and can leave people with a persistent low mood.

Dr Alan Kellas is a psychiatrist interested in nature-based approaches to mental health, and lead for Green Care on the Royal College of Psychiatrists's Sustainability Committee. He says,

"Spending time outdoors in nature, including in woodlands and forests, can really improve mental health. Our senses are engaged differently, our attention changes, we naturally become more mindful, our mood settles if aroused or anxious, or lifts if low or depressed, our imagination can be sparked and we can gain a different perspective on our lives, projects and problems."

Anxiety and depression costs the UK economy an estimated £70-£100 million a year[viii], while studies have shown that spending as little as two hours a week in nature is an effective evidence based strategy for maintaining good mental health.[ix]

Ellen Devine is the Wellbeing Projects Manager at Forestry England, which is encouraging more people to visit forests as the nights draw in. She says,

"From the colours of autumn to the crisp frost of a winter's morning, the forest is full of magical moments. While it can be tempting to retreat at this time of year, it's so important to keep going outside and keep exploring. Even a short visit to the woods can work wonders for how we feel."

Dr Kellas believes that taking notice of nature can help change how we see the world around us. He adds,

"Noticing the way trees grow and mature, their autumnal colours or winter skeletons, or the way wildlife adapts to seasons changing, can help slow our ruminating thoughts and help us see our place in the wider web of life."

Thursday 10 October marks World Mental Health Day, which aims to raise awareness of mental health issues, mobilise support and make mental health care a reality for people worldwide.

Mental health advocate Hope Virgo, who is supporting Forestry England's autumn wellbeing campaign, says,

"The difficulties I've had with my mental health helped me to realise just how important it is to spend time in nature. Through my recovery, I learnt to manage exercise in a healthy way, giving myself headspace and not punishing myself.

"I find running through forests so invigorating and positive for my wellbeing. It is crucial that we all give ourselves that time."

Forestry England, which looks after more than 1,500 public forests and woodlands, welcomes over 230 million visits a year, and provides a host of activities designed to improve visitors' wellbeing.

Organised activities include wildlife walks, archery, fitness classes for new mums, foraging workshops, wild women days, and yoga.

Dr Liz O'Brien is Head of the Social and Economic Research Group at Forest Research has been researching how trees and forests can contribute to people's health and wellbeing for fifteen years.

Her research on an on-going physical activity programme led by Forestry England in partnership with Sport England has found that over 80% of over 2,200 people surveyed identified the benefits of their physical activity in the woods to be:
Physical wellbeing

Fun and enjoyment

Mental wellbeing

Feelings of escape and freedom.
Dr O'Brien says, "Spending time in woodlands helps people develop social connections with others, and provides a wide range of sensory benefits as well as a chance to enjoy and observe seasonal changes in nature."
 
[vi] Public Opinion of Forestry 2019
[vii] The Weather Channel and YouGov research – 2014
[viii] Mental health and wellbeing: The contribution of trees and forests to diverse populations in Britain – Forest research report