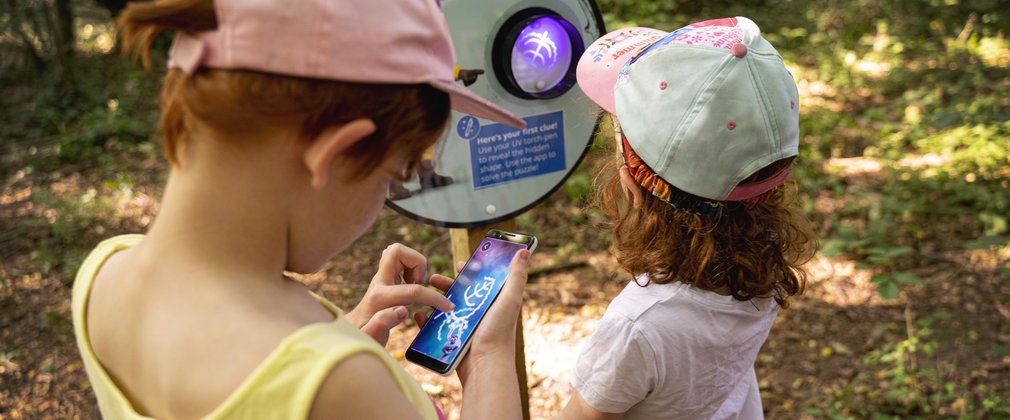 Flock to the forests for out-of-this-world fun this half term!
Looking for some out-of-this-world spring activities for the kids this half term? For those with the spirit of adventure, bundle up and look no further…
Shaun needs your help! Set off on a race against time through the woods on our Shaun the Sheep Farmaggedon Glow Trails to help get Lu-La, a lovable alien who has crash landed in the forest, home. She has been stranded in the forest and needs to charge her communicator so that she can get a message back home to call for rescue!
With Agent Red and her hapless helpers the Hazmats hot on their trail, families will need to find clues in the woods to complete puzzles and challenges on the free app. Once all the challenges are completed Lu-La's communicator will charge and unlock an augmented reality hidden spaceship where families can have their picture taken.
The trail is open at 23 Forestry England sites until this March, and the Shaun the Sheep Farmageddon Glow Trail kit will be available to buy on site for £3.50 and includes a UV pen-torch, Shaun the Sheep ears, a clue sheet, an activity booklet, a sticker sheet and a pencil to make note of your answers! The clue hunt app is free from www.forestryengland.uk/shaunthesheep and will need to be downloaded before arrival.
Families who have already taken part in the challenge have given stellar reviews:
Cara @carashipley, mum of 3-year-old Mali, said: "My daughter loves Shaun the Sheep so discovering the glow trail at Sherwood Forest was a bonus for us! The goodie bags were fab, the glow pen and tasks kept her entertained all the way round. Brilliant trail. We will be back."
Sabina @mummymatters, mum ofWill, 18; Lillie, 11; Ollie, 9 and Albie, 7, said: "The Shaun Glow Trails were a fun way to keep moving and exploring whilst out on a family walk through the forest. The children especially loved the photo opportunity with the spaceship, Shaun and Lu-La at the end."
The free game is supported by Sport England using funding raised by National Lottery players and hopes to encourage around 500,000 visits from families getting active across Forestry England sites countrywide. The new self-led trail is a fantastic way to get families active with lots of fun challenges to get you moving along the way. Baa-rilliant for children aged 6 – 12, families will love the challenge of helping Shaun to get Lu-La home and beat Agent Red and the Hazmats.
A Shaun the Sheep Movie: Farmageddon is available now on 4K UHD, Blu-Ray, DVD & Digital.
Notes to Editor
Images can be downloaded here: https://www.dropbox.com/sh/mpvej9nktlq3c6g/AABgN88168MIMtk0_SPOVP8Qa?dl=0 – please credit name in photo title.
About Forestry England
Forestry England manages and cares for the nation's 1,500 woods and forests, welcoming 230 million visits per year. As England's largest land manager, we shape landscapes and are enhancing forests for people to enjoy, wildlife to flourish and businesses to grow. For more information visit forestryengland.uk. Forestry England is an agency of the Forestry Commission.
About Aardman
Aardman, based in Bristol (UK) and co-founded in 1976 by Peter Lord and David Sproxton, is an independent and multi-award-winning studio. It produces feature films, series, advertising, interactive entertainment - such as the 'visually astonishing' (The Guardian) console game, 11-11: Memories Retold, and the four-times Gold Cannes Lions-winning StorySign app - and innovative attractions for both the domestic and international market, including a new 4D theatre attraction at Efteling in the Netherlands. Their productions are global in appeal, novel, entertaining, brilliantly characterised and full of charm reflecting the unique talent, energy and personal commitment of the Aardman team. The studio's work is often imitated and yet the company continues to lead the field producing a rare brand of visually stunning content for cinema, broadcasters, digital platforms and live experiences around the world. In November 2018 it became an Employee Owned Organisation, to ensure Aardman remains independent and to secure the creative legacy and culture of the company for many decades to come. www.aardman.com 
About STUDIOCANAL
STUDIOCANAL, a 100% affiliate of CANAL+ Group held by Vivendi, is Europe's leader in production, distribution and international sales of feature films and TV series, operating directly in all three major European markets - France, the United Kingdom and Germany - as well as in Australia and New Zealand.
STUDIOCANAL owns one of the most important film libraries in the world, boasting more than 6,000 titles from 60 countries. Spanning 100 years of film history, this vast and unique catalogue includes among others the iconic Terminator 2, Rambo, Breathless, Mulholland Drive, The Pianist and Belle de jour.
STUDIOCANAL has fully-financed box office hits Tinker Tailor Soldier Spy, Paddington 1 and 2, The Commuter and Shaun The Sheep. Upcoming films backed by STUDIOCANAL include Marjane Satrapi's Radioactive featuring Rosamund Pike, The Secret Garden produced by David Heyman starring Colin Firth, Aardman Studios' stop-motion Shaun the Sheep Movie: Farmageddon.
STUDIOCANAL is actively developing and distributing high-end TV series through its network of award-winning European production companies, including TANDEM in Germany (Take Two) and the UK's RED Production Company
(Years and Years). STUDIOCANAL is also an associate of Danish-based SAM Productions founded by Søren Sveistrup and Adam Price (Ride Upon The Storm) as well as of UK-based GUILTY PARTY PICTURES; Benedict Cumberbatch's production company SUNNYMARCH TV (Patrick Melrose); URBAN MYTH FILMS (War of the Worlds) and Spain's BAMBÚ PRODUCCIONES (Instinto). In 2018, STUDIOCANAL launched a new label in France, STUDIOCANAL ORIGINAL (Mouche).
About the movie
Strange lights over the quiet town of Mossingham herald the arrival of a mystery visitor from far across the galaxy…
When the intergalactic visitor – an impish and adorable alien called Lu-La – crash-lands near Mossy Bottom Farm, Shaun soon sees an opportunity for alien-powered fun and adventure and sets off on a mission to shepherd Lu-La home.
Her magical alien powers, irrepressible mischief and galactic sized burps soon have the flock enchanted.  Shaun takes his new extra-terrestrial friend on the road to Mossingham Forest to find her lost spaceship, unaware that a sinister alien-hunting agency is on their trail. Can Shaun and the flock avert Farmageddon on Mossy Bottom Farm before it's too late?
SHAUN THE SHEEP MOVIE: FARMAGEDDON continues the production partnership with AARDMAN and STUDIOCANAL following the success of SHAUN THE SHEEP MOVIE directed by Mark Burton and Richard Starzak, which grossed $106 million worldwide and Nick Park's prehistoric comedy adventure, EARLY MAN. STUDIOCANAL is financing and will distributein its own territories, the UK, France, Germany, Australia and New Zealand in Autumn 2019.
SHAUN THE SHEEP MOVIE: FARMAGEDDON is Directed by Richard Phelan and Will Becher, Produced by Paul Kewley, Written by Mark Burton and Jon Brown, with Executive Producers Mark Burton and Richard Starzak, Peter Lord, Nick Park, Carla Shelley and David Sproxton
About the Forestry England and Sport England partnership
Funded by the National Lottery through Sport England, with support from Forestry Commission England, the programme aims to create sporting and physical activity habits for visitors to the public forest estate in England. The programme provides engaging, inspirational and motivating sport and exercise opportunities for new and existing forest visitors.
Media Contact:
Hayley Coristine
Media Relations Officer
Forestry England
T: 0300 067 4972
E: hayley.coristine@forestryengland.uk