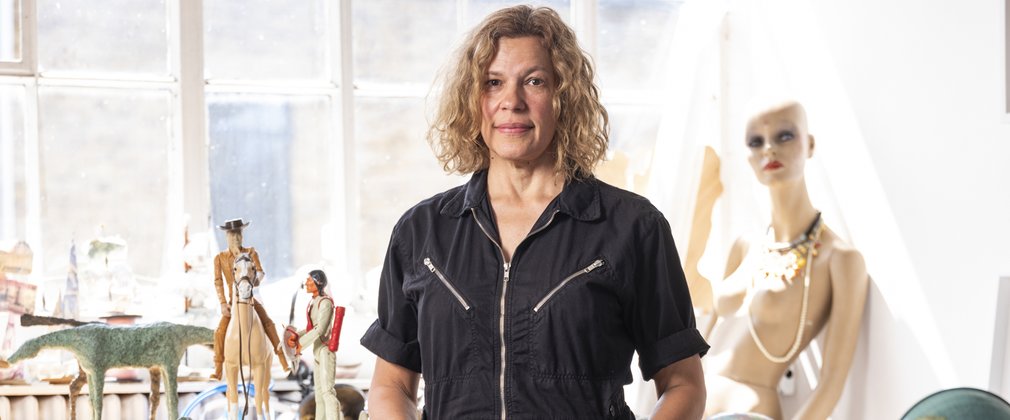 Forestry England and the Royal Society of Sculptors announces the winner of the annual 2021 Grizedale Residency
Susan Stockwell FRSS and early-career artist Florian Houlker will be the latest artists joining the list of leading international artists who have been invited to work in Grizedale Forest. Susan and Florian will be residing and working in the forest this summer, producing work inspired by, and of, their surroundings.
Judges, President of The Royal Society of Sculptors, Clare Burnett, artist David Nash, art project manager, Nia Roberts and the arts development manager for North England at Forestry England, Hazel Stone said they were delighted by the diversity of applications and all the artists enthusiasm for the project.
They were selecting two artists who had responded to a 'call for artists' earlier this year; one 'early year's' sculptor and one member of the Royal Society of Sculptors, to be based at Grizedale Forest for six weeks, 30 July – 11 September. During that time, they will be free to explore how creative and new ideas and innovative thinking can evolve without interruption.
Hazel Stone, Arts Development Manager, Forestry England said:
'There was such an optimistic sense of continuity as we gathered to consider the artist's applications. It seemed perfect that David Nash, the second residency artist at Grizedale back in 1978, was on the panel to help select who would be amongst the next generation of sculptors to benefit from this amazing opportunity. David has often spoken of how influential spending time in the forest has been on his practice. It will be exciting to see how Susan and Florian's residency will influence their work.'
David Nash has previously said of his residency in 1977-78:
'Being in the trees coming out of winter into spring for 3 months without teaching commitments meant that for the first time since college I could fully engage with "making".  There were fallen oaks to work with where they fell and daily, I could experience the season changing.  Many themes I still work with were discovered there.'
Susan Stockwell FRSS and Florian Houlker join notable sculptors Richard Harris (the forest's first resident in 1977-78), David Nash (1978), Robert Keonig (1981-83), Andy Goldsworthy (1984, 1985 & 1990) and Sally Matthews (1988) as artists who have left permanent and temporary work or have added in some way to the creative legacy of Grizedale Forest.
Susan graduated from the Royal College of Art in 1993 and she is based in London, England. She is represented by Patrick Heide Contemporary Art and works with The Artists Agency.
Clare Burnett, President of The Royal Society of Sculptors said:
'I hope Susan and Florian's residency will encourage a shared verbal and visual dialogue between them. This is an exciting opportunity for them both to explore how creative ideas can evolve and how new ideas and innovative thinking can cross generations of artistic practice.'
Forestry England are committed to supporting creative enquiry in the natural forest and are pleased to see the relaunch of the Grizedale Residency which has been made possible through Grizedale Forest's partnership with the Royal Society of Sculptors and generous funding by the Brian Mercer Trust. Together they are supporting artists and fostering experimentation and innovation in response to the natural environment.
Artist David Nash returns to Grizedale next month with a solo show titled Return to the Forest.
17th June – 12th December
Editors notes
The winners of the 2021 Grizedale residency
Susan Stockwell FRSS is an established international artist working across sculpture, installation, collage and film. Her practice is concerned with examining histories and engaging with questions of social justice, cultural mapping and feminism. Her work employs the material culture of everyday products, such as toilet paper, recycled computer components, maps and money, which she transforms into compelling artworks. In seeking to reconnect an object's past, its related history and materiality with contemporary issues, her practice underscores these materials' urgent interconnection to collective memories, and ecological shortfalls.
Florian Houlker is a multidisciplinary artist from Preston and currently artist-in-residence at Artlab Contemporary Print Studios. They explore the post-industrial landscape through exploratory investigations and search for narratives within it, often reclaiming objects from these environments to repurpose or change their narratives. They are interested in recording the surfaces of reclaimed objects and surfaces in the landscape, as there is an embedded visual history which comes from human traces and natural factors.
The judges
David Nash (b. 1945, Esher, Surrey) has built up an international reputation as a sculptor in a career spanning fifty years. After studying at Kingston College of Art he moved to Blaenau Ffestiniog, north Wales in 1967, a place he had spent many family childhood holidays, before returning briefly to London for postgraduate study at Chelsea College of Art. His first solo exhibition was held in York in 1973, since then there have been numerous large-scale solo exhibitions all over the world, many with site-specific projects. Following Richard Harris, David Nash was the second residency artist at Grizedale in 1978 and created site-specific sculptures in the forest. His work is featured in countless group exhibitions and held in public art galleries and private collections worldwide. Although known primarily for his sculptures in wood, some of which are planted works, drawing has also been a cornerstone of his practice. Throughout his career he has maintained a studio in Blaenau Ffestiniog, working with the seasons and elements. His work was recently celebrated in a major retrospective at National Museum Wales, Cardiff and Towner Gallery Eastbourne with an accompanying publication David Nash 200 Seasons at Capel Rhiw.
Clare Burnett is a British artist, raised in France and Belgium and working in London. She is President of the Royal Society of Sculptors. Her work is a process-led response to the issues, objects and spaces around her. She scavenges from her surroundings; plays with, reconfigures and transforms her 'finds' in the studio; then arranges them in groups to create interactions with each other and the space beyond. Clare studied Architecture and Social and Political Studies at Cambridge University and Fine Art at the Byam Shaw School of Art. Solo and group shows include Leighton House Museum; William Benington Gallery; the University of Leeds; Contemporary Sculpture Fulmer; the Royal Academy; the National Gallery; the Jerwood Space; the RIBA; and the Royal Society of Sculptors in the UK; Sanyi Wood Sculpture Museum in Taiwan and Studio Block M74 in Mexico. She has completed site-specific installations in spaces such as Le Corbusier's Unite d'Habitation, France, Brompton and Norwood Cemeteries and Bishopsgate Square. London. This year her first public sculpture was installed in China.
With a specialism in sculpture, Hazel is leading the development of the renowned Grizedale Forest Sculpture collection in the Lake District and the establishment of its contemporary exhibition programme. Previous roles include curator of the Sidney Cooper Gallery, Director of Curious Planet, artist and lecturer.
After studying textile design Nia Roberts forged a career with various arts organisations, often working on pivotal projects, from founding the BAFTA Cymru Screen and Television Awards in the early 1990's; the Artes Mundi International Visual Art Prize in the early 2000's, to establishing the presence of Wales as a key Collateral Pavilion at the Venice Biennale of Art for the Arts Council of Wales. She started working with visual artists in the mid 1990's at Cywaith Cymru. Artworks Wales, then the national organisation for public art in Wales, fostering links with many sculptors and artists working in the public realm. The ethos of the organisation, and the way it nurtured artists, giving them varied opportunities to develop ideas and projects, has had a lasting impact. In a move back to her native north Wales in 2008 she worked as Centre Manager at Ty Newydd, the National Writing Centre for Wales, before returning to the visual arts and currently manages various site-specific projects and special exhibitions at Oriel Plas Glyn-y-Weddw on the Llyn peninsula.
This award is generously supported by the

 

Brian Mercer Trust
About Forestry England
Forestry England manages and cares for the nation's 1,500 woods and forests, with over 235 million visits per year. As England's largest land manager, we shape landscapes and are enhancing forests for people to enjoy, wildlife to flourish and businesses to grow.
For more information visit forestryengland.uk. Forestry England is an agency of the Forestry Commission.
About The Royal Society of Sculptors
The Royal Society of Sculptors is an artist led, membership organisation. The RSS support and connect sculptors throughout their careers and lead the conversation about sculpture today through exhibitions and events for all.
The Society was created more than 100 years ago to champion contemporary sculpture and the artists who create it. Today we welcome everyone interested in exploring this art form and its many possibilities.
The RSS are based in London's South Kensington, a few minutes' walk from its great museums, in a beautiful listed building called Dora House.
The Society provides a supportive membership community to sculptors throughout their careers, offering access to expert advice, training, bursaries, residencies and awards.
Media contact
For Forestry England media enquiries, please contact Jeanette Edgar netteedgar@me.com
For RSS media enquiries, please contact Julia Safe julia.safe@flint-culture.com