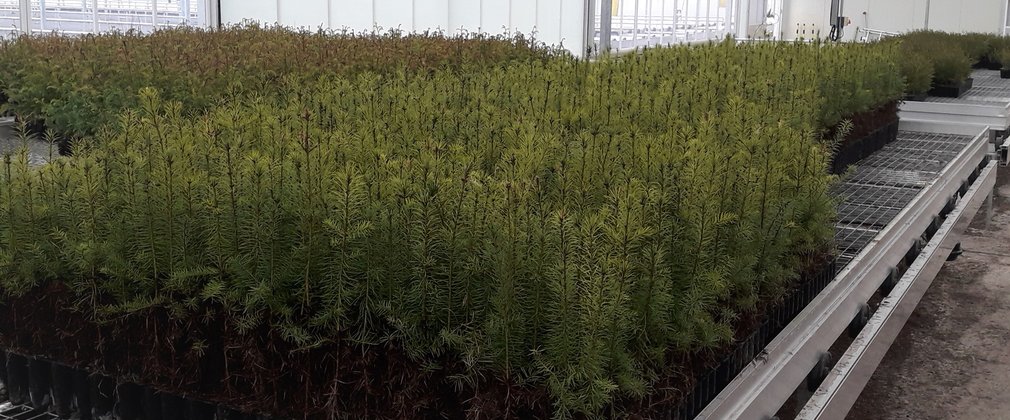 Forestry England lead on biosecure planting
Leading the way in their commitment to plant health and biosecurity are the custodians of the nation's forests: Forestry England.
Their strict standards of plant health and biosecurity means that the 18 million trees they grow a year are the best they can be, and they are delighted to have been awarded their "Plant Healthy" certification by Grown in Britain, one of the certification bodies for the scheme.
Developments such as the one-hectare glasshouse at Delamere Forest have enabled Forestry England to lead the way in modern production methods for forestry seedlings. The facility grows a diverse range of tree species, ensuring long-term resilience and sustainability of the nation's forests.
Chris Hardy, Head of plant and seed supply, Forestry England says:
"Forestry England have a key role to play in the battle against tree pests and diseases, and the importance of the actions taken by the nation's forests have never been greater.

"It is crucial that we move towards improved plant health measures for our woodlands. The single most important step we can take is to ensure the biosecurity and traceability of planting stock."
The Plant Healthy Certification standard helps us to protect and prevent outbreaks of pests and diseases in the nations new and existing forests.
Forestry England has been a consistent and long-term partner in the development of more bio-secure supply chains and has worked with Grown in Britain to support the development of the Plant Healthy Scheme with a range of partners.
Dougal Driver CEO of Grown in Britain (GIB) said:
"After several years of work behind the scenes, we are proud to be a certification body for the Plant Healthy scheme. A wide range of partners have been involved in this project, including Forestry England, who have shown consistent and knowledgeable leadership coupled with excellent technical support throughout. We would not be where we are without the support of Forest England and their determination to build more biosecure supplies for everyone."
Dougal added:
"Forestry England opened up their facilities to help GIB and our auditors assess the risks and opportunities in nursery production and they have continuously helped us learn in order to develop a robust certification scheme for all. We wish all Forestry England staff and visitors to their forests a fantastic Grown in Britain Week"
Recent research has shown that tree seeds are an important pathway for the spread of plant pathogens. Forestry England will work to ensure that the principles of the Plant Healthy scheme are in implemented across their entire supply chain. 
Improving the level of biosecurity for the seed they process and procure is a key area they will focus on in the future.
Notes to Editor
Forestry England

manages and cares for the nation's 1,500 woods and forests, with over 235 million visits per year. As England's largest land manager, we shape landscapes and are enhancing forests for people to enjoy, wildlife to flourish and businesses to grow. For more information visit forestryengland.uk

.

Forestry England is an agency of the Forestry Commission.

Grown in Britain

is a NFP organisation, championing the UK's forests and their products through a robust certification scheme. Our work focuses on certification, biosecurity, natural capital & woodland creation and research and development. Further information can be found at growninbritain.org.

Grown in Britain week

– the second week in October each year is a celebration of wood in all its forms; including the National Forestry Conference and a wealth of GiB certificate holders promotions throughout the week (12th-18th Oct 2020). @GiBWeek2020.

Plant Healthy

is the new certification scheme developed by the Plant Health Alliance to help people and businesses grow and supply healthy plants. The Plant Healthy standard aims to raise the bar for biosecurity, to combat the threat from pests and diseases within the UK and abroad. Visit planthealthy.org.uk for more information.

Media Contact

: Stuart Burgess, stuart.burgess@forestryengland.uk