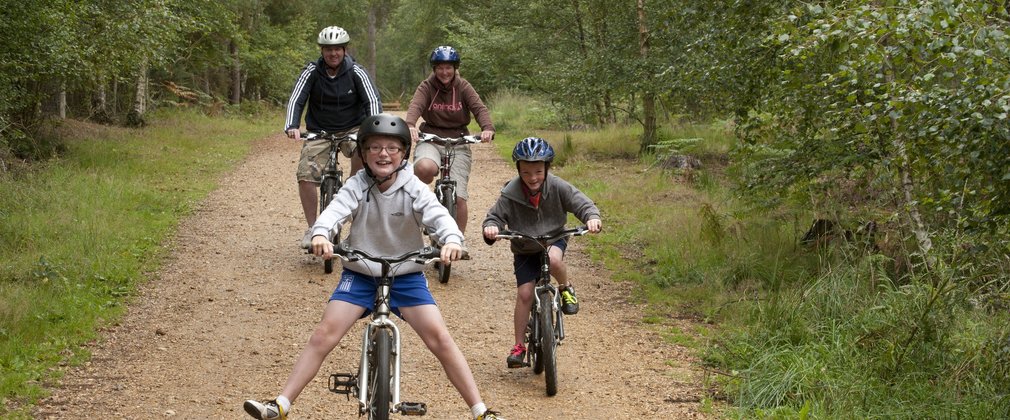 Forestry England reveal their top 10 family bike rides to inspire the next generation of off-road cyclists!
This summer, the Commonwealth Games Mountain biking competition will be coming to Forestry England's Cannock Chase Forest, and to help encourage the next generation of off-road cyclists, Forestry England has developed a new Forest Rider Pack.
Cycling is an excellent way to experience the outdoors and is a fantastic activity that can be enjoyed by the whole family. With 1,300km of off-road trails, Forestry England has worked hard over the years to provide fun and practical ways for people of all abilities and experience to feel confident to hit the trails allowing them to enjoy nature and benefit from being active outdoors.
As well as keeping children physically fit, research has shown that cycling can bring about a feeling of greater self-esteem, self-control and the ability to rise to a challenge.
Launching today, the Forest Rider pack has been designed to challenge children to complete a series of off-road rides, to help build their confidence and to enjoy the fantastic network of trails the nation's forest have to offer. Aimed at children aged 7-12, the Forest Rider pack will encourage children to get out and about on their bikes in the forest and be safe and responsible forest riders!
To further encourage cycling in the forest, Forestry England has highlighted their top 10 family routes on offer in the nation's forest across the country. Why not try one of these to enjoy a great family day out, whilst honing your off-road bike skills!
The Borderline Trail, Kielder Forest, Northumberland
This flat and easy to ride trail runs along a former railway line and is perfect for families looking to build confidence on off-road trails.
Adderstone Trail, Dalby Forest, Yorkshire
Fun for all the family, this trail provides a gentle route around the top of the forest. Perfect for improving those skills while taking in some lovely views!
Wood Farm Trail, Hicks Lodge, Leicestershire
Offering a great introduction to off-road cycling, this beginners mountain bike route leads you through the forest on specially built winding tracks.
The Adventure Cycle Trail, Sherwood Pines Forest, Nottingham
A great choice for intermediate riders and families looking for a longer ride. Expect to see natural terrain, uneven surfaces and fast flowing corners with berms.
Family Trail, Fineshade, Northampton
This trail is a great option for families with different skill levels, offering a beginner's route with optional blue grade taster loops that runs alongside.
Blue Trail, Hamsterley Forest, County Durham
If you are stepping up a notch from beginners cycling, this is the perfect trail to get to grips with off-road cycling at a safe and leisurely pace. You will be riding some purpose-built single-track trail and much wider forest roads.
Family Trail, Salcey Forest, Northampton
This trail provides a fantastic opportunity for family cycling and spend some quality time in the great outdoors! The route is relatively flat, wide, and smooth and a safe and relaxing way to pick up confidence and develop cycling skills.
Family Trail, Forest of Dean, Gloucestershire
This circular trail, mainly on former railway lines has connecting routes to villages and picnic sites making it the perfect day out for families who like to enjoy the fresh air!
The Shephard Trail, Thetford Forest, East Anglia
A quite family trail, offering relatively flat, wide open forest road, tracks and rides perfect for families just staring out.
Family Trail, Alice Holt, Surrey
Leading you through ancient mighty oaks as well as wildflower rich open spaces, this trail is the perfect way for the whole family to see the wider forest.
With some of the best off-road cycling in the country, you will find easy to moderate trails to suit the whole family, for more information visit www.forestryengland.uk/cycling
Notes to Editor
Images available here. Please credit Forestry England/Crown copyright
Forest rider packs for review are available on request. Please contact Rebecca.ulewicz@forestryengland.uk
Forestry England manages and cares for the nation's 1,500 woods and forests, with over 296 million visits per year. As England's largest land manager, we shape landscapes and enhance forests for people to enjoy, wildlife to flourish and businesses to grow. We are continuing the work we have already started to make the nation's forests resilient to climate change and by 2026 we will:
Create at least 6,000 more hectares where we integrate wilding activities in our productive forests.
Increase the diversity of visitors to the nation's forests and have one million hours of high-quality volunteer time given to the nation's forests.
Plant at least 2,000 hectares of new, high quality, predominantly broadleaf woodlands.
For more information visit forestryengland.uk Forestry England is an agency of the Forestry Commission.
What's in a Forest Rider Pack? 
A logbook to record your rides
A cool Forest Rider neck buff
Pro cycle skill cards to help you be the best forest rider you can be
Stickers and activities
The chance to solve a puzzle to enter a prize drawer to win £350 Halfords voucher, a family experience with Go Ape, a Forestry England Membership and more!
Packs are available at Forest Centres and can be brought online. They cost just £5 (plus postage and packaging of £1.50 when ordered online)
Media Contact:
Rebecca Ulewicz, Media Relations Officer |e: rebecca.ulewicz@forestryengland.uk |t: 07771 971813|