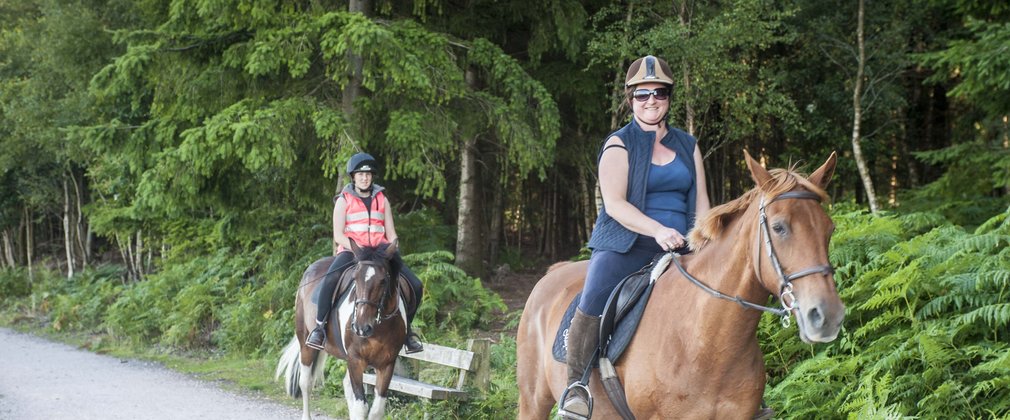 Forestry England seeks horse riders' views for permit review
Forestry England, supported by The British Horse Society (BHS), is asking horse riders to give their views in a survey published online this week. The survey closes on 9 April 2023 and can be accessed using this link: https://consult.forestryengland.uk/corporate-and-forestry-support/forestry-england-horse-riding-permits-survey
Many of the forests managed by Forestry England have access for horse riding, such as on forest roads, and some have extra facilities including horse box parking areas.
In some forests, where Forestry England needs an enhanced relationship with riders to help manage sensitive environments, they use a permit system to allow horse riding.
Forestry England's review needs experiences and thoughts from across the riding community, including those who use permits as well as those who do not. The valuable insight will help them thoroughly assess the permits currently being used and consider how best to use them to manage horse riding in the nation's forests.
In their review and the survey, the term 'horse riding' is used by Forestry England to include all equine riding activities, including pony riding and carriage driving. Similarly, 'horse riding permits' refer to permits issued for recreational riding, and carriage driving, of all equines.
Bridgette Hall, Forestry England's Head of Recreation & Visitor Experience explained:
"We support equestrian access in the nation's forests and absolutely recognise how important it is for riders to have safe off-road riding.
"Forests we manage have 2,690km (1,670 miles) of public bridleways and byways well-used and enjoyed by many horse riders. On top of that, where we can, we also provide additional access on our forestry roads, on permissive bridleways and to link to other popular routes.

"We use permits in a limited way for equestrian access in woodlands with sensitive environments, busy or compact sites, or those prone to significant poaching to help manage access, rather than stop it altogether.

"We are delighted to have support from The British Horse Society for our permit review, as they will help us gather as many views from horse riders as we can."
Mark Weston, Director of Access at The British Horse Society, says:
"We appreciate the value of the nation's forests to horse riders, and carriage drivers, and the work that Forestry England do to maintain access.

"However, on behalf of The British Horse Society's members, all horse riders, and carriage drivers, we are committed to making sure equestrians have improved access to forests.
"We encourage all riders and carriage drivers to give their views to this important survey so that we can have maximum access to forests."
Notes to editor

 
Forestry England manages and cares for the nation's 1,500 woods and forests, with over 363 million visits per year. As England's largest land manager, we shape landscapes and

 

enhance

 

forests for people to enjoy, wildlife to flourish and businesses to grow.

 

We are continuing the work we have already started to make the nation's forests resilient to climate change and by 2026 we will:

    
create at least 6,000 more hectares where we integrate wilding activities in our productive forests.

  

increase the diversity of visitors to the nation's forests and have one million hours of high-quality volunteer time given to the nation's forests

  
plant at least 2,000 hectares of new, high quality, predominantly broadleaf woodlands

  
For more information visit forestryengland.uk. Forestry England is an agency of the Forestry Commission. 
The British Horse Society: As the largest equine charity in the UK, The British Horse Society is dedicated to education, equine welfare, protecting and increasing access to bridleways and places to ride and carriage drive off road, and safety for horse and riders. The Society's thriving and active community of staff and volunteers is committed to improving the lives of horses everywhere.