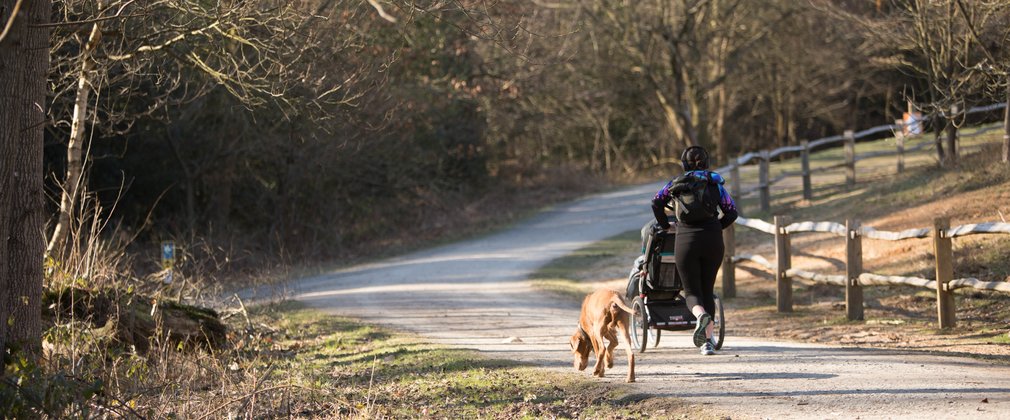 Forestry England's top winter running trails to keep you moving this Christmas
With new local restrictions and the shorter days of winter leaving many of us feeling cooped up and isolated, maybe now is the time to mix up your exercise regime to give your wellbeing a boost? Latest research has shown that inactive people became more inactive during lockdown so now is the time to break that habit!
The unpredictable weather can make it tempting to stay inside on the lead up to Christmas, but it's important for our wellbeing to stay active and get a regular dose of fresh air. Going for a run in the nation's forests can be a perfect way to get outside, shake off the cobwebs, and reconnect to nature!
The mental health benefits
According to studies, running on trails outdoors can improve your mental wellbeing, social inclusion and help to alleviate the winter blues. Research has found that almost 1 in 3 people in the UK suffer from seasonal affective disorder, a type of depression that usually occurs during the winter months and can leave people with a persistent low mood (i). 
Depression and anxiety cost the UK an estimated £70-£100 million a year (ii), and studies have shown that spending as little as two hours a week in nature is an effective strategy for maintaining good mental health(iii).
Ellen Devine, Wellbeing Projects Manager at Forestry England, said:
"Skipping the gym in favour of a run or walk in the forest is a perfect opportunity to get on the path to fitness while also getting fresh air, recharging from the day and taking in the sights and sounds of nature. Spending time outdoors is a win-win for our bodies and our minds." 
Why run in the forest?
Running in nature can give your mental health a boost and can also benefit your physical health! Forest trails provide a softer surface for your joints, meaning less injuries, and they also keep you on your toes! With more natural obstacles, running in the forest means you need to concentrate more, watch where you go and keep good balance. These added elements will help you develop those much-needed leg muscles and help you tone and strengthen your legs.
Forestry England's recommended trails
To inspire you to try running this winter, Forestry England have pulled together the top forest running trails to keep you moving over Christmas. There are trails for all levels, so even if you're brand new to running, or returning to it after a break, the nation's forests will provide the perfect backdrop. 
Bedgebury National Pinetuem and Forest, Kent (5K) 
This is the perfect circular 5K route for a run. Starting at the running map close to Go Ape, follow the pink way markers as the circular route takes you away from the busy visitor centre into tranquil forest. The trail mostly follows all weather forest tracks but there are a few muddy sections for added enjoyment. Keep your eyes open for a glimpse of deer through the trees as you run under the canopy of sweet chestnuts and their native Scots pine. There are some challenging up hills to begin with, but also some glorious downhills sections too and don't forget to say hello to the Gruffalo as you finish.
Dalby Forest, Yorkshire (5K) 
The 5K Route starts at Adderstone field 4.5 miles into the forest from the Visitor Centre. It is a circular 5km loop that takes in a number of forest blocks from pine to birch, beech to fir. It is an undulating course that uses footpaths, forest roads and grass rides, a trail runners paradise especially for those wanting to progress from couch to 5km and Parkrun.
Mallards Pike, Gloucestershire (2K)
Starting in the same place as the other waymarked running trails on offer at Mallards Pike, the 2km route is a level and surfaced trail into the forest, returning along the Mallards Pike Family Cycle Trail link path. The route is a great step up from the shorter Lakeside path.
Whinlatter Forest Park, Lake District (5K) 
This is a challenging circular route which has an additional mini loop at the top. You'll find yourself running mainly on wide forest roads with one short section on a forest path. As you climb your way to 'Bob's Seat' you'll be rewarded with spectacular views to Derwentwater, Keswick, Skiddaw and the surrounding mountain ranges and you may even catch a glimpse of a red squirrel or roe deer. After all that climbing you will be rewarded with a long gentle descent all the way to the finish.
Salcey Forest, Northampton (5K) 
A short run along the forest access road means a solid, flat surface underfoot to start, that later leads onto a beautiful tree lined avenue. This route will also take you past the Elephant Pond – named after the giant creatures that used to bathe in the pond during the 2nd World War. For your final stretch you are back on the forest road with an opportunity for a final sprint to finish.
The nation's forests, car parks and essential facilities are open to you for outdoor recreation and exercise. We should all be trying to reduce how much and how far we travel and spending time or exercising outdoors should be done locally. Make sure you plan-ahead and follow the latest national restrictions for travel, outdoor spaces, and meeting people from outside your household.
Notes to editor
Images available to download here. Please credit Forestry England/ Crown Copyright
Forestry England manages and cares for the nation's 1,500 woods and forests, with over 235 million visits per year. As England's largest land manager, we shape landscapes and are enhancing forests for people to enjoy, wildlife to flourish and businesses to grow. For more information visit forestryengland.uk. Forestry England is an agency of the Forestry Commission.
References:
i: The Weather Channel and YouGov research – 2014
ii: O'Brien Liz, Ambrose-Oji Bianca, Wheeler Benedict, "Mental health and wellbeing: The contribution of trees and forests to diverse populations in Britain", Santé Publique, 2019/HS1 (Special issue), p. 163-171. DOI: 10.3917/spub.190.0163. URL: https://www.cairn-int.info/journal-sante-publique-2019-HS1-page-163.htm
iii: White, M.P., Alcock, I., Grellier, J. et al. Spending at least 120 minutes a week in nature is associated with good health and wellbeing. Sci Rep 9, 7730 (2019). https://doi.org/10.1038/s41598-019-44097-3
Contact:
Rebecca Ulewicz
Media relations officer
e: rebecca.ulewicz@forestryengland.uk