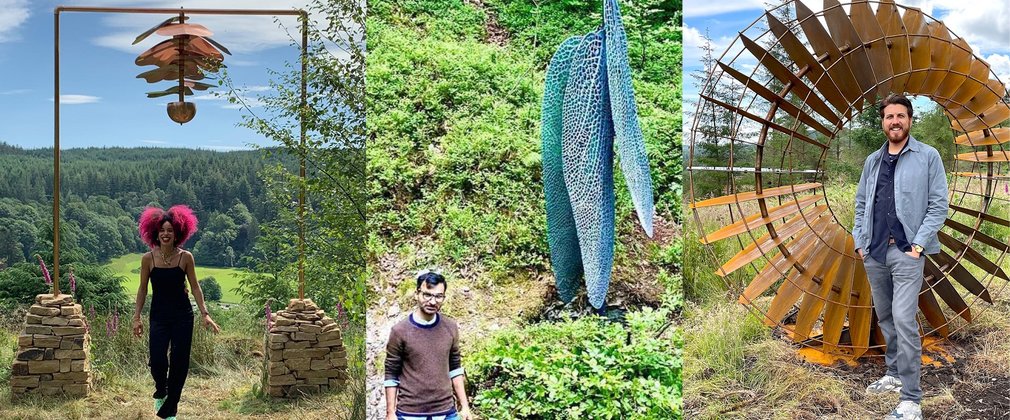 Grizedale revealed as the location to launch major new Sky Arts series, Landmark. 

This, the first of six programmes will air on 6 September 2021
It seems quite apt that Grizedale, the UK's first forest for sculpture, should have been selected as the location to launch Sky Arts' bold new series Landmark. Since 1977 leading international artists have created sculptures at and for Grizedale Forest and now the forest welcomes three artists who are competing against each other to create local landmarks for their home region.
The first episode brings together Northern artists Sadie Clayton, Saad Qureshi, and sapien studio (Steve Anwar). They will build, weld and sculpt under the watchful eyes of two expert judges: Clare Lilley, curator and Director of Programme at Yorkshire Sculpture Park, and artist Hetain Patel; and a celebrity guest judge representing their region – Mark Radcliffe, one of national radio's most respected and distinctive voices for over two decades is guest judge for the North England heat. 
Each artist brough very different skills to the North of England heat, and three very different outcomes. Sadie Clayton has a background in fashion and is an expert with copper, and created 'Home of the Rose', longer established artist Saad Qureshi's created 'Flight', and the deep-rooted connection to Sheffield of Sapien, short for homo-sapien and the alias of Sculptural Designer/Artist Steve Anwar, influenced 'Only Breath'.
Who will win ? Over to the judges!
Landmark delves into the purpose and power of public art and forms Sky Arts' mission to create the UK's next major landmark. Sky Arts will invest £700,000 in public art over the course of the series, with £250,000 dedicated to the final piece. This covers materials, artist fees and maintaining the regional and national landmarks for years to come.
At the end of each heat, the landmarks will be unveiled to the local community, who will join the judges to deliberate on which piece best sums up their area. The winning artist will gain a coveted place in the final where they will pitch for a national landmark which one of them will be commissioned to create. The final landmark will be on display in Coventry, UK City of Culture for 2021.
Hazel Stone, Arts Development Manager, Forestry England said:
'We were very excited when Sky Arts contacted us with their proposal for a new arts programme about public sculpture featuring such a strong line up of  artists and designers and delighted to hear that Grizedale would be the launch location for the public to see the works created in the North of England heat. We were pleased to be able to support the artist's and production company in finding appropriate locations for their pieces within this working forest. The pieces add to the 50 plus sculptures currently in the forest sculpture collection which is sited over 24km2 of forest managed by Forestry England.'
The whole experience was very positive, meeting the artists, supporting the production team, bringing new work to the forest and then having to keep it all secret - it's a relief to be able to finally share the news.'

The work by Sadie Clayton, Saad Qureshi, and Steve Anwar will be on display at Grizedale for a period after all the shows have been aired – the schedule will be announced after the final show – but there will be plenty of time for people to come and see them.
Contact Jeanette Edgar, netteedgar@me.com,07776 191412 for Images, visits, and interviews.
Editors notes
The artists
Sadie Clayton - http://sadieclayton.co.uk/our-story
Saad Qureshi - http://www.saadqureshi.com/#/about
Steve Anwar - https://www.sapienstudio.co.uk/about
About Forestry England
Forestry England manages and cares for the nation's 1,500 woods and forests, with over 235 million visits per year. As England's largest land manager, we shape landscapes and are enhancing forests for people to enjoy, wildlife to flourish and businesses to grow.
For more information visit forestryengland.uk. Forestry England is an agency of the Forestry Commission.
About Sky Arts
Sky Arts exists to bring more art to more people across the UK. In 2020, with the creative industries under serious threat, we threw open our doors to make the channel free for everyone to watch. We've redoubled our mission to increase access to the arts and we're committed to getting everyone involved as the industry recovers. The fact is, we need the arts now like never before, and Sky Arts brings them straight to your living room.
We have something for everyone, championing creative talent by showcasing the best in music, theatre, dance, literature, opera and visual art. From Glyndebourne to Grime and Cézanne to The Style Council, we've got your passions covered. Millions of viewers tune in to hit returning series such as Portrait Artist of the Year, Urban Myths and British cultural institution The South Bank Show, but our acclaimed new programmes might take you anywhere from Pinter's house with Danny Dyer to a Scottish road trip with Samuel Johnson.
Collaboration is at the heart of what we do. Sky Arts is the headline sponsor of National Theatre Live in the UK, and we work with cultural partners across the country including the English National Opera, Royal Academy of Arts, Tate, Creative Industries Federation and Coventry City of Culture to name but a few.

We're passionate about supporting the next generation of artists, so we're working with five leading Sky Arts Ambassadors - Booker Prize-winner Bernardine Evaristo, dance artist Akram Khan, conductor Charles Hazlewood, Theatre Royal Stratford East Artistic Director Nadia Fall, and sculptor Anish Kapoor – to run bursary schemes for new and emerging talent.
Landmarkwill air on Sky Arts, Freeview Channel 11, and streaming service NOW at 8pm from Monday 6 September 2021.
North of England: TX Monday 6th September
Artists: Sadie Clayton, Saad Qureshi, and Steve Anwar. Joined by celebrity guest judge Mark Radcliffe.
South of England: TX Monday 13th September
Artists: Jack Wimperis, Alice Irwin and Favour Jonathan. Joined by celebrity guest judge Russel Tovey.
Midlands: TX Monday 20th September
Artists: Luke Perry, Jason Wilsher-Mills and Alfie Bradley. Joined by celebrity guest judge Benjamin Zephaniah.
Wales: TX Monday 27th September
Artists: Nathan Wyburn, Candice Bees and John Merril. Joined by celebrity guest judge Charlotte Church.
Northern Ireland: TX Monday 4th October
Artists: Ellie Niblock, Paddy Bloomer and Stephen Wilson. Joined by celebrity guest judge Michelle Fairley.
Scotland: TX Monday 7th October
Artists: Annie Cattrell, Kevin Callaghan and Michael Pinsky. Joined by celebrity guest judge Denise Mina.