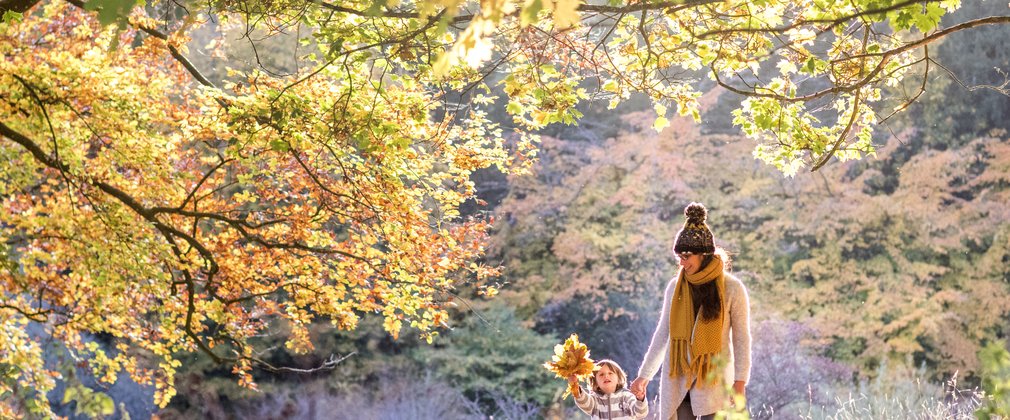 It's going to be a spectacular autumn! Head to the woods to enjoy the show
We're all set for a spectacular show of autumn colour, with the nation's forests promising stunning reds, golds and yellows before trees shed their leaves. Forestry England experts predict that after a rainy spring, a hot, sunny June and the recent September heatwave, there's going to be a beautiful mix of colours during October and November.
It's the perfect time to plan a woodland walk or cycle ride and venturing out for an autumn walk is a real treat for all the family. Enjoy the rich golden colours, kicking through crisp leaves and the sights, sounds and scents of a season of change. As you have fun exploring your favourite forest or woodland, keep your eyes and ears open for wildlife and the signs that animals are preparing for the autumn and winter.
Autumn is a very dynamic time for wildlife so keep your eyes and ears open for some of the wonderful shows nature offers. They include deer rutting, locking antlers in a fight for dominance, the swirling displays of starlings in a 'murmuration' at dusk, and the flitting of jays above the trees with a beak full of acorns ready to bury as a winter food store.
To help you plan the perfect autumn visit, here is Forestry England's list of top walks from every region:
North West
Grizedale Forest, Cumbria
Take in the views of surrounding lakes and mountains as you stroll along one of Grizedale Forest's many forest trails. Although beautiful at any time of year, the Lake District is particularly spectacular in autumn, with a patchwork of colour making its way across the landscape.
Top tip: If you don't mind a steep incline head up to the highest point in Grizedale, Forest Carron Crag, for views right across to Morecombe Bay.
Colliers Wood, Greater Manchester 
Just 10 miles west of Manchester, Colliers Wood is a lovely spot for escaping the city and stimulating your senses this autumn. With a mix of woodland and open space, it's perfect for a family afternoon of leaf kicking and exploring the many footpaths on offer.
Top tip: This woodland is easily accessible from Manchester via the V1 or V2 bus route.
Gisburn Forest, Lancashire
With six way-marked walking trails to choose from, and incredibly varied scenery to soak up, Gisburn Forest is well worth a visit this autumn. Spend a mindful afternoon strolling through varied autumn colours into the heart of the forest, along historic railway tracks and looking out across the reservoir. 
Top tip: Make time to stop at the wildlife hides along the Birch Hills walk to see how many of the varied species you can spot!
Delamere Forest, Cheshire
Delamere Forest is beautiful in the autumn. The larch on the Old Pale hillside produces a magnificent backdrop of warm colour as you drive onto the site, and as you walk throughout the forest you will see a stunning range of golden and copper hues of the oak, chestnut and beech trees.
Top tip: Try the Blakemere Trail for optimum autumn colour, also great for bird watching!
North East
Hamsterley Forest, County Durham
This delightful 2,000-hectare oasis, sprawling along the sides of a sheltered valley, is a lovely place to visit in autumn. You'll be met with beautiful colour from the moment you arrive along the drive. Make sure to walk the Bedburn Valley trail to soak up the rich red and gold hues of the ancient oak trees. 
Top tip: Remember to pack your reusable cup for a stop at the Forest Cafe. What's an autumn walk without hot chocolate?
Holystone Wood, Northumberland 
With tranquil waterfalls, dramatic crags, and an abundance of autumn colour; this corner of the Forests of Rothbury is well worth a visit. Once the site of a twelfth-century nunnery, Holystone's beautiful broadleaf woodland is incredibly peaceful and perfect for a spot of forest bathing or wildlife watching. 
Top tip: The Lady's Well walk will lead you to a historic National Trust landmark where St Paulinus supposedly baptised 3,000 Northumbrians during Easter week, AD 627.
North Yorkshire
Staindale Lake, Dalby Forest, North Yorkshire
Set in the heart of Dalby Forest, Staindale Lake is the perfect place for an autumn walk. The accessible trail circles the lake along boardwalks and well-surfaced paths giving great views out across the water and its wildlife. Soak up the colours of the trees which fringe the lake and enjoy a moment of calm.
South East
Wendover Wood, Buckinghamshire
Follow the short and sweet Hill Fort trail on woodland paths around the Iron Age Boddington Hillfort. Stop to enjoy the beautiful sights of beech woodland on this easy walking trail, which is relatively level and takes in views over the Vale of Aylesbury and the Chiltern Hills.
Top tip: Time your walk in the morning or evening to catch the long shadows off the Chilterns escarpment.
Alice Holt Forest, Surrey
Weave through native trees including oak, beech and rowan, as well as mature pine, and explore the forest at your own pace. Alice Holt Forest's Lodge Pond trail is a scenic route which takes you into the heart of the forest and autumn's magic.
Top tip: Take a slight detour off the path to Glenbervie Meadow and stand at its edge which stretches out in front of you framed by beautiful autumnal trees.
Friston Forest, Sussex
As the largest area of recently established forest in South East England, Friston Forest blends the beauty of South Downs with the peace and tranquillity of the season under the forest canopy. White Horse View trail is a picturesque walk along the forest edge overlooking the view of the white horse carved in the hillside across the downland.
Top tip: Look out for the grazing cattle on the northern side of woods who are there to encourage chalk downland plants.
East Midlands
Salcey Forest, south Northamptonshire
Choose your perfect autumn route, from a brisk 1.2km stroll to freshen up your morning to a 10km walk around the whole of the forest. Whilst you're crunching through leaves, keep an eye out for one of the many veteran oaks that can be discovered throughout the ancient woodland and look out for the rare species of butterflies regularly spotted in Salcey Forest.
Hicks Lodge, Leicestershire
Located in the heart of the National Forest, Hicks Lodge is a former coal mining site that has been totally transformed by new plantings and a range of exciting walking, cycling and horse-riding trials. Take a moment at the lakeside bird hide where you can soak up the magnificent autumnal scenery and spot some unique wildlife.
Fineshade Wood, north Northamptonshire
Fineshade Wood is bursting with opportunities to explore the great outdoors this autumn. The three way-marked walking trails offer a beautiful mixture of deciduous and conifer woodland, with play areas and a Superworm trail for the little ones. Be sure to hunt out the Gruffalo sculpture as well!
Sherwood Pines, Nottinghamshire
The most popular forest in the East Midlands has something to offer everyone for an autumnal day out. Although this forest has long been a destination for mountain biking, there is an array of waymarked trails for walking and running too, including the new Ranger's Path.
For something a little different, there are play areas, Go Ape and Disc Golf to try, with Camping in the Forest for those that are looking for the perfect autumn escape. Be sure to finish up at the Sherwood Pines Cafe – a tasty end to an autumn adventure.
South West
Great Wood, Somerset 
Although this stunning spot, just west of Bridgewater, is fantastic to visit at any time of year, autumn brings with it an impressive display of changing colours to be admired. Spend a morning strolling beneath Douglas firs before passing through ancient oak woodlands as they shed their leaves along the Red Walking Trail.
Top tip: Keep your eyes peeled for rutting red deer.
Wych Lodge, Devon 
If you love the sight of a knobbly old oak tree, you'll love strolling through Wych Lodge; located along the Somerset-Devon border. As well as being home to some very old trees and beautiful varied woodland, there are also peaceful lakeside views and a hidden Iron Age hillfort to discover. 
Roughtor, Cornwall
After the summer crowds have departed, head out onto the legendary Bodmin Moor for rugged terrain and breath-taking views. Also known as Rough Tor, this wonderful landscape is perfect for an autumn walk steeped in history and ideal for an afternoon of mindful movement. 
Breathe deep, clear your mind, and enjoy that crisp Cornish breeze - we guarantee you'll head home feeling relaxed and recharged.
South of England
Bolderwood, the New Forest, Hampshire 
Autumn in the New Forest is hard to beat. Expect stunning displays of burnt oranges, reds and yellows, beautiful scenery and lots of wildlife. Bolderwood is home to one of the New Forest's Arboretums with a wide collection of trees from the UK and around the world. It's also near the site of King Edward III's hunting lodge which was built in the fourteenth century. The car park is located just off the Bolderwood Arboretum Ornamental Drive, next to majestic Douglas firs and ancient oak trees. Choose between a variety of fantastic walking trails and head out on a gentle stroll to explore more.
Parkhurst Forest, Isle of Wight
One of the few places in England where you can spot red squirrels, this Isle of Wight forest is a beautiful mixture of both ancient woodland and heathland, and a great spot for a moment of mindfulness beneath the changing trees. Follow one of the multiple way-marked trails through the burnt orange bracken, falling leaves and dappled sunlight for the perfect autumn walk. 
West of England
Westonbirt, The National Arboretum, Gloucestershire
Prepare to be dazzled by this world-famous breathtaking autumn colour spectacle. Located near Tetbury, this is one of the finest tree collections in the world and with such variety the arboretum never fails to put on a fantastic colour display. Stroll through Acer Glade, with its riot of reds, oranges and purples and then head over to Maple Loop in Silk Wood to see more of the National Collection of maples looking truly glorious.
Top tip: Don't forget to explore this year's brand-new autumn family trail 'The Ballad of Birtha' in the Old Arboretum!
Forest of Dean, Gloucestershire
With acres of beautiful forests to explore, the Forest of Dean is ideal for a crisp and colourful walk this autumn.  Enjoy the view over the River Wye from Symonds Yat Rock. Not only can you see an incredibly stunning display of autumn colour along the river valley, but if you're lucky you may spy peregrine falcons, goshawks or ospreys on their autumn migration. The lakeside path at Mallards Pike is another must for an autumn colour display.
Top tip: If you visit Mallards Pike early in the morning, you can enjoy views of the mist clinging to the lake whilst being surrounded by spectacular colours.
Notes to editor
Images are available here. Please credit Forestry England/Crown copyright.

Forestry England

manages and cares for the nation's 1,500 woods and forests, with over 363 million visits per year. As England's largest land manager, we shape landscapes and

 

enhance

 

forests for people to enjoy, wildlife to flourish and businesses to grow.

 

We are continuing the work we have already started to make the nation

'

s forests resilient to climate change and by 2026 we will:

    
create at least 6,000 more hectares where we integrate wilding activities in our productive forests.

  

increase the diversity of visitors to the nation's forests and have one million hours of high-quality volunteer time given to the nation's forests

  
plant at least 2,000 hectares of new, high quality, predominantly broadleaf woodlands

  
 For more information visit forestryengland.uk. Forestry England is an agency of the Forestry Commission.  
Media Contact
Naomi Fuller, Media Relations Officer | media@forestryengland.uk