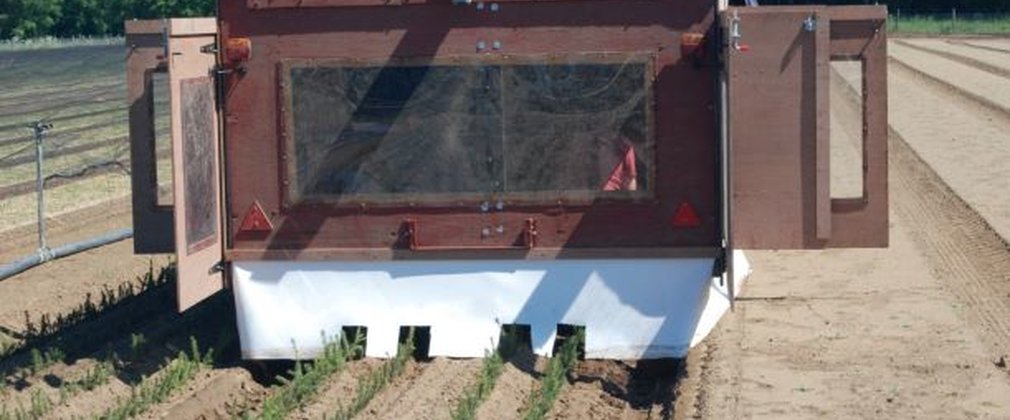 Lining-out machine made coronavirus-safe
Forestry England has quickly adapted their Super Prefer lining-out machine to keep staff safe from coronavirus while they continue their essential work preparing seedlings for planting in forests and woodlands.
Work at Forestry England's nurseries has continued since social distancing measures were introduced and they had to quickly adapt to keep staff safe. Their nurseries supply some 18 million trees a year, not only to Forestry England but to Natural Resources Wales and Forestry and Land Scotland too.
Chris Hardy, Forestry England's Head of Plant and Seed Supply, explained:
"Although our recent multi-million-pound investments in our glass house at Delamere introduced more automation, we still rely on a lot of professional skilled manual labour in growing and supplying high-quality saplings.

"Forestry England is already working to expand the nation's forests and the UK as a whole has huge ambitions to significantly increase woodland cover. This, along with ongoing restocking and beating up, means the demand for trees has never been higher. But safety for our team always comes first.

"When coronavirus appeared we were able to quickly adapt how we worked in many areas, but using the lining-out machine presented a big challenge. This involves operators working shoulder-to-shoulder, so 2-metre social distancing was impossible. We had to come up with another way of working!

"In the end timber came to the rescue and we were able to create safety screens between the operators. The end result looks simple but we had to put in a lot of effort to be sure the changes are robust; huge thanks goes to Graham Hunter and his team at Wykeham nursery and Bill Foster at WKF98 Ltd Engineers for coming up with a winning solution. We have lost 20 per cent of our productivity by dropping from five operators to four, but with no compromise on safety this is a price worth paying.

"Lack of rain is now our current challenge, but we hope to keep that impact to a minimum too."
Notes to Editor
Higher-res Photos of the adapted lining machine are available from the media contact below.


 
Forestry England manages and cares for the nation's 1,500 woods and forests, with over 230 million visits per year. With 243,000 hectares under our care we are England's largest land manager; we shape landscapes and are enhancing forests for people to enjoy, wildlife to flourish and businesses to grow. For more information visit forestryengland.uk

.

Forestry England is an agency of the Forestry Commission.


 
Delamere Nursery, in Cheshire, is the larger of two tree nurseries run by Forestry England's plant and seed supply (PSS). It covers an area of 76 hectares with open ground and an 8,960m2 glasshouse all growing around 18 million seedlings every year for planting throughout the UK. The new glasshouse is located at Lobslack, finished in 2017 following a £3.7 million investment.
 

Media Contact

: Stuart Burgess, media@forestryengland.uk, 07785 748351