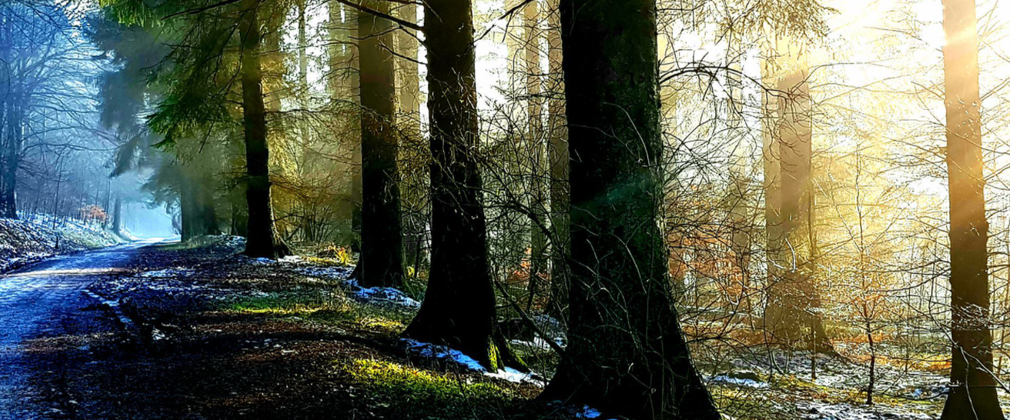 Magical forests to experience the winter solstice
The 21st of December 2022 marks the winter solstice – the year's shortest day – and signifies the return of warmer, longer days which is welcome for many. Although a magical time of year with family festivities and Christmas cheer, keeping positivity levels high at throughout wintertime can often be difficult. To help give yourself some much-needed self-care, Forestry England are suggesting trying some forest bathing to banish the winter blues.
Winter is a magical time in the forest with icy landscapes and glorious sunrises, and a mindful walk, away from all the Christmas madness is the perfect way to slow down. 
Ellen Devine, Wellbeing Manager, Forestry England says:
"The dark and cold of winter can make it much more challenging to get outside, however heading outside in nature, even for a short while can be so beneficial for our wellbeing. Winter is a magical time to explore a different side to the woods and tuning in to the new sights and sounds of the forest can really benefit our mood.

"There's so much evidence now of the health and wellbeing benefits of spending time in woodlands, and they are especially restorative as well as beautiful environments."
We all know how good being in nature can make us feel good, so pack up your thermos flask and choose from one of our top mindful spots – or head to your local Forestry England woodland and allow nature to nurture your mind and body.
Whinlatter Forest, Cumbria – Seat How Summit Trail (3.5 miles)
A steep climb through England's only mountain forest will certainly get the blood pumping this winter, but the views from the summit more than make up for the effort!
Gaze across stunning Lake District views of Derwentwater and Bassenthwaite Lake as well as the Skiddaw and Helvellyn mountain ranges before descending back down to the visitor centre.
Blackwater Arboretum, Hampshire – Walk the Tall Trees trail (1.5 miles)
Walking the circular 'Tall Trees Trail' will take you through an impressive section of Rhinefield Drive amongst towering Douglas fir and mighty redwoods giving you plenty of opportunities to slow down and look up! The path is a flat with a fairly smooth gravelled surface and frequent resting places to enjoy the forest atmosphere in winter.
Cannock Chase Forest, Staffordshire – The Fairoak trail (2.5 miles)
An easy circular trail, the walk meanders through the forest and opens out into the Fairoak Valley. Here, you'll find the magnificent Fairoak Pools, a rich and important habitat that many wildlife species call home. Stop here and try and spot swans, ducks and deer whilst clearing your mind.
Dalby Forest, Yorkshire – The Adderson Rigg trail (1.7 miles)
Head into Dalby Forest and explore with your senses the naturally sculpted Adderstone on this gentle walk. The trail follows forest paths and roads through a variety of woodland allowing you the opportunity to ease your stress. You will be met and awakened with stunning views over the forest.
High Lodge, Thetford Forest, Suffolk, The Fir Trail (3 miles)
This trail is perfect for those wanting to get away from it all and enjoy the peace and quiet of the forest. Far away from the visitor centre this trail takes you into the heart of the forest, allowing you to soak up the atmosphere with all your senses.
Jeskyns Community Woodland, Kent – The Broomfield Loop (1.5 miles)
A gentle, undulating walk on surfaced paths that leads you through new woodlands, grazed meadows, orchards and ponds. A walk guaranteed to restore your mood and give you back your energy.
Moors Valley Country Park, Dorset – The Look Out (1.5 miles)
This lovely meandering route takes you away from the visitor centre into the peace and quiet of the forest. The trail takes you to an amazing spot where you can let your stresses drift away, the Lookout. Once here, you'll be rewarded with stunning views across the valley.
Hamsterley Forest, Durham – Bedburn Valley Walk (2.5 miles)
This gentle walk follows the beck for a short distance before climbing through beautiful mixed woodland high above the valley floor. The route then returns to the start through an oak wood that was planted in 1937 to commemorate the coronation of George VI.
Wyre Forest, Worcestershire – The Buzzard trail (3.25 miles)
The Buzzard trail explores the depths of the forest through beautiful woodlands allowing your mind, body and soul to relax and unwind. The trail takes you along forest tracks and narrow paths, past majestic old oaks, as well as the Wyre Arboretum providing lots of opportunities to slow down and rejuvenate.
Haldon Forest, Devon – Mamhead trail (1.5 miles)
Beginning and ending in Haldon Forest Park, the all-ability the trail takes walkers along flat, well-surfaced tracks. It's perfect for those with younger children, as it's a 'sensory trail' with special markers along the way to encourage walkers to appreciate their whole surroundings, and plenty of resting points. The 1.5 mile route leads you through the forest to the high viewpoint near the Obelisk. From there walkers can admire views across the whole of Exeter, and on a clear day across to Start Point and Dawlish.
Notes to Editor
Forestry England manages and cares for the nation's 1,500 woods and forests, with over 363 million visits per year. As England's largest land manager, we shape landscapes and enhance forests for people to enjoy, wildlife to flourish and businesses to grow. We are continuing the work we have already started to make the nation's forests resilient to climate change and by 2026 we will:  

create at least 6,000 more hectares where we integrate wilding activities in our productive forests.

increase the diversity of visitors to the nation's forests and have one million hours of high-quality volunteer time given to the nation's forests

plant at least 2,000 hectares of new, high quality, predominantly broadleaf woodlands
For more information visit forestryengland.uk. Forestry England is an agency of the Forestry Commission.  
Images available here. Please credit Forestry England/Crown copyright
Media Contact:
Rebecca Ulewicz, Media Relations Officer | media@forestryengland.uk | t: 07771 971813