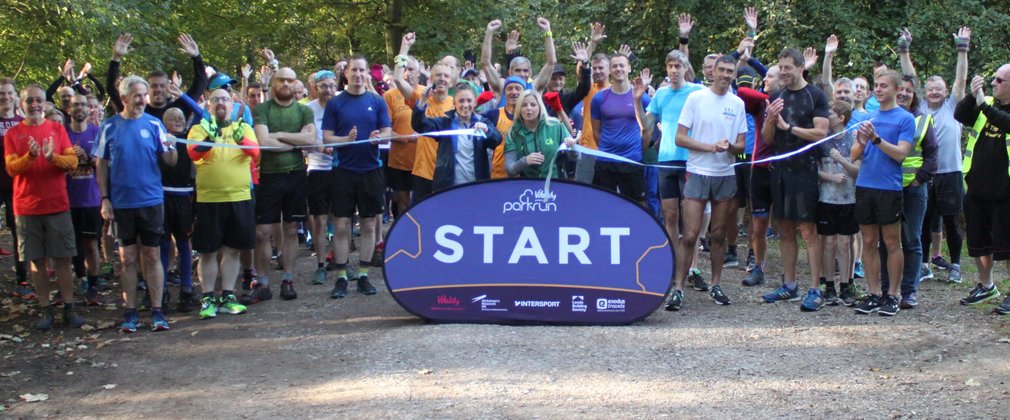 Major milestone achieved: One million parkruns completed in the nation's forests
Forestry England sites throughout the country have achieved an amazing milestone, the completion of an incredible one million parkruns. This highlights the growing popularity of running in forests as an exceptional choice for health and wellbeing. 
Parkrun is a free, timed, 5-kilometre event that draws hundreds of enthusiastic runners to the nation's forests every week. However, it's more than a regular run. It's an opportunity for people to build communities and make new friends through their shared interest in running, walking, jogging and volunteering.  
With 21 locations scattered across England, participants can relish the freedom, fresh air, and scenic beauty of forest trails. Taking part in the forest also brings additional health benefits, including reduced injuries, enhanced balance, improved mental well-being, and a profound sense of achievement. 
To celebrate the remarkable milestone of 1 million parkruns, Forestry England has unveiled its top 10 routes to explore. A picturesque trail can make all the difference to your day, so make sure to dress for the weather, apply for your parkrun barcode, and savour your Saturday morning walk, run or volunteering experience in a captivating and inspirational setting. 
Sherwood Pines
Picture this: as you embark on your parkrun, a gentle descent carries you through an enchanting avenue of towering trees, creating a lively and exciting atmosphere. If you position yourself towards the rear, you'll have the chance to observe the vibrant array of parkrunners in their colourful attire and enjoy the cheerful chatter that fills the air. This one-lap route presents a delightful mix of gentle hills, perfectly tailored to keep your adrenaline pumping. And just when you think it can't get any better, the final ascent unfolds, with a breath-taking array of beech and chestnut trees lining the path, their foliage transforming with the changing seasons.  
Whinlatter Forest
Prepare yourself for an adrenaline-fueled parkrun like no other, it's a legendary course boasting the most awe-inspiring elevation of any parkrun in England! Aptly nicknamed 'Beauty and the Beast,' it promises a breath-taking blend of stunning vistas and devilishly challenging hills. While they say that what goes up must come down, this remarkable route defies convention. Rather than descending, it leads you on an epic point-to-point journey with a captivating loop in the middle, culminating at a higher finishing point than where it all began. 
Salcey Forest
Experience the beauty of an ancient woodland at Salcey Forest parkrun. Embark on a scenic route along the forest road, immersing yourself in the enchanting surroundings. As you venture deeper into the woodlands, you'll soon find yourself on a stunning single-track bridleway. Keep your eyes peeled for the renowned veteran oaks as you make a left turn onto the winding path of the Church Path trail. This one-lap route is a parkrunner's paradise, offering a captivating journey through nature's wonders.  
Wendover Woods
Get ready to discover the parkrunner within as you participate in Wendover Woods parkrun. With every step you take, the one lap route unravels before you, leading you deeper into the woodlands. Witness the magnificence of nature and get ready to be captivated, energised, and transported into a world of breath-taking natural beauty. 
Haldon Forest Park
Prepare yourself for an exciting adventure at Haldon Forest Park, the most remarkable parkrun in Devon! Enjoy the awe-inspiring beauty of the countryside, with stunning panoramic views that extend to the Exe estuary. Get ready for an electrifying atmosphere as a dedicated team of enthusiastic volunteers, sometimes dressed in fancy dress, cheer you on until you reach the finish line. This is an absolute must-do parkrun that should be at the top of your to-do list! 
Alice Holt Forest
Join the exhilarating Alice Holt parkrun and conquer the renowned 'Dragon Hill' amidst the captivating trees. After the event, enjoy a delightful surprise—a lovely café at the finish line, perfect for celebrating your achievement and unwinding. This parkrun attracts a diverse group of participants, including families, beginners, and parkrunners from around the world. The dedicated volunteers from nearby Farnham contribute to the strong sense of community, making it a friendly and sociable event for all. 
Dalby Forest
Experience the beauty of Dalby Forest, often referred to as the great Yorkshire Forest. The parkrun at Dalby offers a scenic circular route that starts beneath the captivating canopy of ancient trees. As you make your way, you'll pass through some of the oldest sections of the forest before reaching the top and descending towards the picturesque meadow. Alongside a gentle beck, you'll continue your route, surrounded by nature's tranquillity. On the way back, be prepared to be mesmerized by breath-taking views of the Low Dalby valley, while keeping an eye out for the incredible wildlife that calls Dalby home. After completing the invigorating run, jog or walk, the warm and welcoming volunteers will be there to greet you, ensuring you savour a well-deserved cup of traditional Yorkshire tea to conclude your experience. 
Bedgebury Pinetum and Forest
Set against the backdrop of a world-renowned collection of conifer trees, Bedgebury offers an exciting and memorable adventure in the forest, with a group of friendly volunteers at the heart of it. People of all types, including walkers, runners, parents pushing buggies, and those with dogs, regularly attend this parkrun. Bedgebury takes pride in welcoming individuals from diverse backgrounds and with different neurological abilities. The park provides a cool retreat during hot summers and a shelter from chilly winter winds, allowing participants to fully immerse themselves in the forest's sights, sounds, and fragrances. The parkrun follows established forest trails, creating a memorable experience for everyone involved. After completing the challenging uphill finish, participants can enjoy a post-run treat at the café, which offers scenic views. 
Delamere Forest
Get ready for an extraordinary parkrun experience amidst the breath-taking beauty of Delamere. Picture yourself standing at the base of Old Pale Hill, the crown jewel of the Cheshire Plain, where the adventure begins.  
Cross the enchanting railway bridge, reach the Gruffalo crossroads, and follow the main trail clockwise around Blakemere Moss. Immerse yourself in serene forest tracks, marvel at majestic trees, and listen to the melodic birdsong. Complete the circuit, pass the Gruffalo, and head back to the Visitor Centre and café for a well-deserved reward.  
Mallard Pike, Forest of Dean
Escape into nature on a Saturday morning and enjoy the beauty of a scenic route away from the main visitor area. The path leads through lush woodlands covered in moss, offering a tranquil and serene atmosphere. Along the way, you may catch sight of buzzards soaring overhead or even spot a group of deer in the distance. The only sounds you'll hear are the rhythmic beats of your own footsteps and the melodic songs of the birds. As you turn back towards the starting point, you'll be greeted by a gentle downhill stretch, perfect for relaxing your warmed-up muscles. On your left, the open landscapes reveal a variety of wildlife and grazing animals, providing a more rugged and diverse view. As you venture deeper into the forest, the towering trees offer pleasant shade or shelter from the rain, guiding you closer to the finish line. With a burst of energy up a brief, steep incline, you'll turn around the corner to the enthusiastic cheers and support of the volunteer team, crossing the finish line with a sense of accomplishment. It's a brilliant way to begin your Saturday. 
Images are available here. Please credit Forestry England/Crown copyright. 

Forestry England manages and cares for the nation's 1,500 woods and forests, with over 363 million visits per year. As England's largest land manager, we shape landscapes and enhance forests for people to enjoy, wildlife to flourish and businesses to grow. We are continuing the work we have already started to make the nation's forests resilient to climate change and by 2026 we will:    
create at least 6,000 more hectares where we integrate wilding activities in our productive forests.  

increase the diversity of visitors to the nation's forests and have one million hours of high-quality volunteer time given to the nation's forests  
plant at least 2,000 hectares of new, high quality, predominantly broadleaf woodlands  
For more information visit forestryengland.uk. Forestry England is an agency of the Forestry Commission.  
Media contact:
Rebecca Ulewicz, Media Relations Officer: media@forestryengland.uk