New Elm trees aim to set Butterflies' hearts fluttering at Basing Wood this Valentine's
Around 50 new Elm trees, loved by the rare White-letter Hairstreak butterfly, are being planted at Basing Wood in Hampshire this Valentine's. The project by the Forestry Commission and wildlife charity Butterfly Conservation, is hoping to attract these much admired butterflies into the Wood in a bid to prevent regional extinction.
The White-letter Hairstreak, once common place, is now at critically low levels due largely to the decline in Elm trees - the sole food plant of the butterfly's caterpillar. Millions of Elm trees have been lost across the UK over the last forty years due to Dutch elm disease.
Several sightings of this illusive visitor were spotted close to Basing Wood last year and it is hoped that by placing disease-resistant Elm trees along the Butterfly Trail, the White-letter Hairstreak may be attracted to create a home here.
This work is part of a crucial habitat enhancement project carried out over the past two years which has been funded by the Forestry Commission's partner Forest Holidays, creating essential space, feeding and egg laying opportunities for butterfly species.
The Butterfly Trail follows a 1.8 kilometer route through the ancient woodland and is popular with many different types of butterflies, including the Orange-tip, a dazzling spring butterfly, or the Common Blue, seen in late summer. The Forestry Commission manage the area to ensure it has a wide range of the trees and plants that butterflies need to survive, and that there are sufficient open spaces for these to grow and thrive.
Michael Ullman, Forester for the Forestry Commission in the area, said "Elm trees were once a common feature of our woodlands. It is great to be able to play our part in their return and to create vitally important habitats for these rare butterflies."
Last year, Butterfly Conservation volunteers recorded at least 23 different butterfly species in or near Basing Wood and more surveys are due to take place this year to assess how population numbers are changing.
Steve Wheatley from Butterfly Conservation said: "We've been really pleased to work with the Forestry Commission at Basing Wood over the last couple of years to guide habitat enhancements and establish the Butterfly Trail. The planting of elms is another really positive step forwards. In a few years, when the new trees begin to flower, our volunteer recorders will start to search them for the White-letter Hairstreak. With confirmed sightings nearby in the landscape, there's a really good chance these trees will be colonised and become a new home for this rare butterfly."
Forest Holidays has 10 cabin locations across the UK, all supporting the work of the Forestry Commission and the business has further committed £25,000 per year to a Conservation Fund supporting specific ecological initiatives.
Alison Seymour Forest Holidays Forest Ranger at Blackwood Forest added: "It's been really exciting to see this project at Basing Wood flourish over the past two years. Our partnership with the Forestry Commission provides a fantastic opportunity to support projects like this across the UK, bringing lasting benefits for the wildlife and flora on our doorsteps. We were thrilled to take part in the Big Butterfly Count at Basing Wood last year, when our team spotted species such as Small Blue, Meadow Brown, Silver Washed Fritillary and White Admiral, as well as the rare Grizzled Skipper. This work is certainly something that guests at Blackwood Forest, as well as our team members and the local community, value highly."
Ends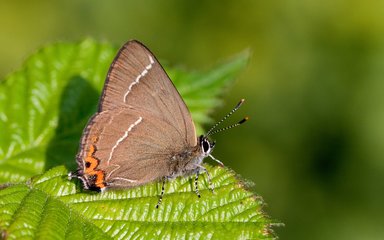 Notes to Editor
1.The Forestry Commission is the government department responsible in England for protecting, expanding and promoting the sustainable management of woods and forests and increasing their value to society and the environment. Further information can be found at www.forestryengland.uk
England's Woods and Forests are cared for by Forest Enterprise England, an agency of the Forestry Commission www.forestryengland.uk/about-us
2. Butterfly Conservation is the UK charity dedicated to saving butterflies, moths and our environment. Our research provides advice on how to conserve and restore habitats. We run projects to protect more than 100 threatened species and we are involved in conserving hundreds of sites and reserves. www.butterfly-conservation.org @savebutterflies
3. The Big Butterfly Count is the largest survey of its kind in the world and was first launched by Butterfly Conservation in 2010. The citizen science survey encourages people to spot and record common butterflies and two day-flying moths during three weeks of high summer. The results reveal how the UK's common species are faring, and underpins and informs future conservation work to protect them. This year the Count will run from 19 July to 11 August. www.bigbutterflycount.org.
4. Forest Holidays- Offering guests the chance to enjoy a peaceful getaway surrounded by picturesque British forests, Forest Holidays aim to create authentic experiences in Britain's amazing forests; connecting people, nature and local communities. Forest Holidays is a joint venture, public/private partnership with the Forestry Commission and has a 125-year lease on the land on which sites are based. The cabins are architecturally designed to fit sensitively within the woodland environment with modest central facilities. With nature at the heart of Forest Holidays' ethos, they provide year-round short breaks and holidays in timber cabins set within ten locations on the Forestry Commission Estate, operating successfully in National Parks and other sensitive locations.
Media Contact:
Susan Smith
Media Officer, Forestry Commission South Forest District
Tel: 07384 878434
susan.smith@forestryengland.uk
Katie Callaghan
Senior Media Officer, Butterfly Conservation Press Office
Tel: 01929 406037
kcallaghan@butterfly-conservation.org