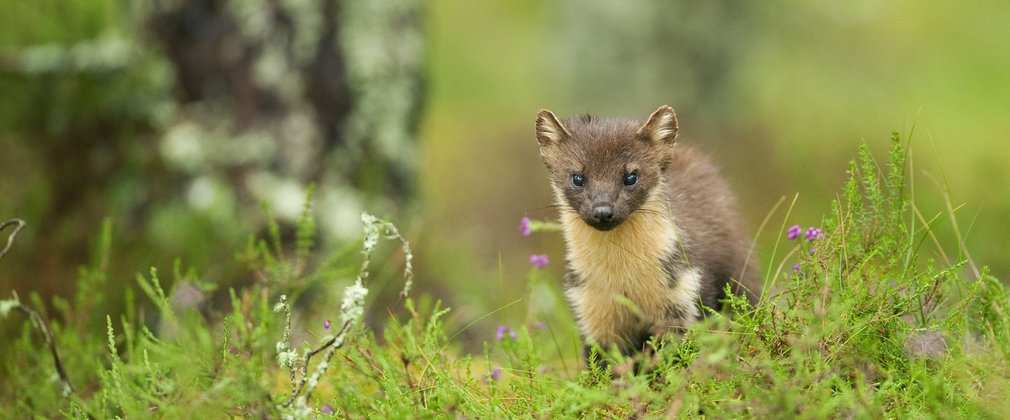 One of Britain's rarest mammals returns to Forest of Dean
Once a familiar feature of the woodlands in England, the pine marten stood on the brink of extinction – until now. 
Gloucestershire Wildlife Trust, together with Forestry England, Vincent Wildlife Trust and Forest Research have reached a major milestone in a project to bring the pine marten back home, and successfully re-establish a population in the Forest of Dean.
From the same family as otters and weasels, pine martens were once common among British wildlife. Similar in size to a domestic cat, with slim bodies, brown fur and a distinctive cream 'bib' on their throats, they have long, bushy tails and prominent rounded ears.
However, extensive hunting and loss of the woodlands pine martens once called home over the last two centuries resulted in extinction in England. Historically, they were pushed to the more remote parts of the UK, becoming Britain's second-rarest native carnivore. Eventually, their only remaining stronghold was in the North-West Highlands of Scotland, but now things are looking up for the pine marten.
Rebecca Wilson, Forestry England's Planning and Environment Manager in West England, said:
"We are delighted be involved with the return of the pine marten, a charming, but highly elusive mammal that was once widespread throughout England." 

"As native omnivores, pine martens play a vital role in the delicate balance of woodland ecosystems.  Living at low densities in the landscape, they forage on fruit, fungi and a range of prey including the grey squirrel, a non-native species which is having a detrimental impact on broadleaf woodland throughout England."

"We are looking forward to working with volunteers, local communities and partner organisations to monitor how the pine martens are moving throughout the Forest of Dean and the wider landscape"

The 2020 Biodiversity Strategy for England identified the need to recover threatened species and habitats across the country. Similarly in 2018, The Government's 25-year Environment Plan stated that the reintroduction of native species like otters and polecats was key to nature's recovery.
Vincent Wildlife Trust, a national conservation charity that focuses on British and Irish mammals, has highlighted the decline of pine martens for the past 20 years. In a bid to safeguard the future of this charismatic creature, the organisation was able to move 51 pine martens from Scotland to Wales between 2015 – 2017, where they now have an established population.
During this time, the Forest of Dean was identified as another potential location to reintroduce the pine marten. Between August and September 2019 18 pine martens were moved from Scotland to Gloucestershire, fitted with tracking collars and released into the Forest.
Under the watchful eye of Dr Catherine McNicol, Gloucestershire Wildlife Trust's Conservation Project Manager, the pine martens' activity will be closely monitored:
"Pine martens are elusive and shy little animals, with their presence often only indicated by scats in the middle of forestry tracks. They only give birth to a few kits each year if breeding is even successful, so the rate of marten population recovery in the UK is low. It is hoped that their protection, alongside these reintroductions, will give them the boost they need to become resilient and thrive." 

Dr Gareth Parry, Director of Conservation at Gloucestershire Wildlife Trust, added:
"We are in a biodiversity emergency and conserving our remaining wildlife is not enough, we must also take action to support nature's recovery. We're working with partners to establish a Nature Recovery Network across the county and bringing back native species, such as pine marten, which play a vital role in ecosystem functioning, is an important part of this work."

The hope is that over the next two years, more pine martens will be released into the Forest and that a population will establish here. This population will then spread and link up with the recently reintroduced Welsh pine martens, creating a new stronghold for the species and ensuring its survival.
Members of the public are unlikely to spot these solitary mammals, which have exclusive territories and go out of the way to avoid each other, and people.
The future looks bright for this species as they are protected by the Wildlife and Countryside Act (1981). This, combined with the support from the people of the Forest of Dean, and wider Gloucestershire, will ensure that the pine marten can come back to its native home for good, paving the way towards healthier woodlands and adding to the wildlife diversity of the county, and the wider country.
The project has been made possible by Forest Holidays, and supported by the Woodland Trust. 
Notes to Editor
Please note that a license is required to film or photograph pine martens, this must be arranged through Natural England and any filming must be arranged in advance with Gloucestershire Wildlife Trust.
Forestry England manages and cares for the nation's 1,500 woods and forests, with over 230 million visits per year. As England's largest land manager, we shape landscapes and are enhancing forests for people to enjoy, wildlife to flourish and businesses to grow. For more information visit

www.forestryengland.uk

 Forestry England is an agency of the Forestry Commission. Celebrating 100 years of Forestry In September 1919 the Forestry Commission was founded to restore the nation's woods and forests following the First World War, and the passing of the Forestry Act. Find out more about our history and how we are celebrating

www.forestryengland.uk/100

Gloucestershire Wildlife Trust works closely with local communities, landowners and partners to deliver much-needed conservation work across 60 nature reserves, and within the wider landscape of Gloucestershire. This vital work encourages wildlife to thrive, including wildflowers, trees, butterflies, insects and animals.

The charity also delivers a vast range of events and projects across the county, as well as providing free public access to its nature reserves, enabling people from all backgrounds to spend time outdoors and get closer to nature.

Vincent Wildlife Trust

is a national charity engaged in innovative mammal research and conservation. It has spent over 30 years carrying out pine marten research and recently restored the pine marten to Wales where it was all but extinct. 

Forest Holidays offers guests the chance to enjoy a peaceful getaway surrounded by picturesque British forests. Forest Holidays aim to create authentic experiences in Britain's amazing forests; connecting people, nature and local communities. Forest Holidays is a joint venture, public/private partnership with the Forestry Commission and has a 125-year lease on the land on which sites are based. The cabins are architecturally designed to fit sensitively within the woodland environment with modest central facilities. With nature at the heart of Forest Holidays' ethos, they provide year-round short breaks and holidays in timber cabins set within ten locations on the Forestry Commission Estate, operating successfully in National Parks and other sensitive locations.

The Woodland Trust is the largest woodland conservation charity in the UK. It has over 500,000 supporters.

 

The Trust has three key aims:  

i)  to protect ancient woodland, which is rare, unique and irreplaceable. 

ii) to restore damaged ancient woodland, bringing precious pieces of our natural history back to life. 

iii) to plant native trees and woods with the aim of creating resilient landscapes for people and wildlife.

 

Established in 1972, the Woodland Trust now has over 1,000 sites in its care covering over 28,000 hectares. Access to its woods is free.
Media contact:
Stephanie Johns, Stephanie.johns@forestryengland.uk
0300 067 4826